DePaul College Republicans say University's decision is "contemptible," still plan to host Milo Yiannopoulos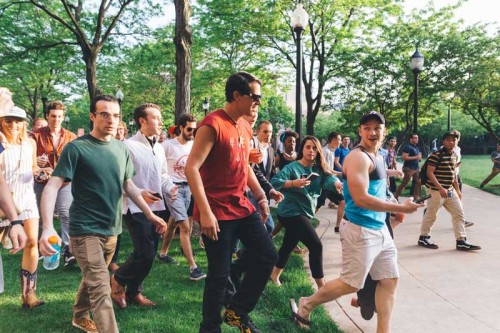 The DePaul College Republicans released a statement Thursday afternoon in response to the University's decision to deny them a space for a second visit from controversial speaker Milo Yiannopolous, saying that they still plan to host him despite the University's decision.
The statement, which can be read in its entirety below, said that the University's decision was "contemptible," and called the denial a "heckler's veto."
Yiannopoulos was originally invited by the Republicans to speak about free speech at the university in May, but his event was shut down by protestors. He was invited to speak again by the Republicans and was slated to appear at DePaul Sept. 20, according to his tour schedule, which was announced on Breitbart yesterday. The request for a space for him to speak was denied earlier today by the University.
Here is the statement in it's entirety.
This afternoon, the DePaul College Republicans were informed DePaul University's administration is refusing to allow guest speaker Milo Yiannopoulos to return to campus. According to the University, "having consulted with Public Safety and having reviewed last Spring's events, it is clear that it would not be possible for DePaul to provide the security that would be required for such an event."

Essentially, this is a heckler's veto. DePaul is setting the precedent that if enough students protest a speaker who has the wrong opinions and disrupt it, administration will not allow that person to speak. For a group that has minority viewpoints on campus and revolves many of our events around speakers talking about those viewpoints, this is extremely troubling.

Never mind that Milo is a gay conservative, a rare opportunity for students to learn from a unique individual. Never mind that our first event was disrupted and cancelled expressly because security refused to do their jobs. Never mind that our guest was threatened on stage for everyone to see, yet he's kind enough to return and finish our talk. Never mind that DePaul has happily hosted a convicted terrorist, Rasmea Odeh, on campus.

Despite all this, apparently Milo is the "inflammatory" one, rather than the radicals who ended our event in the first place. For a University that supposedly maintains the founding values of free speech and equality, one that claims administration "will continue to work with student organizations to sponsor events and speakers representing a broad range of opinions," this is disgraceful.

We do not accept DePaul's contemptible response and will be having Milo Yiannopoulos on campus September 20.

Book the date.