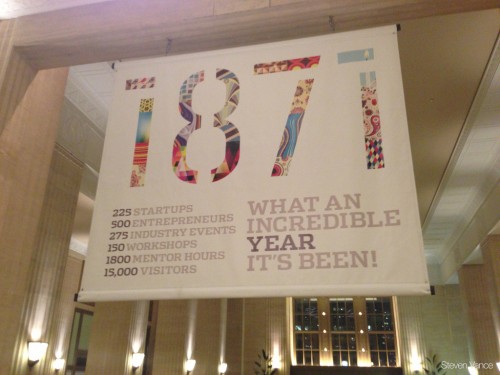 With DePaul's plans to open a space in the entrepreneur project called 1871 set in stone, students can now apply and visit the downtown building to network with professionals, attend workshops and find internships and employment to ultimately get their own start-up off the ground.  
1871, located in Merchandise Mart, is the largest entrepreneur space of its kind in the U.S., created by Chicago's office of the mayor to bring entrepreneurs together and forge something of a Silicon Valley here in Chicago. The project in turn aims to help start-ups create a plan to grow as a company, obtain funding, market its products and navigate within the law.   
The space is shared between DePaul's Coleman Entrepreneurship Center in the Driehaus College of Business, College of Computing and Digital Media, College of Law and Academic Affairs.
But DePaul is not the only university that will have reside on 1871's "University Row." Also in attendance is the University of Chicago, Northwestern University, Loyola University, University of Illinois, DeVry University and Illinois Institute of Technology.
While DePaul students can network and learn in their own office, they can also do so with students and faculty from the other universities, Abigail Ingram, assistant director at the Coleman Entrepreneurship Center said.
"Just by being present they are exposed to this entire ecosystem of entrepreneurs," she said.
Every day there are two to three workshops, she said, where students can learn from experienced venture capitalists and mingle with their peers. Visitors can also showcase their own projects.
One unique aspect of the 1871 project is that it includes not only business majors but also students from the colleges of law and CDM.
For students from the College of Computing and Digital Media, for example, they have the tech-savvy to build apps, programs and other creations. But the students are not exposed to law and business in their studies.
"So what this allows CDM students is to tap into these expertise," Theresa Steinbach, associate dean of the College of Computing and Digital Media, said. "They will have additional resources to draw upon when they start their start-up or company."
Law and business faculty will lead teams to mentor students and CDM faculty may offer office hours to discuss students' projects, Steinbach said.
DePaul was a bit of a latecomer to participating in 1871. While other universities already had a presence at the 1871 building, DePaul's association only began during the past four or five months after 1871's invitation to join. The Coleman Entrepreneurship Center in turn coordinated all of DePaul's participating departments to make the transition to the new space cohesive.
"This partnership has been a long time coming and we are thrilled that DePaul is formally joining the 1871 community," CEO of 1871, Howard Tullman, said in a press release.
"This is a good move for any student who wants to be an entrepreneur," Ingram said.