Netflix, the world's most popular streaming service, succeeds with its original content and will continue to succeed as its catalogue grows. It seems like Netflix aims to create every viewer's next favorite show. Original content spans genres including comedy, mystery, drama, sci-fi, crime, series, action and adventure, reality, animated, reboots, and more, as well as branching into other languages. Netflix released its first original series in 2013 and proved to be a well-timed business decision.
According to Business Insider, Netflix's overall catalog of movies and shows has shrunk by 32% in the last two years, [but] Netflix's roster of original movies and shows has had an average annual growth rate of 185.41% per year since 2012, and has now reached 111 titles.
This high risk, high reward strategy has become a great advantage for Netflix. Considering the increasingly competitive market of online streaming services, the original productions set Netflix apart from others.
"We also take into account the impact original series may have on enhancing our brand and attractiveness of our service which helps with member growth," Netflix said.
Many of Netflix's originals are better than shows on television right now, making Netflix the shining alternative to standard offerings. The following five productions represent the depth and care that goes into each show, but also just a snapshot of its full offerings.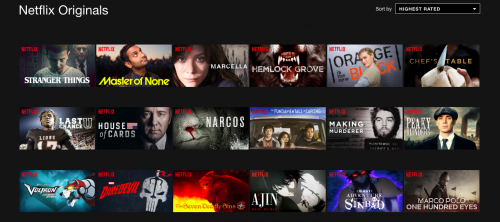 Stranger Things
Genre: TV Shows, TV Sci-Fi and Fantasy
This latest worldwide hit captures the essence of '80s movies with its style and small-town setting, but overcomes them with its ease for viewers to fall into the cult-classic feel. An emotional pull drives the show through all of its tense (and scary) moments as the characters grapple with unthinkable mystery. Eight episodes will seem like an injustice, but a second season is highly likely.
Master of None
Genre: TV Show, Comedy
Aziz Ansari stars in the show he created that offers surprising, witty encounters with interesting characters. The show takes on the awkwardness of real life with charm and ironic maturity. After near universal acclaim from viewers, the show will return with a second season in 2017. This tongue-in-cheek life story offers a binge opportunity of a show that ties together family relationships, career struggle, and sometimes cringe comedy.
Marcella
Genre: British TV Show, Drama
Despite, or because of, the pains of personal life and complicated relationships, main character Marcella (actress Anna Friel) seems determined, strong, and likeable. As she grapples with painful, personal drama, the haunts of her life recur, keeping her from rising from her past. Viewers find themselves rooting for her and hoping for the best—even when flashbacks make you doubt her. This show expands beyond what's expected, moving cohesively and artfully through a dark and twisted world, and main character.
Marco Polo
Genre: TV Action & Adventure, Drama
This exciting series (with, gratefully, two seasons posted) offers a shock factor of the brutality of history, especially during the cruelty of this period of history. Ornate costumes accompany accurate period acting and a score so fitting that it's noticed when it wants to be, watching this show feels like an event. Though dialogue sequences seem to slow down the show, well-filmed action scenes can make up for it.
Chef's Table
Genre: Food & Travel TV, Documentary
Each episode in the two seasons of Chef's Table tells the story of an individual chef across the world with major achievements. These culinary revolutionists include Massimo Bottura (S1:E1), chef of the third best restaurant in the world; Magnus Nilsson (S1:E6), who curated one of the greatest restaurants in the isolation of Jarpen, Sweden; and Ana Ros (S2: E5), a Slovenian chef with true grit. Aside from the extremely interesting material of food made like you've never seen it before by complete pioneers in the industry, each episode features surprising and captivating cinematography and true storytelling.
The service anticipates nine releases for the rest of August, including documentaries, films, and a stand-up comedy special. September will bring the next seasons of Narcos and Longmire, among other offerings, like Easy, a series set in Chicago "that explores diverse Chicago characters as they fumble through the modern maze of love, sex, technology, and culture," Netflix said.
With the incredible variety offered, look to the Netflix originals section for your next binge-watching show. It might just become your favorite of the year.