Season preview: DePaul women's soccer looks for return to NCAA tournament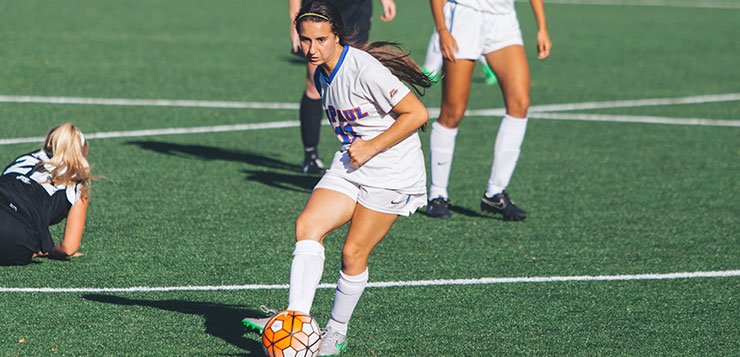 DePaul women's soccer starts their season on Aug. 19 full of expectations. They were voted to place second in the Big East in a coaches' poll earlier this summer and return a number of their key contributors. In 2015, they finished 12-4-4 and 6-1-2 in the Big East, leading to an exit in the first round of the Big East tournament and they missed out on the NCAA tournament.
Their stated goal this year is for them to get back to the NCAA tournament.
Goalkeepers
Alex Godinez had been the starting keeper for the Blue Demons for the past few seasons, so her graduation leaves a bit of a hole between the sticks. Junior Lauren Frasca and freshman Jamie Leas are the two top contenders for the spot as they both played a half in DePaul's exhibition against Louisville last week. Frasca has more experience and played three matches last season as the second-string keeper.
Head coach Erin Chastain did not know on Tuesday who would end up with the starting position, or even if the goalkeeper battle would be over by opening day. Blue Demons will have to wait and see how the keeper position ends up this season.
Defenders
The back line will be a mixture of young and old. Junior Elizabeth Endy was named a captain and she will be joined by senior fullback Taylor Schissler, who was a solid defender for DePaul last season. Redshirt sophomore Abigail Callahan will begin her first season at DePaul after transferring from Southern California and will likely see time as a starter. The final starting spot is still unknown, and Chastain will have a couple of freshman and a couple of older players to choose from.
The Blue Demons lost Sarah Gorden (now playing professionally with the Chicago Red Stars) and Brianna Ryce to graduation.
Midfielders
The midfield will be one of the biggest strengths for the Blue Demons this season. Junior Lucy Edwards, sophomore Madeline Frick and junior Alexa Ben will return to the midfield for the upcoming season. The team also added senior transfer Kelli Hubly, who has been training with the team since 2015 as a redshirt. Like Ben and Frick, Hubly is able to switch between midfielder and forward and can provide an attacking presence on the wing. So, depending on what formation Chastain wants to use, Hubly allows for flexibility in her case.
Forwards
The biggest loss on the attack for the Blue Demons was Elise Wyatt, who graduated in 2015 with the all-time school goal record under her belt. This moves the focal point of the attack to senior captain Abby Reed, who scored five goals in 2015 and 12 in 2014. Sophomore Franny Cerny will be a big part of the attack as well as she scored six goals with five assists in her debut season in 2015, and they'll be complemented by senior Ana Greik, who was a reliable presence off the bench in 2015 and sophomore Madeline Frick, who scored four goals switching between the forward and midfield position.
With Hubly able to play on the wing, the Blue Demons should have strength both on the wing and in the center of the attack.
First match
The Blue Demons open up their season with a home match against Fordham at 3:00 p.m on Friday in Wish Field.