Season preview: DePaul men's soccer looks to capitalize on momentum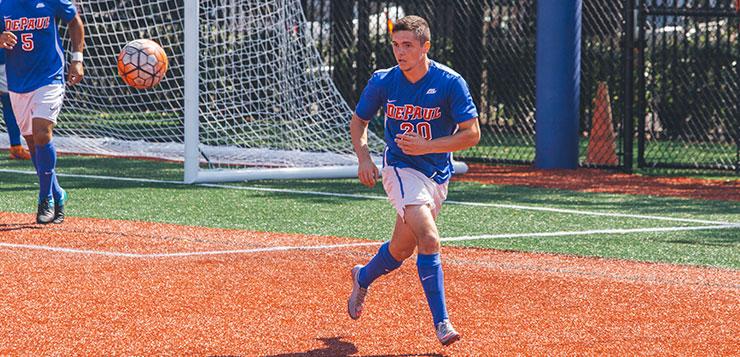 DePaul men's soccer look to carry over their momentum from the end of 2015 into this season. After a poor start in conference play, the Blue Demons rallied in the Big East schedule and made the Big East tournament and eventually fell in postseason play. They finished 5-13-1 overall but went 4-4-1 in the Big East.
This season, they return several key players and look to go to the NCAA tournament for the first time since 2007.
Goalkeepers
Junior Quentin Low will likely be the first string keeper. He played all 90 minutes in the Blue Demons' 2-0 exhibition loss to Western Michigan last week and saw significant playing time as the backup in 2015 when starting keeper Mack Robinson went down with an injury. The Blue Demons have three other keepers on the roster this year: freshmen Kyle Smith and Trevor Wilson, and sophomore Spencer Ward. None of them have seen any collegiate minutes.
Defenders
Junior Caleb Pothast is the big returner for the Blue Demons, and is joined by two newcomers on the starting back line. Freshmen Sasa Labovic and Max de Bruijne (a towering presence at 6-foot-5 inches) each saw a start during the exhibitions. De Bruijne showed some of his aerial abilities when he got a header towards goal from a corner kick in DePaul's Aug. 14 exhibition against Western Illinois. Sophomores Michael Mojarro and John Freitag will also see a lot of minutes on defense.
Midfielders
Graduate transfer Danny Lojek will play a large role as he comes over from Notre Dame and fellow transfer Harry Hilling will join him from Green Bay. They will be complemented by returning players junior Hans Wustling and junior Phillip Koeningstein. Freitag and Mojarro can also switch between the back line and midfield depending on how head coach Craig Blazer wants to form the lineup.
Forwards
All Big-East forward Simon Megally leads the Blue Demons in the attack and played a large role in the exhibition matches with the lone goal and several shots. He's coming off a hip surgery and said he's ahead of schedule for his recovery, which allowed him to play in the exhibitions. He's joined by freshman Zach El-Shafei, who started in both matches and comes in with an impressive résumé from the US Soccer developmental academy. Junior Stijn van der Slot also started both matches with him and El-Shafei playing forward and Megally as a withdrawn forward.
Overall
The Blue Demons have a total of nine newcomers with their transfers and incoming freshmen. Megally said that the rest of the team joined up with the newcomers earlier in summer as they started summer school and had captain-led practices, which they hadn't done before. He also said they are looking to avoid their slow non-conference start from last year and the goal is to make the NCAA tournament.
DePaul open up their season Friday at Oregon State.