Women's volleyball looks forward to a tough season
With high hopes for their regular season, the DePaul women's volleyball team continues to face tough opponents throughout their preseason – but there's a catch. Wins against tougher opponents means a higher chance to beat Big East teams like Creighton – the reigning conference champs.
"I'm super excited to play (Creighton), just because I feel like we are going to match up really well," senior captain Colleen Smith said. "They're going to be great competition for us, so that's why I think playing tough teams this preseason is going to help us in the long run, just because we're going to have such a strong conference."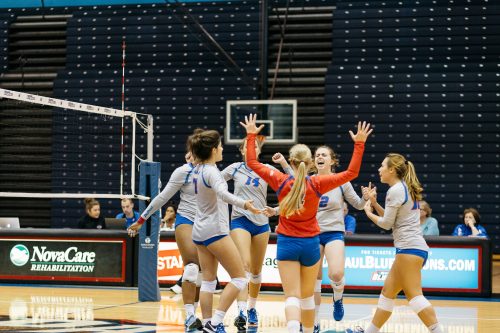 Those tough teams include the University of Iowa and Northern Illinois. DePaul lost against both teams in their first tournament of the season two weeks ago.
However, the Bulldog Showdown this past weekend proved to be a much different story, when DePaul was crowned champion after defeating Fresno State and Portland.
"After the first weekend, we went into the short week of practice looking to make improvements and were able to see them," head volleyball coach Nadia Edwards said. "I think that says a lot about this group and their ability to respond to challenges set before them. It also says a lot about their work ethic in the gym and what they are willing to do in order to be successful."
The team's chemistry has come together so well that they've managed to create an unpredictable offense in the midst of it all. The setters continue to make an even distribution to their middles, outsides, and right sides, requiring accurate passing and ball control – a genuine team effort.
Returning sophomore Brittany Maxwell shined in their most recent win, earning tournament MVP and Big East player of the week with a team-high of 43 kills and 13 total blocks.
"It's definitely rewarding … I feel like we put so much hard work into preseason and practice, so it's definitely a big reward to actually be recognized," Maxwell said.
Players like Maxwell and Smith have been vital to the team's success this year, but also this year's fresh talent includes a wide range of freshmen, from outside hitters to a new setter and libero.
"We have spent a lot of time together on and off the court thus far this preseason and have had a lot of fun together," Edwards said. "(They) committed pretty early, which has made their transition rather smooth … It seems like they have been here for more than four weeks."
"I honestly think that this has been one of the best groups," Smith said. "They've just been responding really well to practices … So that when they do come in to play for us, they've been doing really well."
Heading into their first home weekend, the Blue Demons stood at 3-3 overall. Their weekend results at the DePaul Invitational continued to be solid as they went 2-1 on the weekend, narrowly missing a sweep as they lost to UIC in five sets.