Sports and politics do mix, as they should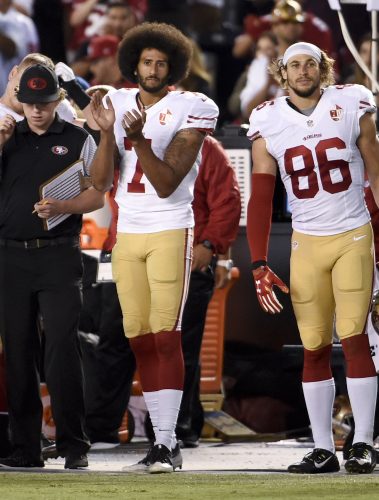 San Francisco 49ers quarterback Colin Kaepernick drew strong reactions when he sat down during the playing of the national anthem on Aug. 26. Fans posted videos of themselves burning Kaepernick jerseys and he received backlash in the media.
However, he also received support for his action. Fellow 49ers player Eric Reid and Seattle Seahawks player Jeremy Lane, as well as women's soccer star and United States national team member Megan Rapinoe have joined him. His jersey has become the highest selling jersey in the NFL shop. His action to sit during the national anthem ignited a conversation about his role as an athlete speaking about issues such as race and police brutality.
Sports and politics, or non-field related topics, have long been bedfellows. The truth of the matter is that sports do not exist in a vacuum, as purely an escape from life. Some have questioned Kaepernick's role in speaking about race issues as he said  he does not show "…pride in a flag for a country that oppresses black people and people of color," considering his standing as a millionaire athlete. This attitude that dismisses his grievances because he's an athlete or because he makes a lot of money is an easy way to sidestep the issue he's protesting.
It's also ignorant of history. Politics and sports do mix. The late Muhammad Ali, who died earlier this year, gave up three years of his prime because he refused to allow himself to be drafted to fight in the Vietnam War. He spoke of the oppression of people of color during the height of the civil rights movement in the 1960s. He became a standard bearer for those fighting against the war and for civil rights. He ran up against backlash from all over the country, but continued to use his role as an athlete to make a statement.
Or of Tommie Smith and John Carlos, whose iconic black power salute during the U.S national anthem at the 1968 Olympics led to their expulsion from the U.S. team.
This is what Kaepernick and Rapinoe are trying to do. They're using their status as high-profile athletes to stand together (figuratively) and draw attention to their beliefs that the flag of the United States does not represent freedom for all. Rapinoe strikes a large chord because she is a woman who has represented the United States more than 100 times, including at the World Cup and Olympics, but also as a gay woman she says she knows what it means to see the flag as a symbol that does not represent liberty.
These athletes have a stage in which to speak about issues that concern them, and they should speak about them. Sports are more than on-field action. Sports at their very heart are communities coming together to cheer on their team and their athletes. However, they are also a business, which involves politics in itself.
The National Football League has received money from the U.S. State Department to honor soldiers and have patriotic displays. $5.4 million was paid to 14 different teams over the span of four years from 2011-2015 to have these displays. It's hypocritical to ask the players not to speak on issues when their own league is involved in politics like this.
This does not mean that a mixture of sports and politics has to come with a negative connotation such as when President George W. Bush threw out the first pitch of Game three in the 2001 World Series in New York, less than two months after the Sept. 11 terrorist attacks. When he pitched a perfect strike, it was an incredible moment for the nation, and a show of the impact that sports can have as a community builder.
But to enjoy the moments where sports rise in this manner, fans also have to accept the moments where athletes or teams criticize the nation. We cannot have the good without the bad. This means recognizing Kaepernick and Rapinoe's right to sit or kneel during the national anthem, and listening to what they are protesting. That does not mean we have to agree with their protest or what they are protesting, but it does mean we have to recognize their right to use their stage as high-profile athletes.
And above all, a patriotic display where one cannot willfully exclude themselves does not mean much. This is a time to come together as a nation and discuss the issues, not shout for athletes to be silent.