With the DePaul arena expected to open next fall, the building is starting to take shape. The concrete is poured and the trusses have started to be erected across the roof.
And soon it will have a name.
"We have several prospects in the pipeline for naming rights and we've met with a number of them and we have several more still to meet with," DePaul athletic director Jean Lenti Ponsetto said. "Ideally I think we'd like to have the process completed this fall and be in a position to make an announcement sometime this fall but that really will depend on how quickly we can get through the process."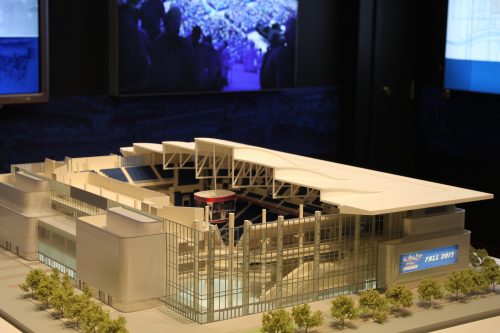 In May, Ryan Smith, the general manager of global sales for Legends, the marketing firm handling the arena's naming rights and sponsorship deals, said that they hoped to have an announcement within 12 months.
Lenti Ponsetto said the biggest priority is to search for a company close to the city.
"One of the main focuses for us is for it to be a Chicago name, an iconic Chicago name," she said. "Someone who lives here and appreciates the architecture of Chicago."
Phil Meyers, a DePaul professor who teaches a class on law and politics in sports, said that the choice of a naming rights sponsor for arenas require a balance from both parties.
"The team wants to have a big enough corporate sponsor," he said. "But the company has to get something back."
As to who will be the group that has their name on the entrance to the arena, Lenti Ponsetto said DePaul is looking at a variety of different companies.
"Every group has a uniqueness about their opportunity," she said. "Some are in banking, some are in insurance, some are in other financial areas, some are other kinds of companies and corporations."
Recently, the Chicago White Sox drew negative reactions following their announcement that U.S. Cellular Field would become Guaranteed Rate Field after the Chicago mortgage company bought the naming rights. With the name of the DePaul arena undecided, Meyers said that there are a lot of factors to consider when deciding on a name that might receive poor reactions.
"My personal belief is if you're starting from scratch, it's easier because there's not a tradition," he said. "It's a lot harder to sell Yankee Stadium or Dodger Stadium."
Meyers referred to his own personal experience as a student, when Allstate Arena, DePaul's current home, was known as the Rosemont Horizon, and how he still refers to the arena as "The Horizon."
But Meyers also drew a contrast between Guaranteed Rate Field and the United Center, which houses the Chicago Bulls and Chicago Blackhawks.
"United sounds really good and it's easier to swallow," he said. "Guaranteed Rate sounds awkward, like a low-quality team and low-quality name. United and Guaranteed Rate is night and day."
So with DePaul starting from scratch with a new arena, Lenti Ponsetto said they are considering many different options, but also insisted it was premature to talk about potential names before they started eliminating options.
"DePaul is very open minded; I think (Metropolitan Pier and Exposition Authority) is also very open minded so we wouldn't discriminate," she said. "Again, we just have a priority that we would like it to be someone who calls Chicago home."
The ultimate decision will be signed off by DePaul President Rev. Dennis Holtschneider, C.M., but there will be input from Lenti Ponsetto, the DePaul University board of trustees, the CEO of MPEA Lori Healey, as well as their board of directors and Legends.
"We also want it to be someone who marries up with the DePaul brand and the MPEA brand," she said. "And shares our values about how we're all contributing to the greater fabric of Chicago."
DePaul will receive the revenue from the naming rights and sponsorship deals, which is expected to be approximately $34 million, according to their agreement with MPEA and Legends. The arena is expected to be open for the 2017-18 basketball season, where men's basketball will play all of their home games and women's basketball will play at least six games. It broke ground in November of 2015 after being announced in May of 2013.