At DePaul University, we follow the example of St. Vincent de Paul by honoring the human dignity of all individuals and serving those who have been marginalized in our society. At the same time, we value free expression and are open to the exchange of ideas from differing points of view. The recent chalking of phrases deliberately intended to stir a reaction, and the invitation of provocative speakers that many would find offensive, have challenged us to choose between our Vincentian values and freedom of speech, rather than sought ways for both to coexist.
This conflict has become the focus of our attention at the start of the new term.
Some students recognized the hurt and pain these incidents caused and, this past week, they responded by chalking words of kindness throughout the campus. I applaud this response. For the many students who question whether they are supported and welcome at the university, I want you to know that you are. Many offices, departments and individuals within the campus community, including a great many of your fellow students, are here for you.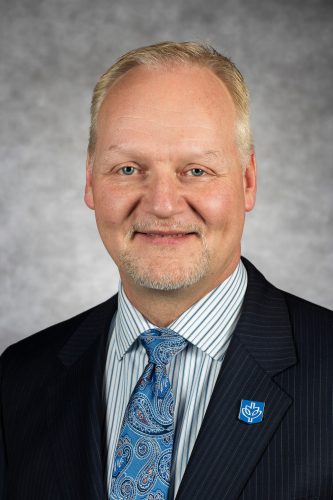 If we allow ourselves to be drawn into choosing between our Vincentian values and freedom of speech, we miss an opportunity to engage in robust and broad-ranging debates on important domestic and global issues during this election cycle. It would be a shame if all that DePaul talks about during this election cycle is the struggle between our Vincentian values and freedom of speech.
I challenge our students to invite speakers who will deliver substantive messages on a broad array of topics, and create debates that introduce expert information rather than simply repeat the shared media hype and tired tropes of cable TV and shock radio. Let us together consider and learn about the great social questions we are all facing, regardless of our political affiliations.
This includes questions such as:
With the U.S. economy finding itself unable to progress away from a low interest strategy and seven major countries now trapped in negative interest, what would break this unprecedented situation and stimulate our economy?
How can cities create safer neighborhoods?
What is the best way for a federal government to raise the quality of locally controlled and funded schools, now that the high-stakes education testing strategies of Bush and Obama administrations have been found lacking?
What foreign policy issues matter most? Is it the South China Sea? North Korea's nuclear progress? The civil war in Syria? What to do about Iran? How about ISIS and other terrorist organizations?
What immigration policies would support a vibrant and sustainable economy?
The university is examining our guidelines and policies for speech. We will linger long on and prioritize the issues of race and intolerance that have been raised. As an academic community, let us pay attention to all the issues at stake in the coming election, and let's do so in a way the respects the human dignity of all.
We Are DePaul.