Lawrence Hamer appointed to run diversity initiatives
As part of DePaul's Speech and Race Action Plan, Lawrence Hamer was asked to lead diversity initiatives in the Office of Academic Affairs.
The release of the plan could be seen as a result of the Milo Yiannopoulos controversy in the spring. The conservative speaker was invited to the university by the College Republicans, which resulted in a number of protests and petitions.
Since the controversy, DePaul has been the subject of many topics regarding free speech on college campuses and is now analyzing how it represents minority students. Hamer said this is the silver lining of the situation from last spring.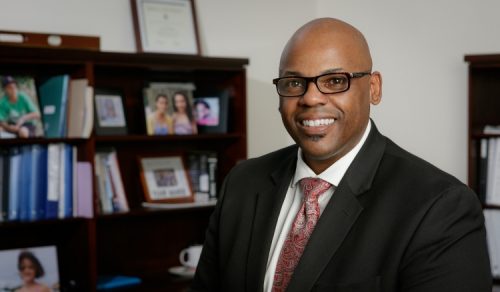 "Most situations, even if they're bad, present some opportunity," he said. "I think the opportunity that was presented by the situation last spring has made it really clear that we have issues on campus that we need to address, and I hope it's also giving us the motivation to address them."
Provost Marten denBoer said Hamer's experience in leadership roles at DePaul was a factor in choosing him for the position.
Fresh out of his business administration and marketing Ph.D. program at the University of Illinois in Champaign, Hamer started as an assistant marketing professor and worked his way through the ranks — eventually serving as associate dean of the Driehaus College of Business.
He eventually moved into the Office of Academic Affairs, where he serves as associate provost of governance and academic integrity. In this position, he has worked closely with Faculty Council and the President's Diversity Council.
"I think my past experience on a variety of topics, and my effectiveness on a lot of those topics, is why I was appointed to this poisition," Hamer said. "All of these things have given me exposure to a number of people across the university, so it's allowed me to interact with people and build relationships with people that will be helpful in this position."
But denBoer said it was more than just Hamer's experience that made him the best candidate for the position.
"He has a thoughtful approach to issues," denBoer said. "He's handled a lot of difficult programs and he has a creative approach to them. But he's also a good listener. He listens to people and I respect that."
Part of Hamer's new role will be to work closely with the Office of Institutional Diversity and Equity to increase faculty diversity, amongst other initiatives.
"Lawrence Hamer's new role to lead faculty diversity efforts is an essential development in achieving diverse faculty representation and success at DePaul," Elizabeth Ortiz, vice president for Institutional Diversity and Equity said. "His work in partnership with the diversity advocates, will look to the recruitment, retention, and engagement of diverse faculty while also exploring diversifying the curriculum."
The announcement of Hamer's position comes following a major reorganization in Academic Affairs that occurred over the summer.
"We went through some structural changes, and we didn't have anyone specifically working on diversity," he said. "I think my past experience on a variety of topics and my effectiveness on working on a lot of these topics is why I was appointed to this position."
One of his major goals in this new position is to restructure the curriculum to make sure it's more effective for the student body.
"I plan on working with the Liberal Studies Council to see how diversity is currently reflected in our liberal studies program and if we're comfortable with the way it's reflected, or if we think it needs to be changed somehow," Hamer said.
These curriculum changes will look at the content and structure of courses in the liberal studies program to make sure it's incorporating all backgrounds.
While the main portion of Hamer's position will impact faculty and administration, he said he will have an "indirect" impact on students.
"It's tied to students through the work on faculty and the work on the curriculum," he said.
By exposing students to more diverse faculty and curriculum, Hamer said students will be able to exit DePaul as more culturally well-rounded individuals.
However, as he was just appointed to the position earlier this month, he is still working on analyzing the curriculum and faculty to see what kind of changes are needed before setting an official plan into motion.
In the end, Hamer thinks his position will allow for some much-needed discussion on campus.
"I hope that my role can help foster a conversation and contribute to that energy that will be needed to make change on campus," he said.