Anderson becomes young star for volleyball
Freshman volleyball player Claire Anderson already has 47 kills and eight serving aces under her belt this season. She has adjusted seamlessly to the collegiate level.
Well, somewhat. She still has some adjustments to make – specifically, doing her laundry.
"It's so terrible to say, but it's a pain," Anderson said. "I didn't know that until I got here."
Aside from that, the move to the big city from the northwest suburbs hasn't been as challenging as she thought. With her parents able to visit often and her teammates making her feel right at home, she's constantly reminded of why DePaul was the right choice for her.
"The recruiting process for most people is super stressful, but DePaul was always at the top of my list," the St. Charles native said. "I also really loved the academics that it had to offer. It was a really good balance between good athletics and really great academics."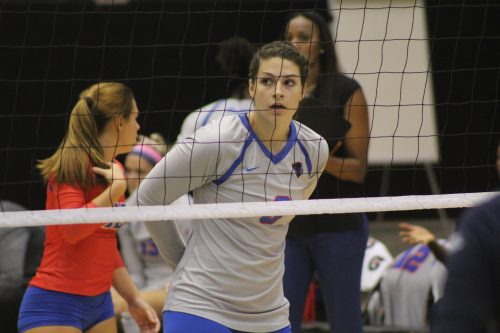 When she isn't studying or busy serving up aces, Anderson takes advantage of Chicago's wide range of restaurants near the Lincoln Park campus, as every college student should.
"I love that there's so many good places to eat," Anderson said. "We're like an Uber [ride] or [a] 10-minute walk from basically anywhere you really want to go, and I think that's really cool."
Recently, Anderson and fellow teammate, Katie Dolan ate at Aha Crepe on North Clark Street. The freshman said that with the endless variety of crepes on the menu, it's been her favorite place to eat at so far. However, her family's cooking still calls her name.
"I kind of just eat sporadically when I can," the freshman said. "I miss just sitting down and having dinner with my family. And my dog, I really miss my dog, Barkley. I FaceTime him regularly."
Because where would we be without technology if we couldn't FaceTime our furry friends? When she finds time, she does just that with her bearded collie.
But for the times she can't, her roommate, Dolan is there to make her laugh and forget. In fact, the two are so close, that they even finish each other's sentences.
"She's like my sister, it's ridiculous," Dolan said. "Like I tell her everything, (and) she knows what I'm going to say before I even say it. If she's having a rough day, she knows what to do to cheer me up and I know what to do to cheer her up."
When times are tough, Anderson reminds her friend to take a 'woosah' breath – yes, we had to ask what that was too.
"She knows when I need to calm down," Dolan said. "She's like 'Katie Dawn, you need to woosah!' It's (just) calming."
Anderson picked up the technique from her Club Fusion coach – the same club responsible for the two becoming such close friends.
"I didn't say a word to her the entire (first) year (together)," Dolan said. "(Claire) was terrifying, she was absolutely terrifying, (because) she was like so good, and I was like, 'I'm not good enough, I'm not good enough to play with her."
The following year, the two became captains of the same 16's club team. Dolan said it was then that their coach forced at least an attempt at friendship, but it didn't take long for the rest to come naturally.
"After that, we clicked instantly, and I told her she scared the crap out of me," Dolan said. "It's like such a joke now because she's not scary at all; she's like a teddy bear."
Head coach Nadia Edwards adds that Anderson's funny personality only complements her success on the court.
"She's a very decorative player, but when you get to know her off the court, you get to know (how laidback and funny she is,)" Edwards said.
When it comes to Anderson's strengths on the court, Edwards knows that the team's offensive weapon will only continue to gain momentum as she goes through the system.
"This year I just wanted to go in and make a difference," Anderson said. "I've come into a really great program, and I aim to make a difference, (even) if it's just in practice, if I'm on the bench, or when I get put in games; (just) making the best of what I can in whatever situation I'm in."
Coming into the season after recovering from an ankle injury this past spring, the freshman has continuously put in work day in and day out – determination that has gone anything but unnoticed.
"I was actually there watching when she got the injury back in the spring and it was certainly a devastating moment," Edwards said. "But I think she is a resilient player and she's learned to find ways to get over that and make a comeback, and we've been able to have the opportunity to support her in doing that, from over the summer, preseason, and now."
"(Claire's) had to overcome a lot of adversity in the past months with injuries," Dolan said. "No one really understands how hard she's worked to come back from that and to be able to play college volleyball."
Perhaps it's Anderson's perseverance and bubbly personality that inspired her life mantra of Disney's Pixar character, Dory: "Just keep swimming, just keep swimming."
Wherever life takes the talented freshman, she has a feeling it'll involve her love for the game in some form.
"I think it would be really cool, maybe for like a year or two after college, to play overseas," Anderson said. "That would just be a maybe. After college, I think I'm going to focus on my career."
Majoring in finance, she said she hopes to open up a small business one day, but is unsure of what kind at the moment.
Maybe a crepe restaurant.