"Pitch" delivers realistic female baseball drama
There's something extremely satisfying about a piece of fictional sports media getting sports right.
From my perspective, as a person who spends so much time studying and writing about non-fictional sports, it's impressive when fictional sports media shows authenticity and gets the feeling of watching sports right.
So when I first sat down to watch "Pitch," a fictionalized account about Ginny Baker (Kylie Bunbury), the first woman ever to play in Major League Baseball, I was impressed with how authentic the show felt, and how the viewer was able to immerse themselves in this somewhat fictional universe.
What gives the show quality is how much access MLB let FOX have when filming this show. The setting is with the San Diego Padres, and filming took place at their stadium, Petco Park. Their opponents are real MLB teams as well, and even reporters like Katie Nolan, Colin Cowherd and Ken Rosenthal are featured on TVs, giving analysis on Baker.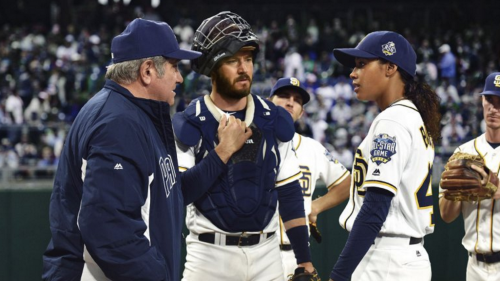 Then we get to the games, where it's led in with the FOX baseball intro music and graphics, and the game is commentated by regular FOX baseball broadcasters Joe Buck and John Smoltz. It's a great way to make the show feel real, like the viewer is tuning into an actual game.
The pilot episode deals with Baker's first game, and the hype surrounding it. She's a 23-year-old pitcher with an arsenal of pitches aimed to deceive batters. The team largely views her as a distraction; as a gimmick to sell tickets. It causes dissention in the locker room between players, and between the manager and front office.
The second episode, which aired this past Thursday, reflected more of the same qualities I had hoped the show would bring. The on-field performance served as a backdrop to off-field drama. The show is able to bring in sexism, gender roles and the idea of athletes as role models and spokespeople, all while mixing it in with teammate comradery, locker room tumult, front office politics and relationships between players and agents.
The best thing this show does is it gives viewers a chance to go behind the scenes of a sports team while also serving up a chance to look at women in sports that has never been done before. Men and women have typically been separated in sports after grade school, so the idea of a woman competing in what has always been a men's league is uncharted territory, and so far the show has done a good job of being creative, while not giving in to temptations to make the show more dramatic than it needs to be.
With sports shows there's already conflict set up with games and seasons. Sports have their own inherent drama, and that can make shows about them difficult to balance the amount of conflicts. What "Pitch" has done, so far, is make baseball serve as a backdrop to the off-field conflicts, so that we can get the backstories to the characters and make us care about the players. When they either fail or succeed on the field, we care more. People wanting shows about sports can accept a storyline about relationships when it follows two scenes about a manager screwing up during a press conference and media relations.
However, the inherent conflict of sports also allows for this show to continue on with multiple plots. Ginny's best pitch is a screwball, which is notorious for leading to arm injuries in real life. That could be a possible storyline down the road, and I have faith with the baseball acumen the writers have shown so far, they can do baseball-specific plotlines justice.
There are a couple of times where the show is a bit too heavy-handed, like when they gave her the number 43 because "it's one-up from Jackie Robinson," but overall it's a good sports show that can appeal to a larger audience, but still appeal to baseball fans who will enjoy its authenticity. It speaks to real-life issues, both athletic and not, and puts together a nice balance of fun on-field performances and interesting off-field plots.