"Coach Alex" transitions to graduate student
There's a familiar sight at DePaul women's soccer practices this season: Alex Godinez training as a keeper.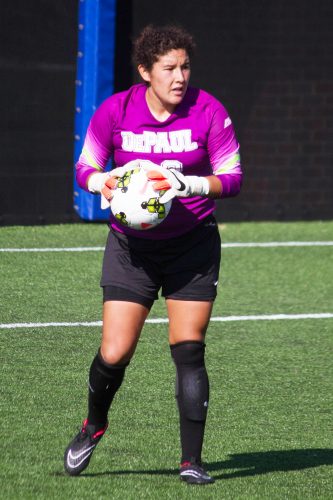 What isn't familiar is that Godinez will be running that training session, while simultaneously staying in game day shape as she hopes to continue her soccer career.
"For the past four years (head coach Erin Chastain) has known that I've wanted to continue my soccer career," Godinez said. "She gave me a chance to kind of be an assistant coach and train with the team as well."
Godinez was the star keeper for the Blue Demons for the past three seasons. She set the school record for GAA (goals against average) and winning percentage, both single season and career. This coincided with a time where DePaul reached new heights by winning the Big East regular season and tournament titles in 2014.
After her NCAA eligibility ended following the 2015 season, Godinez still had one more quarter of classes and one more quarter of teaching to finish up her undergraduate degree in physical education. Godinez still has dreams of playing professional soccer as well, so when the opportunity came for her to train and coach the team while staying close to her classes, Godinez jumped at the chance.
"She's been great," Chastain said. "Obviously, she's an experienced goal keeper and she had a great career for us so I think she knows exactly what it takes to get to the next level."
Godinez works with the DePaul goalkeeping coach during practices and her level of involvement depends on what the team needs.
"She does most of the planning for the week so when she's there I'm allowed to jump into the sessions and train with the team," Godinez said. "But I'm allowed to give feedback to the goalies if I see something they should do differently. So I'm kind of like the assistant goalie coach."
Lauren Frasca, a junior who took over the starting keeper position in 2016 after Godinez's collegiate career came to an end, said that she likes working with Godinez as a coach.
"We always joke because now she's 'Coach Alex," when she used to just be 'Alex,'' Frasca said. "I don't think her role has changed from an authoritative standpoint. She treats me like a teammate just like we used to be."
Godinez said that, at times, it's weird to remember that she's on the coaching staff considering she's been with the teams and players for so long.
"It was difficult at first," she said. "I didn't know where my boundaries were because a lot of these players have been my teammates and are my age and they're my friends."
However, the reviews from the rest of the coaching staff have been positive. Chastian said that Godinez has been a good addition to the staff, and that the rest of the team is able to look up to her.
"She gets into training and is able to demonstrate everything," Chastain said. "For our goalkeepers to be around that is awesome, to see how hard she trains and how fit she is. She sets a really good example for them."
Frasca said that she still sees Alex as a teammate, since they were teammates in 2014 and 2015, but has always felt like Godinez has been a mentor to her. Now she has an official title.
"I definitely have more respect for her now that she's part of the staff," she said.  "She's always been coaching me like last year and nothing has changed."
After Godinez's classes finish up this fall quarter, she'll student teach during winter quarter, then she'll be done with her undergraduate degree. She said she'll try to catch on with a professional team, but the future is still up in the air. Whether in the United States or abroad.
"At this point, I would go anywhere," she said. "It's scary, but I'd go anywhere."