Report: Notre Dame will be first opponent in new DePaul arena
CBS Sports' Jon Rothstein reported that Notre Dame will be the first men's basketball opponent when the new DePaul arena opens in fall of 2017.
DePaul's first game in its new downtown arena will be against Notre Dame, per sources. Here's more @FanRagSports: https://t.co/SQ8rfjjivP

— Jon Rothstein (@JonRothstein) October 12, 2016
The report, which came out on Wednesday, said that the matchup will be the first in a home-and-home series, which will send the Blue Demons to Notre Dame the season after.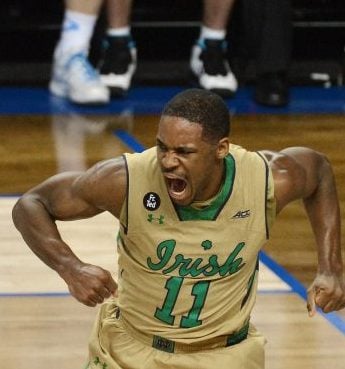 The Blue Demons and Fighting Irish played each other regularly as part of the Big East but have not met in men's basketball since Notre Dame left the conference in 2013. Notre Dame leads the all-time series 53-38. DePaul and Notre Dame have played each other 91 times since both schools have been classified as Division I schools, which is second most in the Blue Demon's history only to Marquette.
The 2017-18 season will be the first for DePaul in their new arena. The new arena is located in the south loop and is currently scheduled to be open in September of 2017. DePaul has played at Allstate Arena in Rosemont since 1980 because their crowds were too big for the on-campus Alumni Hall.
The new arena, which may have a sponsor as soon as this fall, will seat 10,000 people and will be the primary home for DePaul men's basketball. The women's basketball team will also play six games per season in the arena.