Richardson Library renovations approved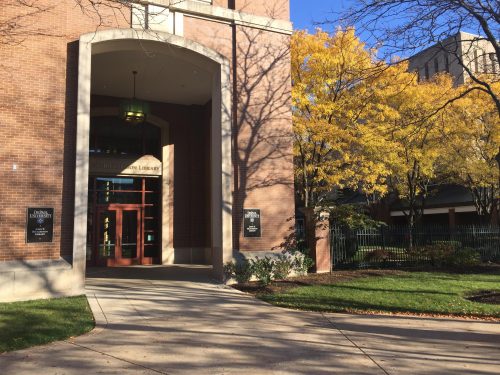 DePaul's John T. Richardson Library is getting yet another facelift: last week, the Board of Trustees approved a third phase of renovations for the Lincoln Park-located library, set to begin next summer.
"The delivery of information resources for academics and research is now impossible without technology," Rev. Edward Udovic, C.M. wrote in an emailed statement. Udovic serves as vice president for teaching and learning resources and oversees the campuses' libraries. "This technology is evolving very rapidly, and the DePaul libraries have to keep pace to support faculty and student research and learning inside and outside the classroom."
The construction will include a reorganization of the second floor library stacks, an expansion of spaces and services for academic technology and new offices for library and tech staff. The first floor Information Commons — which includes over 100 computers and group collaboration tables, among other tech features — will also be expanded to the second floor.
"The Information Commons on the second floor will follow the open-plan computing found on the first floor, taking up much of the center aisle of the floor and extending toward the stacks still found on the second floor," said librarian Scott Walter in an emailed statement. "Unlike the first floor, the second floor will retain much of its current shelving, though materials will be moved into a new configuration."
Construction will officially begin after spring commencement in 2017, and Walter said unofficial preparation has already begun — though he added students and faculty will be notified of any changes in the location of material or other service changes.
Library-goers also should not expect any major changes to service during the summer construction period, but certain collections may be unavailable at times, Walter said. More information regarding service changes will be available closer to construction dates.
This is the third phase of a planned four-phase renovation of the library — the first two phases were completed in 2011 and 2013, respectively. Phase one added square footage to the library space by repurposing an area previously occupied by the DePaul Art Museum and introduced new computing infrastructure, as well an instruction room for librarians to teach students research skills. 
Phase two included the construction of the Information Commons — which includes the Learning Commons and the Scholar's Lab — to provide technology-based access to academic and research support programs.
The newly approved phase three has been reviewed on an annual basis since 2011, and plans were revised based on the library staff's experience working with students and faculty in the Information Commons and the Scholar's Lab. 
"We are looking forward to being able to offer support for media content creation, a regular request from our users for many years," Walter said. "(We also look forward) to being able to provide spaces to all DePaul students and faculty that will provide them with the opportunity to try new teaching methods, design new assignments and work together more effectively because they know that students will have broader access to more tools."
Those tools will particularly benefit theater (or) art, media, and design, computer science, entrepreneurship and education students, Walter said, and promote collaboration between faculty from different departments.