House of guards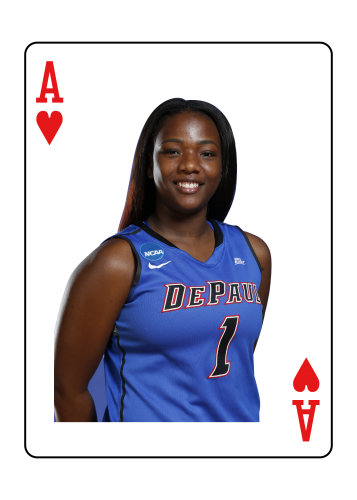 There's a common thread running between both DePaul basketball teams heading into the 2016-17 season.
They both have a dearth of forwards, and the forwards they do have are dealing with injuries – some significant enough to miss a good chunk of the season.
What this common thread means for both teams, however, is that, for better or worse, the guards will have to play a large role — both literally and figuratively – this season.
The injuries
Women's basketball was already going to be small. They had lost their stretch-4 Megan Podkowa to graduation, and forwards Brandi Harvey-Carr and Elri Liebenberg transferred away from the program in the offseason. Neither were projected starters, but the Blue Demons lost a lot of depth with those two transfers.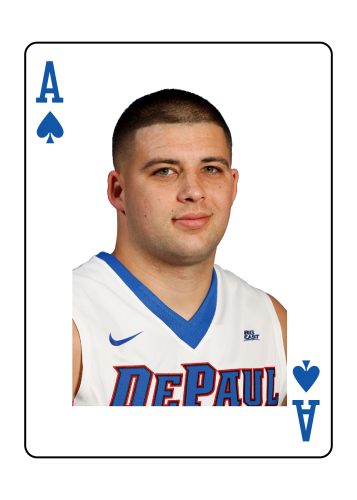 The starting lineup, however, looked solid headed into the season. Senior forward Jacqui Grant came off a solid season in her debut with DePaul, averaging 8.6 points and five rebounds per game. She was the starting forward that helped get the Blue Demons to the Sweet Sixteen as she maintained the lane, while Podkowa stretched the perimeter.
Grant was supposed to be joined by junior forward Mart'e Grays. Grays was the first forward option off the bench and averaged 15 minutes per game, alongside 5.9 points and 3.7 rebounds.
That strategy changed in October. Grays tore her Achilles and was ruled out for the season. An already small team lost a starter and got even smaller.
Being small, however, is familiar for DePaul.
"Of course it will be different because we're smaller this year," junior guard Ashton Millender said. "But we all have to rebound;,we all have to box out for each other. It does change things but we have to step up and be bigger."
On the men's side, it's a similar situation. During the offseason, DePaul lost a total of six forwards. Rashuan Stimage and Myke Henry graduated and Tommy Hamilton, Develle Phillips, Oumar Berry and Frederick Scott transferred.
Hamilton was the biggest loss — both literally and figuratively — as the Blue Demons lost a potential starter and an experienced center. These moves also wiped out their forward depth, which meant they needed to supplement with recruiting and transfers.
They did just that. They brought in junior Tre'Darius McCallum on a transfer from Indian Hills Community College and recruited Levi Cook and Al Eichelberger. They joined walk-on senior Peter Ryckbosch and walk-on junior Joe Hanel as potential contributors.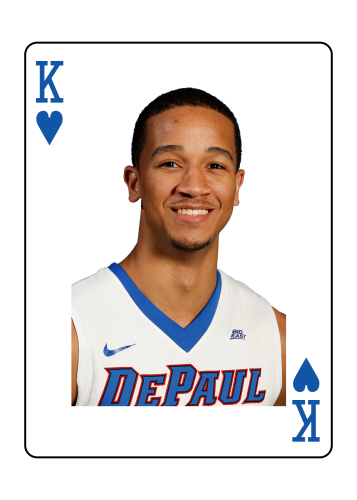 Over the summer, the Blue Demons' experience was dealt a blow. Ryckbosch, the only forward on the 2016-17 roster who had started games for DePaul, broke his kneecap. He might be out until Big East play starts, which leaves DePaul with no forwards that have Big East starting experience, and the depth have to suddenly be thrust into the starting roles.
The freshmen
There are two names that will mark the future of DePaul basketball in the paint: Chante Stonewall and Levi Cook. Stonewall saw the lion's share of minutes for forwards in both of the women's exhibition games, although she didn't start either of them.
Stonewall is a 6-foot-1 freshman out of Normal, Illinois. If the exhibition games are any indication, she'll see a lot of time at a very early age.
"Chante Stonewall showed you some really bright spots," women's basketball head coach Doug Bruno said. "She's got a shot to be really good as well, she just has got to find the consistency. There's possessions where there's freshmen-esque head spinning and there's possessions where she's really, really strong. That's just all about being a freshman."
In the men's only exhibition game, Cook wasn't a starter either. That spot instead went to Hanel. However, he did show a potential to be a starter. In 19 minutes, he pulled down 11 rebounds and put in eight points. His 6-foot-10, 293-pound frame is reminiscent of Tommy Hamilton, and his size fills a big need for the Blue Demons. Men's basketball head coach Dave Leitao has talked since the beginning of the summer how Cook will need to step up immediately.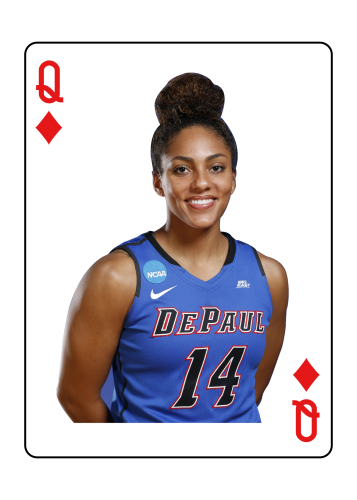 "Mentally I think Cook's ready and his skillset is ready and so now it's to get him as acclimated to college as quickly as we can so he can gain valuable experience," Leitao said in May. "So that when it comes fall he's ready to step on the floor because we expect him and quite honestly need him, to play some good minutes for us."
That was before Hamilton transferred and before Ryckbosch was injured. It means that Cook's role will have to be even bigger, but it also means flexibility from the rest of the squad.
The guards
"(Bruno) always talks about posts having guard skills and guards being able to post," junior guard Lauren Prochaska said. "There's definitely an emphasis this year on being multi-faceted and being able to play all the positions."
Both teams have similar philosophies this year: flexibility with the guards and creating advantageous matchups between forwards and guards when there's no size advantage.
"Most importantly is mixing and matching," Leitao said. "Positons one through four aren't really labeled because guys are interchangeable. (Billy Garrett Jr.) and (Eli Cain) have played all four positions and most of the guys have played at least three of them."
The men do have starting-quality forwards in Cook and McCallum. McCallum can play multiple positions and can stretch the floor like Myke Henry did. Cook can stay in the lane and own the mid-range shots.
The problem is that they can't play the whole game. With at least 34 games coming up this season, Leitao said that it's a necessity for guards to be able to play post roles.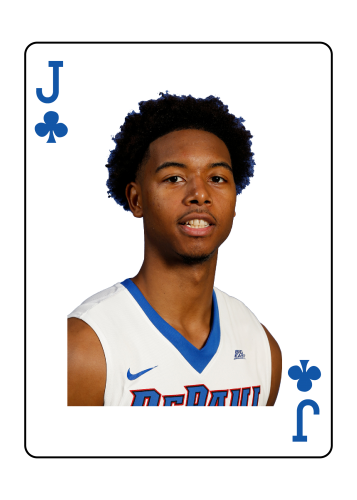 "There's so few big guys and the ones that we have are new and young," Leitao said. "It's teaching on the fly because you don't have as much experience with whatever sizes you have."
But that may create advantages for DePaul if they succeed at creating mismatches.
"They've got to learn more things with multiple positions," he said. "But hopefully they get more freedom because they'll have some matchup advantages on offense especially."
The women are being coached with a similar philosophy, and one that Bruno's teams have had success with in the past.
"It's definitely sad that (Grays) is down but (Bruno) talks about guards being able to get to the post if that's the best matchup," Millender said.
DePaul used a similar philosophy in 2014-15 when they won the Big East regular season and tournament titles with only one starter over six-feet tall. They played quick and with high-pressure. In the exhibition games they've shown similar tendencies with four starting guards (Jessica January, Brooke Schulte, Ashton Millender and Amarah Coleman) and an emphasis on pressure.
"We have to stay conditioned to pressure," Bruno said after DePaul's 124-67 demolition of St. Xavier. "So you can't just take it off because you're up, because we're stuck seasonably. The reason we do this is because we are trying to compensate for our teams. If we're not going to be able to go toe to toe with you at the basket, then we got to make them go toe to toe with us on the floor."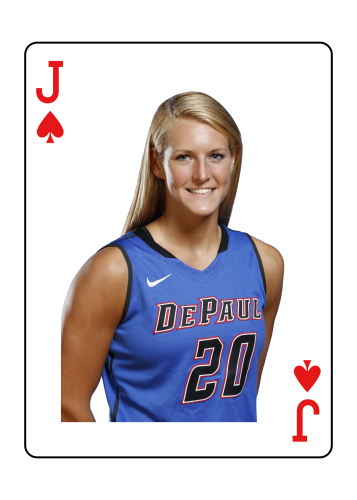 For the men, they might not play as quickly or with as much pressure, but there will still be an emphasis on making sure the guards can step into the roles where they don't have the personnel.
"I don't that I'll say that we'll shoot more jump shots," Leitao said. "But the ball will be in the hands of the guys on the perimeter a lot and our hope is that we can balance ourselves between driving the ball and even posting up. It's fair to say that a lot of things will happen, as is with most teams, from the guys on the perimeter."
Those strategies, with this year's players and opponents, won't exactly be known until the teams open up their season this week. The women play two games as part of the Maggie Dixon Classic and play at 8 p.m. both Friday and Saturday night. The men host Robert Morris at 6 p.m. at McGrath-Phillips Arena on Sunday. None of those games should give either team too much trouble as the Blue Demons open up the 2016-17 basketball season.
But if both teams can have success with their rosters as they are, it certainly won't be a small feat.
Jack Higgins contributed to this report.