Men dispatch of Rockhurst 79-53
When DePaul men's basketball met Rockhurst in an exhibition on Friday it wasn't pretty.
The 79-53 win by the Blue Demons saw 45 combined turnovers and 53 combined fouls between the two teams.
No, it wasn't pretty. However, that won't matter until next Sunday when the Blue Demons open up their season against Robert Morris.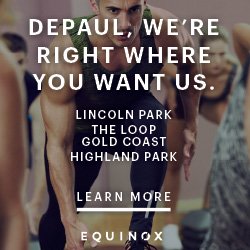 "I think you'll get the same story from just about every coach this time of year in that you're trying to figure things out," head coach Dave Leitao said. "Playing a lot of guys and mixing and matching and I think, like everybody else, have a long road to get to the point where we trust everything that's going on."
Nearly everyone on the active roster featured in this exhibition game. The only exceptions were senior Peter Ryckbosch, who is dealing with a knee injury, ineligible transfers Max Strus and Austin Grandstaff and senior guard Darrick Wood, who was out due to a team matter.
This game was the first look at a team with six newcomers, and two of them saw starting minutes: freshman guard Brandon Cyrus and junior Tre'Darius McCallum, who transferred to DePaul this offseason. Senior walk-on forward Joe Hanel also saw a surprising start alongside mainstays senior guard Billy Garrett Jr. and sophomore guard Eli Cain.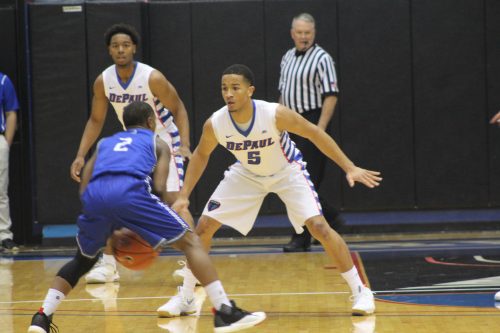 Garrett, now entering his fourth season as a starter, said  there will be an adjustment period as the newcomers get used to the new level of basketball.
"We got a lot of new guys who haven't been through the rigors of the Big East and college basketball," he said. "Just got to show them the way and give them anything they need and help calm these guys down and relax and go out and play basketball."
The first half was tight as the Blue Demons were slow to start. Garrett was one of the few Blue Demons who could score consistently throughout the game as he finished with 26 points. The DePaul defense and sloppiness of the Rockhurst offense was what kept them in the lead as they held the Hawks without a field goal for the first eight minutes of the half. The Blue Demons led 33-27 at the break.
In the second half, things opened up for the Blue Demons. They outscored the Hawks 46-26 and were able to play better defense. This is when more players were given more time to play, including freshman forward Levi Cook. Cook picked up 11 rebounds in 19 minutes, as well as eight points. Cook is a player that could feature a lot of minutes, but it all depends on how many players Leitao wants to use during the regular season.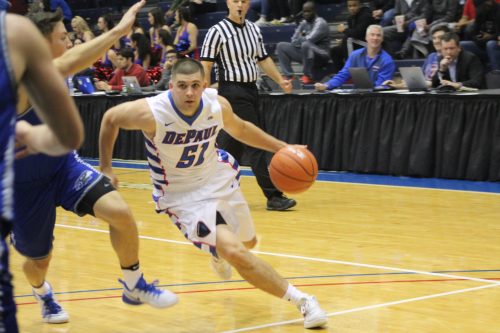 "We played ten guys double figure minutes," he said. "We'll continue to look at lineup combinations. If it ends up being that we play that many guys, we'll probably stretch the floor more and more pressure on the ball defensively and pick up the pace."
The Blue Demons were able to cruise in the second half to a victory 79-53. Garret and Travis House of Rockhurst both had 26 points to lead the game, while Cyrus chipped in 14 and senior guard RJ Currington had 11.
"It feels great to win but we've got some work to do," Garrett said. "Definitely from a discipline standpoint, defensively and offensive, I felt like we were a little tight as a team to open up."
DePaul has one week until the regular season goes live when they host Robert Morris next Sunday at 6 p.m. at McGrath-Phillips Arena.