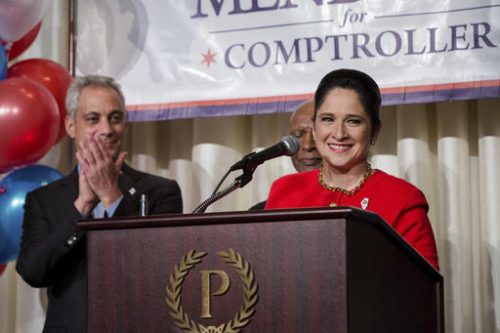 Susana Mendoza won the hotly-contested election for state comptroller Tuesday night, making her the first Hispanic in the Democratic Party to run for a statewide office and putting her in a position to check Republican Gov. Bruce Rauner.
Fans, family and friends waited for hours as they watched the tallying of the votes at the Palmer House Hilton. By about 11 p.m., incumbent comptroller Leslie Munger conceded defeat with 45 percent of the vote to Mendoza's 49 percent.
Soon after, Mendoza, in company of Chicago Mayor Rahm Emanuel and Illinois Secretary of State Jessie White, arrived in the ballroom to celebrate victory.
"In the blink of an eye, and $10 million later, my race became the most expensive statewide race in the state of Illinois," Mendoza said. "We set a message, folks, that the state of Illinois is not for sale."
Illinois' budget crisis has made the election for comptroller one of the most important this cycle, evident from the millions of dollars spent on the race.
While both candidates deny it, many have said that the race was a proxy war between Gov. Bruce Rauner and Illinois House Speaker Michael Madigan.
Mendoza has in the past, and again tonight, defied this perspective.
"I look forward to being the independent, truth-telling, fiscal watchdog who will prioritize both the fiscal and the moral health of this state," Mendoza said. "I tangle up with some of the biggest, baddest politicians in history," Mendoza said as she gestured to Emanuel.
Mendoza's election was one of a series of victories for the Democrats in Illinois: Tammy Duckworth won the race for U.S. Senator, and Kim Foxx grasped the position of Cook County State's Attorney.
Emanuel offered his support for the comptroller-elect before Mendoza hopped on stage.
"I know Susana Mendoza as somebody who can stand up and tell you exactly what she thinks," Emanuel said. "She will fight for the taxpayers of this great state as I have seen her fight for the people of Chicago.
"She is tough not to be tough, but that she takes public service very seriously," Emanuel said.
White also offered his congratulations.
"Tonight we have a young lady who will represent us in an area which we need to be represented," White said.
The comptroller looks after Illinois' bills and financial accounts, and can only write checks with approval from the legislature and the governor. Such a position is crucial amid the state's massive $9.5 billion budget deficit, a stopgap budget that will end by the end of 2016 and $111 billion in unfunded pensions.
Mendoza currently serves as the City Clerk of Chicago and previously served 10 years in the Illinois House of Representatives.
Munger was a former executive of Helene Curtis Industries, a beauty products company. She then lost the race for State Representative and went into retirement. But, after the Comptroller Jude Baar Topinka died unexpectedly in office in 2014, Rauner appointed Munger to the position.
For the past two years, Munger has served as comptroller, normally a four year role. But, Democrats pushed through legislation in the final days of former Gov. Pat Quinn's administration calling for a special election this year.
"Make no mistake about it: we are not even close to being done today," Mendoza said. "I'm looking forward to returning to Springfield, a place I know well, and working will all kinds of elected officials."