Volleyball reflects on successful 2016
Only a day before senior day and the last chance to land a spot in the Big East tournament the DePaul women's volleyball game against St. John's was no ordinary game. 
No, it wasn't the result they were hoping for, falling to St. John's for the second time this season, 3-1 — but if there was ever any game that could define this team's resilience all throughout the season, it was this one.
The first two sets ended in a loss for the Blue Demons, 25-16. Showcasing their strong defense in consistent blocks throughout both sets, players like freshman Hanna Wagner and junior Danisha Moss made it seem as if St. John's was about to run away with yet another sweep.
But what the Red Storm forgot was DePaul's ability to surprise everyone, including themselves.
The third set began in similar fashion, with the Blue Demons down 4-1. Despite textbook kills from both juniors, Caitlyn Coffey and Myah Reed, it seemed as if nothing would be enough to lift them up for any possible comeback.
When junior, Rachel Breault's service ace stopped the Red Storm in their tracks and brought DePaul up 21-17. It was the first time in the match they were able to get past 16 points. St. John's answered back with a kill from sophomore Erica Di Maulo, but little did they know what would happen next.
Senior Colleen Smith decided to take the reins from there and went on to serve for five straight points. Coffey teamed up with both Reed and senior Jasmine King to have a block party of their own, ending in a total of six team blocks, and ultimately outperforming St. John's in defense, who only had four.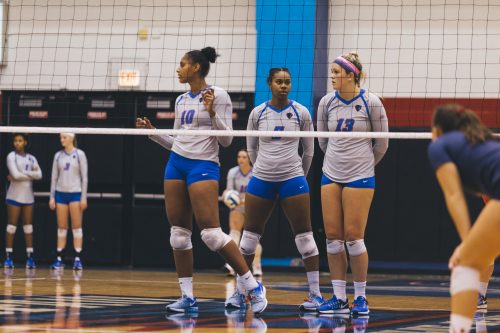 The crowd was roaring, and the energy in the room has shifted in DePaul's favor; as they've proven time and time again, they weren't going out without a fight. And after a service error by Reed, King finished off the set with a kill of her own to take it all 25-23.
However, the momentum wasn't enough to help the Blue Demons force any more sets, losing the match 25-17.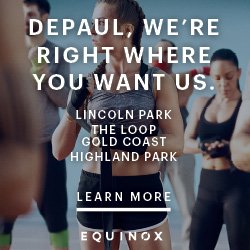 St. John's is only ranked 8th in the Big East, but their defensive game proved to be too much for DePaul, who they beat 3-0 during their last match together. Before today's game, the Red Storm averaged about 2.82 blocks per set with a total of 135.5, the most in the league.
Adding another testament to their determination, and resilience, today's game wasn't as much a loss, as it was a gain. It was a chance to see just how far DePaul's program has progressed throughout the years.
This year alone, DePaul has won seven Big East games, the most since joining the conference in 2005. Perhaps one of their most impressive games this season was at Creighton, where they forced a fourth set — something no other team in the conference has been able to accomplish. The Blue Jays, who are currently 14-0 in Big East play, gave the Blue Demons their first Big East loss of the season that day.
As a team, these Blue Demons have accomplished more they could've ever hoped for. This season in particular has been very special to all three seniors, Smith, King, and Lexi Chanos.
Fighting back tears, Smith found it difficult coming to terms with her final moments on the court she's called home for the last four years.
"I mean I'm really trying not to think about it," Smith said. "It's going to be extremely emotional, but I mean this is it for me, so I'm just ready to do play my best game (tomorrow)…"
Going into the season, it was one of Smith's goals to achieve a Big East weekly honor, and she did just that. The six-year senior not only landed a spot on the Big East Weekly Honor Roll for the first time in her career, but made the Spartan Classic All-Tournament Team during preseason.
King also has a lot to be thankful for, as she currently has the lead for the highest hitting percentage in the Big East, at .419. The Illinois native also managed to make the DePaul Invitational All-Invitational Team earlier in the year.
Out of all three seniors, Chanos has been the only one who's called DePaul home for all four years. The team co-captain leaves with 355 digs, the sixth-best in the program's history.
Head Coach Nadia Edwards has taken the time to piece together a team that will continue to shine in depth, despite the seniors' departure. From sophomore, Brittany Maxwell, who currently leads the team with 3.57 kills per set and earned three Big East weekly honors, to junior, Haley Bueser, who's made both the Bulldog Showdown All-Tournament Team and Big East Weekly Honor Roll, there's no telling what the future of this team holds.
"I think there's so much potential," Smith said. "I think that everyone is working extremely hard, and that's what they're going to need to continue to do. I'm just really proud of everyone…"
An emotional day awaits not only for the seniors, but the team as a whole. Years filled with both tears and laughter may finally be coming to an end, but they have accompished a lot in their final season.