Commentary: DePaul women's basketball will find ways to adjust
The Maggie Dixon Classic showed a couple of things for DePaul women's basketball. The first is that they have the potential to be really, really good. Head coach Doug Bruno echoed this idea in the post-game press conference after Saturday's game.
Another sentiment Bruno said is the second point: The Blue Demons aren't completely whole, and have a lot of work to do to get where they can be.
This weekend was the first look at DePaul and what they can do against Division I competition. For the most part, the Blue Demons looked good. They put up 99 points and 90 points respectively in their Friday and Saturday games and were generally competent offensively.
For a team that's going to be starting four guards this season, they'll need to be good offensively. They won't have the height to win games in the lane, so they'll need a good balance of perimeter offense and an ability to drive and make buckets. They shot 50.7 percent on Friday and 40.8 percent on Saturday. The Friday performance can win them a ton of games this season, while the Saturday statistic shows where some of the Blue Demons' weaknesses can be.
When DePaul isn't shooting well, they need to be able to make that up on defense. They were able to hold the Blazers for most of the game on Saturday, forcing 32 turnovers. The Blazers were still able to exploit DePaul on transition defense and found an open woman under the basket multiple times as they broke the Blue Demons' press.
The press and aggressive defense is absolutely essential to the Blue Demons' play style. This was their style before junior forward Mart'e Grays went down and it's been the style that the entire team has been playing with during their careers at DePaul.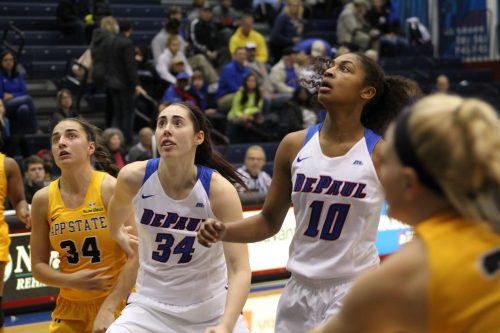 This style is intense and requires a lot of fitness. That's something the Blue Demons are missing as a whole right now. Grays is out for the year and they were missing three guards this weekend: Kelly Campbell, Meghan Waldron and Lauren Prochaska. Prochaska has a concussion and her return timetable is unknown at this point. Campbell's return is also an unknown as this point.
Sophomore guard Tanita Allen is back from her injury, but missed a lot of practice and will take some time getting her fitness back. This is why we saw senior guard Jessica January play 38 minutes on Saturday night and junior guard Ashton Millender play 34. DePaul can't stop playing their style, but it will take a toll as the season goes on.
What the Blue Demons need to be successful, outside of executing their half-court offense and defense, is their bench. They need the freshmen Campbell, Claire McMahon, Chante Stonewall and Deja Cage to play some significant minutes off the bench and have an impact. They need Allen and Prochaska to be back and ready to rotate at 100 percent, because rushing them back can have serious repercussions.
What this weekend showed was that the Blue Demons have the tools to be successful. They have some really good shooters and a defensive style that will stifle a lot of teams. We'll see on Saturday their biggest early test of the season when they host Northwestern, a team that has some height.
DePaul is ranked No. 21 in the nation for a reason. They are a good team, but this year will be decided on how the team does as a whole.