Wintrust Arena becomes official name of DePaul basketball arena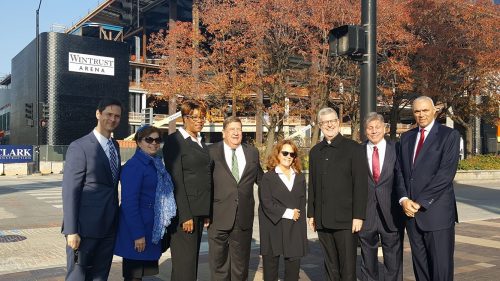 Wintrust Arena will be the official home of DePaul basketball starting in 2017-18. The naming rights deal was announced on Wednesday at McCormick Place West, across the street from the arena.
"We're so proud today to add a new partner to our mix in Wintrust," Metropolitan Port and Exposition Authority (MPEA) CEO Lori Healey said. "Wintrust Arena will be a game-changer for our McCormick Square campus, allowing us to compete for new events and activities, creating new jobs and economic opportunities for Chicago and the entire state of Illinois."
Wintrust and DePaul signed a 15-year naming rights contract that will put Wintrust on the southwest entrance to the building.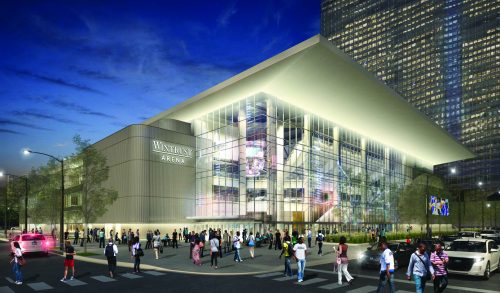 "When we sat down and started to vet naming rights partners, Wintrust was at the top of our list," DePaul athletic director Jean Lenti Ponsetto said. "I think for Chicago it's a great story, it's a great, iconic name."
Ponsetto said that the arena is another piece in the process of infrastructure improvements that DePaul University has done over the past decade, and also said that facility enhancements have helped DePaul athletic programs.
"I think the University has done a lot over the past ten years to really rebuild the infrastructure of DePaul," Ponsetto said. "I think this is the last piece of the puzzle (for rebuilding men's basketball). We have the coaching staff, we have scholarships, we have a terrific practice facility on campus. Having a facility to play in with all the amenities it will have is critical to have success when you're Division I."
Wintrust and DePaul will partner on several community service initiatives as well, including a reading program and field trip days in conjunction with Chicago Public Schools. There's also Wintrust Blankets Chicago, which donates blankets to local charitable organizations.
"Our goal when this process started was to find a Chicago-based partner that holds similar beliefs and values to DePaul University, and we feel we've accomplished that goal with Wintrust Arena," Ponsetto said.
The financial terms of the contract will not be disclosed, but the agreement between DePaul and Legends, a sports marketing firm that led the sale of the naming rights, estimated that DePaul could pull in $22 million over an undisclosed period of time. Ponsetto did say that DePaul met it's financial goal with the deal.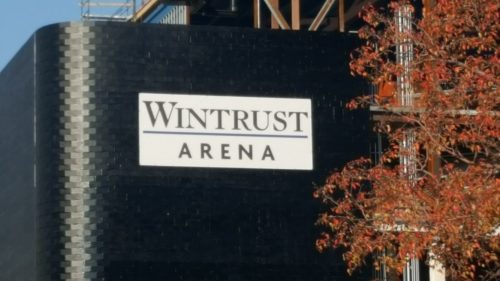 Wintrust is a Rosemont-based financial holding company that has been in existence since 1991. They are a publicly traded company and are the second largest banking company in Chicago. They are the official banking partner of the Chicago Cubs and are also partners with the Chicago White Sox.
"Sponsoring DePaul's new arena is both a great way for us to increase our presence in the city and a great way to help revitalize a historic Chicago district," Wintrust CEO and President Ed Wehmer said. "We're proud to be involved with the project."
Wintrust Arena will open up for the 2017-18 season and all of the men's basketball games will be played there, as well as six women's basketball games. It can also be used as a concert venue and a speaking facility for large convention talks. DePaul men's basketball will play their final season at Allstate Arena in Rosemont this year, where they have played since 1980.