DePaul women's basketball picks up wins over Western Kentucky, Syracuse
The 2016 Gulf Coast Showcase put then No. 18 DePaul women's basketball up against two top-15 teams, as well as a Western Kentucky team picked to win their conference. Over the three-day, post-Thanksigiving tournament, the Blue Demons picked up two wins and a third-place standing in the Gulf Coast Showcase.
On Friday DePaul took on Western Kentucky in the opening round. It took awhile for the Blue Demons to separate themselves from the Hilltoppers, but on the back of 25 points from senior guard Jessica January and a defense that limited Western Kentucky to 17 percent shooting from beyond the three-point arc, the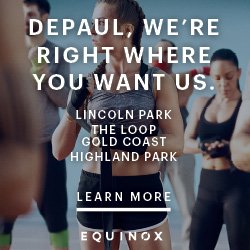 Blue Demons were able to win the game 77-69. This put them into the semifinals of the tournament.
Next up was the biggest game of the year for the Blue Demons as they took on No. 5/6 Baylor. DePaul was undefeated headed into this game, but that didn't last for long. After a tight first quarter, the Bears pulled away in the second quarter and did not relinquish control of the game. January was held to only four points on the night and the Blue Demons shot only 36 percent, compared to Baylor's 60 percent. It gave DePaul their first loss of the season, and put them into the third place matchup with No. 11/18 Syracuse.
The difference between the Baylor and Syracuse games was night and day for DePaul. The Blue Demons shot 51 percent overall and 49 percent from three. DePaul got started fast and were relentless all game long en route to a 108-84 win. Senior guard Brooke Schulte led the team with 21 points as the Blue Demons sank 19 three-pointers on the afternoon. It was a big response after their loss to Baylor as they took down another ranked team.
The Blue Demons were rewarded for the win over Syracuse as they jumped up to No. 15 in the latest AP poll. Next up for them is one of the biggest games of the season as they travel to play No. 2 Connecticut on Thursday. Connecticut has not lost in 79 games.