Men's basketball crushed at Marquette
MILWAUKEE — The Blue Demons traveled to Milwaukee for a 1 p.m. matinee game to square off against the conference rival Marquette Golden Eagles. While the Eagles have not made the tournament since 2013, they are a dangerous young team on the rise.
DePaul learned this quickly as they fell 83-58 to the Golden Eagles on Saturday.
The Golden Eagles are most dangerous from beyond the three-point arch; coming into Saturday's game with the best 3-point field goal percentage in Big East play and the 11th best 3-point percentage in the NCAA. Through the Golden Eagles first four games, the team shot an outlandish 69 percent from three.
Led by sharp shooters from the perimeter and senior center Luke Fischer in the post, the Blue Demons work was cut out for them: close out on three point shots and rebound the basketball.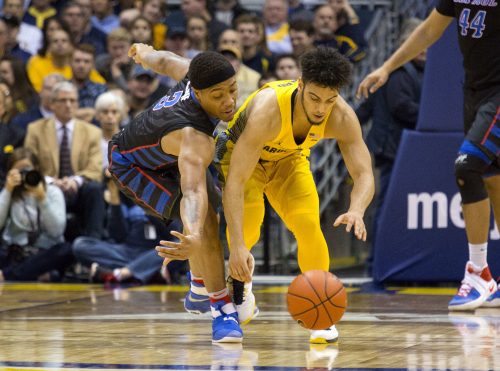 Early on, the Blue Demons did just that.  A pair of Derrick Wood free throws put them on top 22-20 with just under nine minutes left in the first half but an Andrew Rowsey jumper tied the game at 22 and another Rowsey three gave Marquette a lead that they would hold onto for the rest of the game. Rowsey's 5-0 run sparked a Marquette three-point barrage that burnt the Blue Demons' perimeter defense.
Marquette closed the half with six straight threes to jump out to a 52-31 advantage going into half time, shooting 60 percent from 3 in the 1st.
While the Blue Demons  held their rival of the north to just 1-7 from three in the second half, the damage was done as the Blue Demons were decimated on the boards and unable to find offense of their own in the second half, shooting just 34.6 percent from the field and just 1 of 5 from beyond the arch.
Marquette cruised to victory behind outstanding performances from Andrew Rowsey with 24 points, going 6-7 from three and 19 from Katin Reinhardt and who 3-5 from downtown.
The Blue Demons will get their next chance to face the Marquette at 1 p.m. on Feb. 4.