DePaul community adjusts to new president
The 12th president of the university was welcomed with packed crowds of students, staff and faculty all proudly wearing DePaul blue at a campus-wide event announcing his new role earlier this month. Esteban accepted a DePaul sweatshirt gifted by the Student Government Association and spoke to students in attendance. For many students, transparency and communication, qualities they believe current president Rev. Dennis H. Holtschneider, C.M. brought to the university, are vital to maintaining DePaul's mission.
"I felt as though Father Holtschneider clearly communicated with the DePaul community regarding issues not only on our campus, but on a more global scale as well and I hope our new president does the same," said Lauren Awtry, a DePaul senior. "I think open and clear communication is key, especially in the political climate our nation is in, so I hope and expect Gabriel Esteban will maintain that."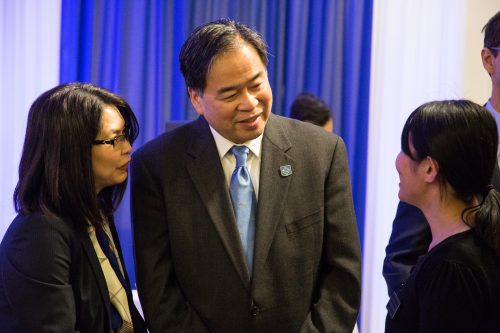 Esteban, an immigrant from the Philippines, will be the first lay leader of the university and is expected to bring a different set of perspectives and diversity to the institution.
"With such a tumultuous political environment, having a president who is an immigrant is important to showcase that everyone, regardless of their background, will be accepted as a valued member of the DePaul community," said Lincoln Berget, a DePaul senior.
Many echoed the sentiment that Esteban is both welcomed at DePaul and will represent the changing face of Catholicism in higher education.
"It will be interesting to see how a layman will handle the presidency at the largest Catholic school in the nation but I am confident that the new president will do well here," Berget said.
Holtschneider fell under scrutiny last Spring after Milo Yiannopoulos visited DePaul in late May, causing a wave of protests to erupt on campus. The visit was followed by a series of town halls and initiatives by the university including the Race and Action plan, in an effort to mend campus tensions. After Holtschneider announced his resignation last Summer, students hoped for a president that could address race relations on campus.
"I think Dr. Esteban is going to be a great addition to the DePaul community," President of the Student Government Association Ric Popp said. "The experience he brings from Seton Hall and others prior to that are sure to play a role in what he could potentially bring to DePaul. That is why it'll be important for Dr. Esteban to come in and listen and find out what DePaul is at it's core. There's a certain warmth to Dr. Esteban that will be sure to resonate with the community in addition to his passion for visibility."
For DePaul senior Jesus Montero, the new president must inherit the current campus climate and guide the institution forward.
"Tensions are high at DePaul with glimpses of the national limelight shining into our world on our events and dealings with issues that include free speech," Montero said of Esteban's role at DePaul. "Esteban, an outsider and the first lay leader in our history, may be the right person to lead us into a brighter tomorrow."