Commentary: Hard to feel bittersweet about Allstate Arena
It's hard to feel nostalgic about Allstate Arena. 
I entered the DePaul sports realm at the downturn of the arena the Blue Demons had called home for three decades. The new DePaul arena, now known as Wintrust Arena, was announced in May 2013, before most of the class of 2017 became freshmen at DePaul. From that point on, DePaul at Allstate Arena had an expiration date.
In the four years I've been covering the men's basketball team, I've seen mostly empty games, DePaul fans regularly outnumbered by travelling fan bases and a whole lot of losses.
This goodbye does not feel bittersweet to me. I, and many of the current DePaul students, have been waiting anxiously for November 2017 since the new arena was first announced. After the arena opening was moved to a year after initial reports, the first game at Wintrust Arena cannot come soon enough.
That is not to discount the history that happened at Allstate Arena. Fans saw a top-ranked DePaul team with a full arena, then known as the Rosemont Horizon, cheering them on in 1980 when the arena opened. The move to Allstate made sense back in 1980 the same way a move back to the city make sense now.
However, what I will remember from llstate Arena is this: it was a stadium too hard to get to for students who did not have much reason to care; a mostly empty arena; a once-proud program stuck in the muck for way too long. It's the status of the current state of DePaul men's basketball. Alumni won't come out in force to support a team that has not been to the NCAA tournament in 13 years and there's barely any student support to build up the next generation of fans.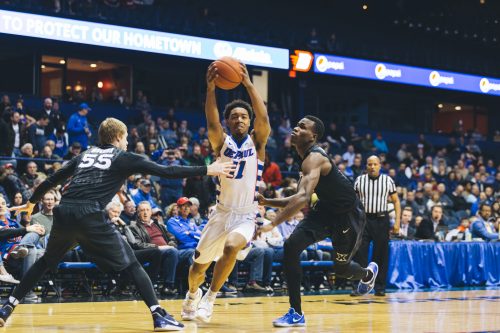 So, the topic moves to where it's been for the past four years: what's next? Will playing in the new arena actually have an impact on the performance of the program? Maybe, that remains to be seen.
They'll need to improve their paid attendance by almost 5,000 people between this year and next to break even on operating costs, according to a feasibility report commissioned in 2013. That's a tall ask for a program that hasn't hit 9500 home paid attendance this entire season.
At least, however, there's some reason to hope that the new era will be different. Wintrust Arena will draw fans in while the building is still shiny and new. If Dave Leitao can put a team on the floor that shows progress then DePaul will be off to the races. DePaul needs excitement, and that's what the new arena can help provide.
However, I'm getting ahead of myself. The final game at Allstate Arena had 6,774 home paid attendees to ensure the lowest average season attendance since 2002. That number is not surprising, as DePaul has been struggling with attendance for the past decade or so. A report by Crain's Chicago on Friday said that seven of DePaul's games had less than 1,000 fans in the seats. It's time to leave.
I see it as akin to moving out of your parents' house, something many of my fellow students can relate to. It's been home for so many years and there have been a lot of good memories, but there comes a time when that can't save the feeling that it is time to go. It's finally time to go for DePaul. The road ahead is uncertain and full of possibility, but at least it's better than the place we've known.
So farewell Allstate Arena. I'm sorry I was not there to see the Arena in its full glory. Maybe that day will come with Wintrust Arena, but for now, it's time to see the now former home of DePaul men's basketball off into the horizon.