Walking on sunshine: Jessica January drafted by Connecticut Sun
DePaul women's basketball guard Jessica January was drafted 28th overall by the Connecticut Sun in the 3rd round of the WNBA Draft on Thursday.
"I was watching it on TV with my teammates Meri Bennett-Swanson and Megan Waldron, Eli Cain of the men's team, and coach Doug Bruno," January said. "When my name flashed on the screen, Meri started screaming, and coach Bruno stood up and shouted."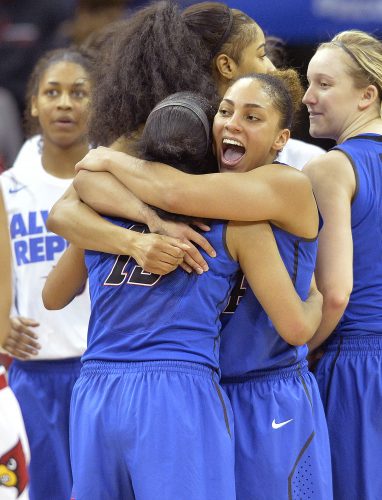 January, a senior, became the first DePaul player to be drafted since Brittany Hrynko in 2015.  January averaged 15 points per game her senior season but missed most of the second half of the season with a broken finger. She was named the 2016 Big East preseason Player of the Year. She has also been a team captain for the past two seasons.
Toward the end of the draft, January said she wasn't sure she would get selected. Then, with the fourth pick in the third round, the Sun picked her.
"I'm just so excited (when I was drafted)," she said. "I was getting a little nervous."
January became the tenth-ever DePaul player to be drafted by WNBA teams. There are currently two DePaul alumni playing in the WNBA, the Chicago Sky's Allie Quigley (class of 2008) and the Minnesota Lynx's Keisha Hampton (class of 2012). The Sun were also the last team to draft a DePaul player when they took Hrynko in 2015 but then traded her to the Atlanta Dream.
The Sun finished ninth out of 12 teams in 2017. Their season opens up on May 13 and they play the Chicago Sky in Rosemont on May 28.