The safety and precautions of turning your apartment into a music venue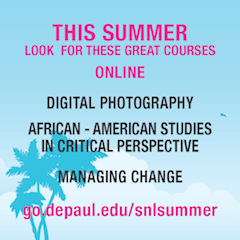 A plain, three-story building with blacked out windows is easy to miss among the bustle on a vibrant stretch of North Milwaukee Avenue. Surrounded by neon signs for thrift stores and trendy restaurants, it makes no attempt to identify itself as one of the liveliest event spaces in the heart of Wicker Park.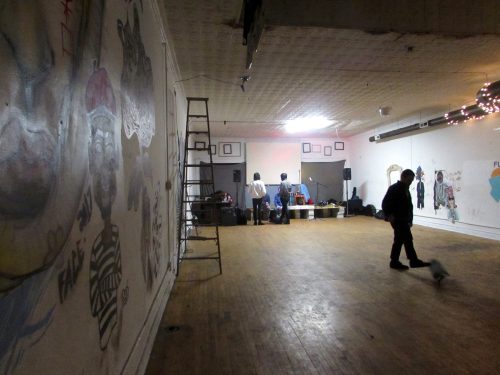 "It looks perfect for tonight," James Langford said while leading me up a narrow staircase into his second-floor loft.  He was referring to a number of new additions made over the day in preparation for that night's show, headlined by Modern Vices and The Slaps. A stage has been propped up with cinderblocks and wooden boards, illuminated by a string of Christmas lights that he has just finished wrapping around an air duct.
Although it's about as cleaned and furnished as any apartment cared for by four young college boys, the sheer size of the space is what sets it apart immediately — the living room is large enough to fit hundreds of people, something it does on many weekends during various shows, DJ sets, popup stores, and art showings.
Langford's apartment is one of many do-it-yourself (DIY) music venues that operate outside of the law in Chicago. These DIY venues serve as safe spaces for underground art, niche music genres, and often marginalized subcultures, but although they provide a cheap, inclusive alternative to clubs and concert halls, DIY spaces lack all of the safety measures and government oversight of legitimate venues.
According to the Chicago Municipal Code, concert halls and venues must meet zoning and parking requirements, be structurally safe and subject to inspections and include safety measures such as smoke detectors, alarms, exit signs, and proper fire escapes. Langford's apartment, like most venues, lacks most or all of these features.
But these safety measures are there for a reason — a lesson learned tragically in Oakland last December, when a venue called Ghost Ship caught fire, killing 36 people. The converted warehouse had been cited multiple times for code violations before the fire, but none had been followed up on. The tragedy led to a recent crackdown on DIY venues in major cities, and the closure of many iconic and historic venues in cities such as Denver, Baltimore and L.A.
Even in the wake of a tragedy like the Ghost Ship fire, the overwhelming majority of the DIY community is strongly opposed to these kinds of crackdowns and still wish to keep DIY venues operating normally, outside of the prying eyes of law enforcement and inspectors. Perhaps because these code violations and safety issues are the unintended and unfortunate downside to the underground sense of community makes the DIY experience unique to so many.
Many people in the DIY community share the idea that there is a certain sense of altruism and artistic integrity unique to the DIY experience that cannot be achieved at a legitimate venue. "At the end of the day, a legal, non-DIY venue is always going to be motivated by profit," Daniel Makagon, author of "Underground: The Subterranean Culture of DIY Punk Shows" said. "People like the DIY alternative because they want to know that their money is going to support a band they love, and not all these other commercial interests."
Looking around Longford's apartment as people begin to filter in through the back door, I can't help but agree. What if they charged $30 at the door instead of $10, and used the extra money to pay for ramps, smoke alarms and a bouncer to check everyone's bags? A $30 ticket would mean that smaller bands couldn't play, as they wouldn't attract a large enough crowd to justify the price. Alcohol sales might be introduced to supplement costs, alienating any fans under age 21. The shows would become more official, the crowds would change, and the sense of DIY community would slowly be degraded, or lost entirely. But is there any middle ground where DIY venues can operate safely without sacrificing the ideals of DIY culture?
"There's this idea that the culture is not really 'do-it-yourself', but 'do-it-ourselves' instead," Makagon says. He hints at a belief that many in the DIY scene share, that the sense of community is strong enough to mobilize people to care for the scene themselves without the oversight of government or law enforcement.
But for group efforts to successfully keep venues safe, everyone must pull their weight all the way up the line. Although the government can do little more than pressure landlords before eventual closure or eviction, cities like Amsterdam, Berlin and London have established independent groups to serve as liaisons between artistic communities and governing bodies. Cities could explore these alternatives before beginning crackdowns.
This chain of responsibility extends far down the line as well.
"Landlords need to try and make these spaces as safe as possible, especially if they are aware what renters might be using it for," Makagon said. "Additionally, renters should not capitalize off of anything unsafe or knowingly put people in real kinds of danger. And the people who attend these shows can aggravate it as well, by smoking inside or causing fights and things."
It sounds idealistic to expect everyone to abide by this sense of communal responsibility, but a look around James' apartment proves it is very much achievable. As the headlining band of the night has taken the stage and the show is in full swing, a sense of order and decorum to the event is never lost, at any point. Everyone pays the cover at the door politely, people form neat lines outside of the bathroom, and, although many of the people in James' apartment are strangers, no one lays a hand on his or his roommate's personal belongings, which sit out in the kitchen and living areas.
James spends most of the show sticking by the door and collecting the $10 entry fee "I can't just stand in the crowd and vibe with everyone," Instead, he does a lap every so often, checking for anything out of the ordinary, large groups congregating outside of the doors or police lights. Finally, as the night is coming to an end, I find him in the crowd for the first time, and congratulate him on a great show that went off without a hitch.
"Thanks," he said, "I didn't mention this earlier, but it might be one of our last actually. We're being evicted at the end of the month."