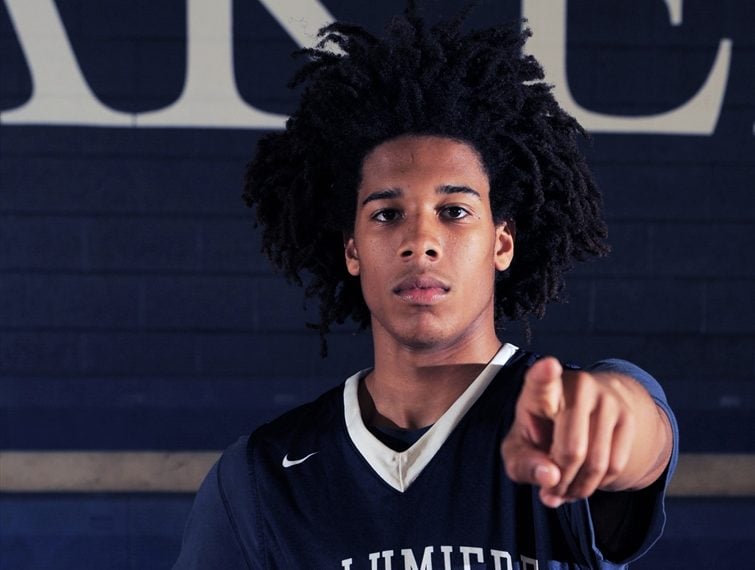 There have been a lot of names that have crossed DePaul men's basketball radar over the years as the person who could jumpstart a rebuild.  Derrick Rose, Jahlil Okafor, and Cliff Alexander all had DePaul in their final lists but all went elsewhere.
Then, on Monday evening, DePaul finally got one of those names: five-star point guard Tyger Campbell.
It was the biggest recruiting news for DePaul since Quentin Richardson picked the Blue Demons over Kansas in the mid-90s. DePaul trended on Twitter on Monday, the Chicago Tribune called it "the program's most significant commitment in at least 20 years," and, suddenly, DePaul men's basketball had their guy.
"Mainly what I like about the school is I want to help bring it back," Campbell told Scout.com. "I love Chicago. It's a great city. I want to bring the city a college back to cheer for."
Campbell did not respond to The DePaulia's request for an interview.
Campbell, a 5-foot-10 point guard from La Lumiere High School in La Porte, Ind. , just finished his sophomore season at La Lumiere by winning the Dick's Sporting Goods High School National Championship. He is working to reclassify to the 2018 class so that his first season at DePaul would be the 2018-19 season.
Since Campbell verbally committed on Twitter, current coaches and players can't comment until he signs his letter of intent.
Campbell, named after Tiger Woods, will be with a lot of familiar faces at DePaul. He played with current DePaul freshmen Al Eichelberger and Brandon Cyrus at La Lumiere, as well as new DePaul assistant coach Shane Heirman, who was the head coach at La Lumiere.
"I happened to fall in love with DePaul, and it was cool he worked there because I look up to (Heirman)," Campbell told the Tribune.
He also played during the summer with AAU club Indy Heat, where he was on the same team as incoming DePaul recruits Jaylen Butz and Justin Roberts.
"I was watching a movie and happened to get on Twitter and I had to pause the movie just to make sure it was true," Butz said about the Campbell commitment. "I had talked to him a little bit while he was on the visit but I wasn't sure where his mind was at commitment-wise but when I was it I was excited and ready to get it going."
Both Butz and Roberts said they gained chemistry with Campbell while playing for Indy Heat.
"I felt like it was another plus to the team," Roberts said. "Playing with (Campbell) and playing with Jaylen we have chemistry off the court as well as on the court and I know how to play with Tyger, he knows how to play with me, just having that friendship off the court helps on the court as well."
Butz and Roberts have played together since the third grade.
"We kicked it a lot in the hotel on the road trips," Butz said. "We would just laugh and have fun, have a good time, that definitely helped us out building the chemistry we have."
Both Roberts and Campbell are point guards, giving DePaul a solid depth chart for the 2018-19 season.
"Having the flow of the game go the way we want it to go, me and Tyger being able to push the ball up the court and being good point guards," Robert said. "It's just a plus for the both of us."
Should the reclassification process go through for Campbell, he will be the second DePaul commit for the Class of 2018, joining sharpshooting guard John Deiner. The Blue Demons also added transfer graduate forward Marin Maric for their 2017 class, leaving them one scholarship open for both 2017-18 and 2018-19.
One possibility for the Class of 2017 is Campbell's La Lumiere teammate Brian Bowen, a five-star small forward. DePaul has reportedly been a contender for Bowen and Campbell is reportedly joining the effort.
"Brian has to do what's best for his family … but who knows?" Campbell told the Tribune. "I'm confident I can recruit anybody to DePaul if I try hard enough."
Regardless if Bowen comes to DePaul or not, the Campbell commit was enough to raise the excitement for DePaul. This could also open the door for more high-profile recruits from La Lumiere and elsewhere to come to DePaul, should Campbell be successful in raising the profile.