Commentary: The new era of DePaul Athletics is almost here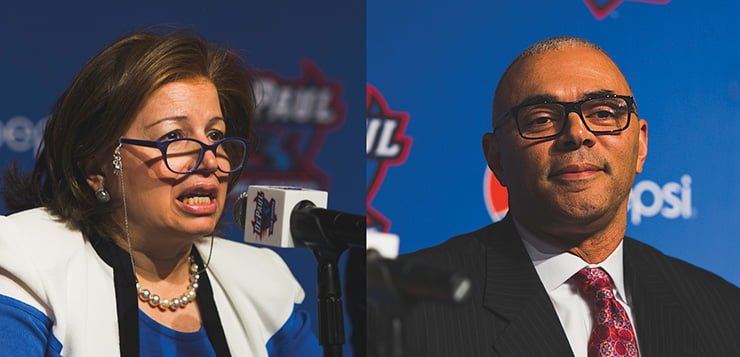 Four years and two weeks ago, DePaul and the city of Chicago announced plans for what would become the new home for DePaul basketball. I was a senior in high school and hoped to graduate in the new arena, as the original opening season was supposed to be this academic year.
Four years later, through funding controversies, project delays and what has seemed like an entire age of waiting, we are finally on the precipice of the new era of DePaul athletics.  "When the new arena opens…," the phrase that defined the narratives of my time at DePaul, is finally just months away.
The questions surrounding the new building have been swirling ever since it was announced and have been repeated ad nauseam. There is a lot at stake for DePaul to perform well in this building and to see progress for the rebuild of men's basketball. If attendance does not see a significant increase from DePaul's time at Allstate Arena, the new building will be seen as a poor investment and a waste of resources.
Still, the excitement is there for the new building. Every recruit DePaul men's basketball has picked up has mentioned playing in the new arena as a reason they chose DePaul, including five-star point guard Tyger Campbell, who is the biggest recruit for DePaul since Quentin Richardson. Campbell might be the start of the rebuild or maybe just a milestone on the road back to relevance.
Those involved with other sports for DePaul are excited for the project as well because a rising tide lifts all ships. "I'm excited for basketball to come back," retiring men's golf coach Betty Kaufmann said. "I think we've been in an era where not having basketball (play well) doesn't hurt us, but it doesn't help us. You don't have the enthusiasm from the student body building (…) if men's basketball comes back you get a lot more press and (the enthusiasm) builds."
DePaul's lack of school spirit comes from several sources other than a poorly performing men's basketball team. The remoteness of Allstate Arena turned off students, as well as a geographically divided campus with two locations in the city and the high level of commuter students makes it hard to build any type of athletics-based affinity.
The geographic disadvantages will not go away, but the arena is going to try and bring students back into the fold. Students will be able to go to games via public transportation and go to the bars afterwards. If DePaul returns to relevancy for men's basketball, the school affinity can grow and alumni can become more engaged with the university.
That if, however, is a big if. This arena is going to have to have initial success and sustain it. Success in this context is multi-layered because there needs to be significant improvement in the on-court performance of the men's basketball team and there needs to be an actual demand for tickets. In my anecdotal experience at DePaul talking to people who are sports fans, they'll cheer for a winner and if DePaul can get those fans to the arena consistently then this next era can be one that drives the Blue Demons forward.
The danger in this progression is that DePaul needs to distance itself from the past few years. The years where DePaul fans were consistently outnumbered by opposing fan bases at Allstate Arena, where the only media covering some games were DePaul-specific outlets, where there was a general apathy towards a once-proud men's basketball program.
This new era needs to be defined by progress and excitement. It needs to be the turning point for the rebuild. There is a lot at stake for head coach Dave Leitao and athletic director Jean Lenti Ponsetto because Leitao needs to deliver on-court improvements to vindicate Ponsetto on the hire two years ago. If they are to be looked at as the rebuilders of men's basketball, that progress needs to coincide with the opening of the arena.
I'm graduating DePaul seeing the last remnants of the apathetic era. The page is turning to this new chapter and maybe we'll see the progress that has been hoped for, or maybe not.  Regardless, we bid a not-so fond farewell to this era. I'll see you on the next page.