Up and coming band Nightly' charms Chicago's alternative pop fans
Chicago's music scene never fails to give a warm welcome to up and coming bands. Nightly composed of cousins Jonathan Capeci and Joey Beretta coined Chicago as one of their favorite cities of their tour for this sole reason. Promoting their first EP Honest, Nightly performed at Beat Kitchen Saturday night along with The Night Dream composed of Martin Johnson, frontman of the pop rock band Boys Like Girls.
Visiting Chicago for the second time since their last co-headling tour with Urban Cone at Schubas Tavern, Nightly drove back into Chicago from Detroit for the last stop before heading back home to Nashville. They sat down with The DePaulia for a one on one interview before they went on stage.
---
The DePaulia: How did you guys decide to put your first EP together?
Jonathan: We wrote a lot of songs just about our life. Some of them were about relationships, some about being angry, missing people, all sorts of different emotions. We had ten songs we had written and we knew we wanted to make an EP so we picked four that showed a different side of the band. There are songs like "XO" and "Talk to Me" which are more upbeat, while "Honest" has a little bit of darkness and "No Vacancy" is slower. Just to show different sides of the band and a little bit of new flavor. We wanted to present them in a pleasing way with aesthetic.
The DePaulia: You were at Schubas Tavern in June touring with Urban Cone. How was your first time in Chicago?
Jonathan: It was amazing. The show sold out. Chicago and New York were probably the best shows of our past tour. We love it here we would come back any time you guys would have us.
The DePaulia: You guys recently started touring with The Night Dream on August 20th, how has this tour been so far for you?
Jonathan: Each show is a little different. We had a great show in Baltimore, Detroit was great. I think tonight is going to be great too. Last time we came here there was a lot of our fans and I think they'll show up tonight too. It (EP) is just one of those sounds that fans really love to sing along too and have a great time. Obviously other cities do too but the thing about Chicago is that it's pretty consistent so we love it here.
Q: How does this tour compare to the tour you co-headlined earlier this summer?
Joey: It's kind of hard to pick which one is best. You see your tour mates every day for almost a month. Urban Cone was really awesome too so it's hard to say.
Jonathan: We did new cities in both tours, but they were different. For example last tour we went to Montreal and now this tour we went to New Jersey. We have a few upcoming shows on the West Coast. I would say one of the main differences is in cities that we've never been to there wasn't as many fans for us. For this tour I don't know if it's because our music has been out for a little longer, but it seems like in cities we've never been there are still fans.
Joey: Which is crazy.
Jonathan: I don't know why, but I'm not complaining about it.
The DePaulia: That must feel great as an up and coming band. What are your future plans? Any plans for a first album?
Jonathan: We have been working on new music for quite a while, we're just trying to figure out how to release it. It's our goal to have something figured out for this Fall. It is just a matter of time at this point. Before coming on tour again we had ten days off and just in those ten days we recorded drums for a song and guitar. Plus, we rehearsed almost every day we're just trying to fit it all in now. I can't tell you when, but new music is happening for sure.
The DePaulia: How was it like to play Bonnaroo? That is pretty huge for a new band.
Jonathan: Bonnaroo was great. It's a very special thing for us to get that because it's in our home state and it's such a big deal. I know bands that have been bands for years and never gotten to play that. The fact that we did within a year of being a band is just really surreal, crazy experience.
Joey: I love playing the festivals, I just don't like camping out at those music festivals. I'm not a camper. I'm a glamper. I value the air conditioner too much.
The DePaulia: What major festivals do you aspire to play one day?
Joey: I would like to play Glastonbury, that would be the dream.
Jonathan: In the U.S., I think Coachella. There are just so many good ones. We are playing Austin City Limits soon. How can you choose?
The DePaulia: Both of you are cousins. Tell me a little bit about how it's like performing with family?
Joey: I can't believe how much patience our parents have with us.
Jonathan: The first band practice we had was at my house and my parents made us sound proof our basement ceiling. We were so mad about that.I wish I could have a recording of those rehearsals. Our parents were saints, it was pretty bad but they are happy now that stuff is happening. It's all just such a great feeling.
---
Nightly's next plans consist of attending a family wedding then flying to San Francisco to complete the second half of their tour. Their alternative pop sound causes for heart wrenching ballads, which as they described are fun and easy to sing along to.
Having opened for well-recognized artists such as The All-American Rejects and Kesha with only a year under their belt as a signed band, they are a group that will rise in the alternative music scene. Their EP singles "XO" and "Talk to Me" have the summer music festival vibe since they carry a similar sound as famous pop bands like The 1975 and The Neighborhood.
While their next stop in Chicago is yet to be determined, Nightly is a band to follow since they have started their musical careers with strong talent.
About the Contributor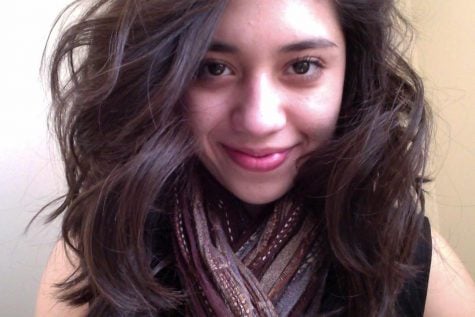 Yazmin Dominguez, Online Editor
Yazmin is the online editor of The DePaulia. She enjoys house music, storytelling, tough editors, and people who can make her laugh. Follow her on Twitter...