With new leadership, a new way of doing business at SGA
DePaul's new Student Government Association (SGA) board members are ready to shake up the way things are done in the organization after a stressful campaign. Michael Lynch will serve as president and Gracie Covarrubias as vice president.
As the official student representative organization of DePaul, SGA has a government structure where they are involved in various projects within the university, working closely with not only the students but the administration as well.
Covarrubias first joined SGA last year and served as Senator of Mission and Values. Lynch first entered the DePaul political scene with a run for Senator for Intercultural Awareness in Spring 2016 and served throughout the 2016-2017 school year before his presidential run.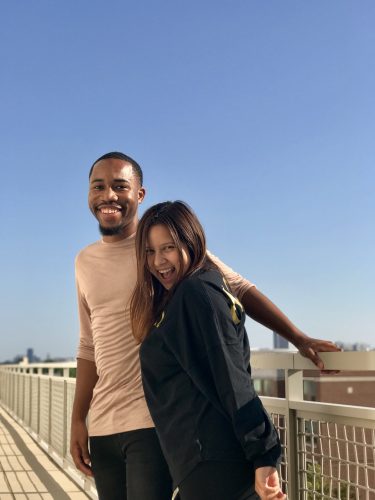 "I ran to empower and train students to develop measurable goals for the DePaul community," Lynch said. "Morale has been very low for students and unfortunately engagement with SGA as well. Students didn't believe we had their back and no one was on their side."
Covarrubias shares Lynch's belief that there is much more to be done for DePaul, saying she pursued the role to "advocate for my peers and amplify their voices."
Their journey to the elected positions was not easy for them. Lynch pushed himself and his campaign staff to the limit of their capabilities so he could become DePaul's student body's next president.
"As the campaign team will tell you, I'm a work horse, so if I'm not sleeping, no one is sleeping. All of the 18-hour days, visiting student organizations, talking to staff and faculty, all while being a full-time student and working was difficult, but we pushed ourselves because it was worth it to learn so much about the students," Lynch said.
Covarrubias echoed Lynch's relief that the campaign is over. She is grateful to all DePaul students for their support and promised to not let the student body down under their leadership.
"The support we received was an incredible affirmation that we were in this for all the right reasons," Covarrubias said. "Everything we ran on was truly a testament to the needs of the DePaul community."
Now that the campaign is over, the hard work has just begun. Last year, while they were both still senators, they worked with the Undocumented Vincentian Allies to shepherd through a $2 tuition increase to fund a scholarship for undocumented students.  Lynch says the cause was "near and dear" to his heart, adding there was no question of their support for it because of its alignment with the Vincentian mission.
The referendum, they say, was the first of many steps the SGA will take to ensure inclusion for everyone.
"My number one priority will always be to listen to the concerns of my peers and take steps toward ensuring everyone in this community feels as though they are being heard and know that they have a place here – inclusion is non-negotiable for me," Covarrubias said.
Similarly, Lynch wants to embrace the university's multifarious student body by "building a community of students and student organizations that better reflects DePaul's diversity."
Among their other priorities as the premiere duo of the SGA is to completely revamp the way the organization interacts with its constituents.
"One of the biggest complaints we've heard in the past year is that SGA just isn't visible or accessible enough to students," Covarrubias said. "I'm excited to change up the way that SGA functions and connects with students. SGA is a great tool for serving the community, however, it's no secret students haven't always felt connected to us and that needs to change."
Lynch and Covarrubias are tired of the status quo way of doing things at SGA. While they're thankful for all of the past leadership's help, they're looking to the future and not looking back.
"SGA has been working from the same agenda for the last several years," Lynch said. "But now we're transitioning into a new era so that means we need to reevaluate where we are and what our focus should be."
This fall, the pair will enter a "strategic planning phase" where they will work with the SGA general body to collaboratively determine the next operational imperative of DePaul's student representation.