LCD Soundsystem reunites, drops album "American Dream"
On Sept. 1, New York City-based rock band LCD Soundsystem released "American Dream,: their first album in five years. Since playing what was billed as their last show at Madison Square Garden in 2011, the band had been broken up for this five-year term.
In January of 2016, producer, singer, songwriter and ultimate front-man James Murphy posted on the LCD Soundsystem website stating that an album ("American Dream") was in the making. Continuing, Murphy stated on their Facebook page that the band was feeling as amped up as a "bus full of substitute teachers back from their coffee break with new music and the same weird gear—or as much of it as we still have (it's very interesting to re-buy the same gear, and in some cases buy gear BACK from people you sold it to), and rambling around trying to be louder than everyone else."
American Dream is the first of LCD's albums to reach No. 1 on the Billboard 200 chart. LCD's recording label, DFA Records, quickly posted on Instagram reacting to this news.
"Surreal. DFA would like to thank the music business for completely collapsing so as to make room for LCD Soundsystem to have a No. 1 record in the USA. Still feels good regardless," said DFA records.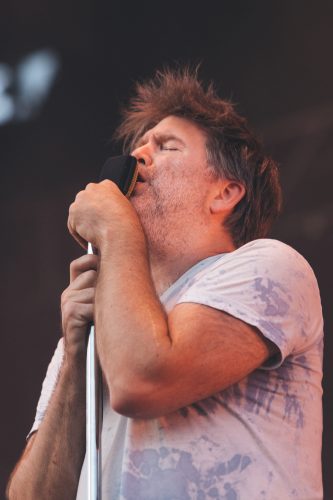 "American Dream" is compiled of 10 songs, beginning with "Oh Baby," a nearly six-minute song that leads into the album's tone of endings, which is now the new beginning for LCD Soundsystem. The theme of endings has been seemingly consistent throughout the band's career. Getting a late start in the music industry, Murphy and the band released their self-titled first album when they were in their mid-30's.
The band's beginning was an ending in its own right; an ending to the normal or more personal life Murphy had been living for the past 30 years. This is what ultimately drove Murphy to end the band in 2011 as he wanted to continue to live the life he left behind for LCD. Possibly leading him to question what is the American dream lifestyle he is looking for?
Another notable ending in the band's career came with the song "Losing My Edge" from the 2005 self-titled album. The song is ultimately about Murphy losing his cool and entering into a frightening stage in his life, where young hipster kids are coming up from behind. Throughout the song, he frequents the line, "I was there." Using this line, Murphy tells his crowd that he personally witnessed the things that the kids think they're hipsters for knowing about. He even goes far enough as to sing, "I use to work in the record store, I had everything before anyone." Explicitly showing his age, Murphy marks the end of his youth with this line.
Continuing through the "American Dream" album, Murphy's song of nostalgia, "I Use To," perhaps also gives us a peak into Murphy's youthful past. The song has a classic rock feel with a simplistic drumbeat . This reflects the sounds of some of Murphy's classic favorites: The Fall, A Flock Of Seagulls, CAN and other bands of the 80's.
Mid-album, "How Do You Sleep?" has an eerie, almost tribal-sounding intro. This nearly ten-minute song is perhaps the most astounding of LCD's to date. The track has mesmerizing percussion that leads into the full rhythm in nearly the fourth minute. Beautifully produced and eloquently executed, this song takes classic beat- growth from songs such as "Dance Yrself Clean,"—a hit off of 2010 album "This Is Happening"—to a much stronger degree.
The song states, "I remember when we were friends," and as many outlets hypothesize this may be an outcry towards DFA co-founder Tim Goldsworthy. Billboard wrote in 2013 that DFA sued Goldsworthy due to missing funds.
The song opens with the line: "Standing on the shore, facing east." Murphy, who lives in New York City, is apparently facing east toward the U.K., where Goldsworthy currently lives. Other specific lines throughout the song target Murphy's subject such as, "Whatever fits in your pockets" alluding to the money stolen. This song signifies yet another ending in Murphy's career; the ending of the close relationship he had with Goldsworthy as co-founders of DFA Records.
One thing that stands out most about "American Dream" in comparison to the band's prior albums is the melodic flow of the songs. It's more of a waterfall flow; one song easily transitions into the next. This is contrasting to previous albums such as "Sound Of Silver," where high-energy songs like "North American Scum" are followed by more timid, emotional rhythms like that of "Someone Great."
Track six, "Tonite," sounding similar to a Daft Punk jam, is the intro to "Call The Police." This track was first released back in May. The song is bold and emotional in the same way as "All My Friends," a track from album "Sound of Silver." The presence of the swirling and echoing guitar in the beat is hair-raising and inspiring to hear.
Closing the album is the 12-minute song, "Black Screen." Another prominent ending in the musical career of Murphy was the death of David Bowie, a great inspiration of his. Murphy worked with Bowie on his last album, "Blackstar." The song "Black Screen" is alluding to that relationship and pays tribute to the great rock star. Aside from the theories and meanings, the ending track is effective for this album because of the more relaxed tones that it brings to the 10-song compilation. It gives time for the listener and fan to reflect on the songs prior and possibly question what is next for LCD Soundsystem since their big 2011 ending has officially transitioned into the new beginning, with "American Dream." Will there be more music to come?
Shortly after their Pitchfork set, LCD Soundsystem announced that they are playing three shows in Chicago at the Aragon Ballroom Nov. 6-8. Tickets are in high demand and can be found on the venue's website.