On Aug. 14, 2017, an announcement was made in the news section of the University Library website detailing a decrease in the service hours by two hours every day at the John T. Richardson Library and by one hour every day at the Loop Library, effective fall quarter 2017. On Sept. 7, 2017, I started a petition on Change.org to urge DePaul administration to rethink this decision. This petition was then shared hundreds of times on Facebook and signed by over 2,600 DePaul students, alumni, parents and friends.
This change in service hours across DePaul's two main campus libraries comes as a result of the recent budget cuts rippling throughout the university's programs. According to the 2017-2018 Operating and Capital Budget report on DePaul's Financial Affairs website, projected expenses for the 2018 fiscal year budget have decreased by $5.5 million when compared to the budget proposed in the previous fiscal year.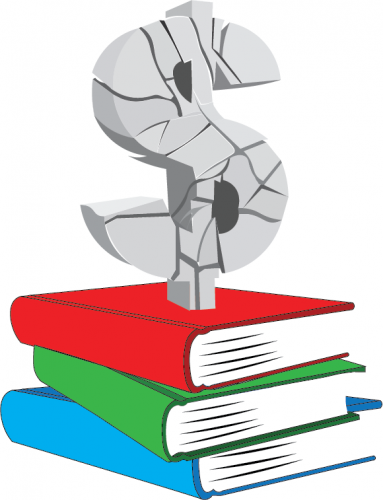 According to a recent DePaul Newsline article, this is due in part to recent decreases in enrollment, and while DePaul is trying to make up for the deficit with tuition increases, cost-cutting measures are a major theme of this year's budget, most notably with the 28 staff members who were laid off this past June and the closure of the Center for Identity, Inclusion and Social Change in July.
On the library website, head librarian Scott Walter stated that the reduction in hours is one of many measures the library must take to reduce spending per the 2018 fiscal year budget. While budget realignment and reductions in spending are a necessary evil, the abrupt change with little notice has left many DePaul students feeling disenfranchised, confused, and angry.
Until this year, the John T. Richardson Library has been open on weekdays until 2 a.m. and for many students, spending at least three nights a week closing out the library—with a schedule packed with extracurricular activities, classes and work, getting to the library around 11 p.m. is a regular occurrence.
Senior Brittany Williams cites the library's late hours over the last three years as an essential key to her collegiate success, "The late night hours at JTR library are the only reason I have been able to balance my busy schedule filled with two internships, three jobs, DWaC rehearsals, and a full course load while still maintaining a 3.7 GPA."
Living on the Lincoln Park campus during her freshman and sophomore year, Williams did not have a quiet place to study in the dorms and often used the library's late night to finish her schoolwork. Williams's concerns about not having a quiet space to study are mirrored by other students as well, including senior Juliana Carmichael.
  "When I first heard the news, my anxiety spiked," Carmichael said, "I am studying and/or working on schoolwork approximately six hours a day, and since I live above a bar, it's practically impossible to focus at my apartment. The library used to be my quiet place to study, and without the late-night hours, I'm worried my grades will suffer. I cannot believe DePaul would allow this to happen."
The early library closure will force students to adjust their study habits to make up for the lost time, affecting their overall academic performance. Brooke Beatty, The Executive Vice President of Operations for the Student Government Association, said, "The life of a DePaul student is filled with 40-hour work weeks, full-time classes, and involvement in multiple student organizations…studying late is a reality."
Over 200 people who signed the Change.org petition included their reason for opposing the library service hour change, all of which showed unanimous outrage over the decision. Most of these comments highlighted concerns about the academic success of DePaul students without the late night hours, especially students with full-time jobs. Other comments included condemnations of DePaul's spending on the new Wintrust Arena, questioning the university's priorities.
  In addition, a variety of students from universities in Wisconsin, Pennsylvania, Texas, New York, and Washington, D.C. who signed the Change.org petition, expressed confusion at the hour reduction, and all of these students mentioned that their university's library had a 24-hour space available to students throughout the year.
Senior Kirby Karpan had the highest-rated comment on the thread, highlighting DePaul's reported $43 million in budget surplus during the 2014-2015 academic year, which was released in a DePaulia article in early 2016. "If (DePaul) can't fund the extra two hours [at the library]," Karpan wrote, "They're openly saying, 'We don't care about the success of our students. We care about their money.'"
On the other hand, it is worth noting that the 2018 fiscal year budget is also characterized by some positive changes for both students and faculty. According to a DePaul Newsline article published in January of this year, the budget also includes extending paid maternity leave by two weeks; adding two weeks of paid paternity leave; increasing the minimum wage across employees to $11/hour; and offering the same tuition waiver to part-time staff that was previously only available to adjunct faculty.
However, the seemingly flippant reduction in library hours on the part of the administration has made students question DePaul's priorities. Beatty said, "The bottom-line is DePaul students are here for an education, and the early library closure infringes on that."
For students and more than 2,600 supporters of the Change.org petition, the late-night library hours are vital to our academic success. According to the 2016 Library Snapshot statistics on DePaul's library website, nearly 7,000 visits are made to both the Loop and John T. Richardson libraries per day. Clearly, the library is a priority for many students. And while university budgets are undoubtedly complex and rife with compromise, DePaul's decision to reduce its weekday library hours missed the mark. Budgets require compromise, but providing students with the tools they need to pursue academic success is far too important to become collateral damage.
The students have spoken, DePaul. It's your move now.