New president looks forward 125 years
On his 77th day as president of the university, Dr. A. Gabriel Esteban held the first State of the University address in DePaul's history. Nearly 1,000 staff and faculty members filled the south end of 10,000-seat Wintrust Arena for Friday morning's presentation.
Much of Esteban's presentation focused primarily on retention rates, enrollment and revenue from fiscal year 2017. DePaul's Strategic Plan, which is to be implemented over the next six years — but Esteban wants to look to the next 125. Esteban allowed for questions and comments at the end of his presentation, which made the atmosphere of the already-chilly arena become tense.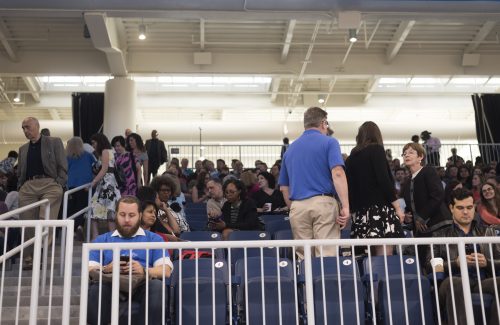 The Strategic Planning Process will include four teams made up of university staff who will respectively focus on different areas: strengthening DePaul's mission, improving enrollment and retention rates, academic programming and faculty development, and financial stability and sustainability. Co-chairs include Gene Zdziarski, vice president of student affairs, and Jacqui Lazú, associate dean to the College of Liberal Arts and Sciences.
Esteban followed up with information collected from Student Climate Surveys as early as 2012. In the first study, 54 percent of students said they agree that the value of the degree they were seeking  outweighs the cost of attendance. When the same study was conducted in 2015, less than half of students surveyed (48 percent) aid that they agree with that statement, down six percent from three years prior.
"How do we convince potential students that it's worth it to attend DePaul?" Esteban asked.
Esteban reiterated that he hoped that the university could reach a successful future by continuing to follow and execute the Vincentian mission. He also noted that much of DePaul's financial future is in the hands of the state of Illinois, which has a budget after two years and which will provide MAP grant funding to students in need. Esteban said that "diversity will be woven into all aspects of the strategic plan, reflecting the commitment to our Vincentian and Catholic mission."
After the presentation, Esteban opened up the floor for faculty and staff members to share comments or ask questions. Most questions were geared toward in staff involvement and representation, Faculty Council's relationship with the Strategic Planning Process, and the university's approach to diversity.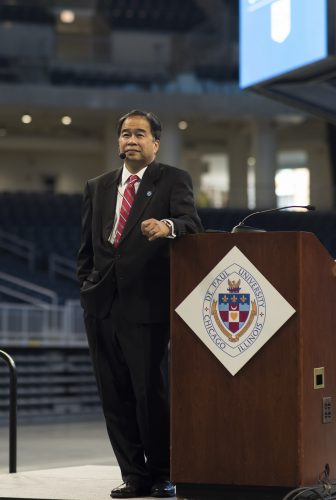 "I wanted to make sure that we talked about our commitment to diversity for our students and our faculty and our staff. I was very heartened that it's going to be imbedded in every aspect of the plan," said Elizabeth Ortiz, the Vice President of the Office of Institutional Diversity and Equity. "I thought it was very exciting how we got the whole campus together to think about these things and share information."
Valerie Johnson, chair of the political science department, said that she was disturbed by Esteban's answer to a question about how staff and faculty should respond to institutional racism that she posed at Wednesday's Faculty Council meeting.
Johnson said that Esteban, in his response, concluded that "there is good in everyone," which she said disturbed her because his statement reminded her of what President Trump said when he spoke about protests in Charlottesville and said there were "good people on both sides."
Johnson went on to say that she would allow Esteban "an opportunity to unpackage" what he said on Wednesday.
"I was told that DePaul was racist," Esteban said. "But I've been welcomed with open arms."
Esteban also stated that racism of any kind would not be tolerated at DePaul. "If there's racism here, we have avenues to address that," he said. "If there's any doubt that comes to mind, then try me."
Johnson, unsatisfied with Esteban's answer, said that she thinks DePaul's approach to diversity is "very superficial."
"I'm hoping that we get beyond a simplified understanding of race and racism at DePaul. I noticed, for example, that although the student climate study was mentioned, there was no discussion about the way that black and brown students are not having the same experience as white students at DePaul," Johnson said.
"I think that was kind of a simplistic understanding. (…) I don't think that when you're talking about race that you would have to call to attention that there's good in the racists, too. I think that that signals something a little disturbing."