DePaul celebrates St. Vincent's Feast Day
Hang on for a minute...we're trying to find some more stories you might like.
Friday marked the third annual Vinny Fest, a yearly celebration on the Quad that is held by the Office of Mission and Values to commemorate St. Vincent de Paul's feast day.
The event featured over 33 different student organizations and departments at DePaul who agreed to host booths with activities for students, faculty and staff to participate in. Refreshments like snow cones and light snacks were also scattered around the booths to provide sustenance for those who made it out on one of the fall's hottest days so far.
Matt Merkt, a liturgy coordinator of Catholic Campus Ministry, said his longtime idea of connecting more of the DePaul community to the university's Vincentian mission was first brought to life in 2015.
Vinny Fest is different from your average involvement fair. Instead of organizations setting up camp on the Quad to tell students why they should join their clubs, booths at Vinny Fest encouraged students to become engaged right away by being able to connect with and learn about the Vincentian mission.
"It's a different way for people to engage in the mission around St. Vincent's feast day," said Katie Sullivan, coordinator of service days in the Vincentian Community Service Office. "The whole point is to offer some kind of activity that connects to the Vincentian mission.
The Theatre School was in attendance at the fest, donning the attire and accessories that rich men and women would wear back in 1600s Paris. Students were invited to try on corsets and other extravagant pieces of clothing despite the 90 degree weather.
"We thought about St. Vincent and we thought about the times — the 17th century — and we thought about how we have a costume closet full of things that are comparable to the garments the people wore," said Dexter Zollicoffer, diversity advisor at The Theatre School. "This is how the people looked as St. Vincent walked around the city."
Zollicoffer said that The Theatre School carries out the Vincentian mission by putting an empahsis on telling the stories that no one else thought to highlight, including those of people on the margins.
In addition to storytelling, the university's patron saint has inspired the school's overall mission when it comes to themes of service and hospitality, according to Gracie Covarrubias, vice president of Student Government Association.
"We believe within the Vincentian mission that we form each other, first and foremost," Covarrubias said. "The people that we engage with at school or at home are so fundamental to who you are."
The women's lacrosse team was also at Vinny Fest with a one-of-a-kind Twister mat. Instead of the classic red, yellow, green and blue dots spread across the ground, the mat featured four faces of the Vincentian family: St. Vincent de Paul, St. Louise de Marillac, St. Elizabeth Ann Seton, and Frederic Ozanam.
"It's beautiful because so many of these student (organizations) are already living the mission in so many of the things that they do," Covarrubias said. "We're encouraging them to name that and share that with other students."
Other organizations or departments that were in attendance included the DePaul Activities Board, DePaul Community Service Association, DemonThon, Sankofa, and Residential Education.
About the Writer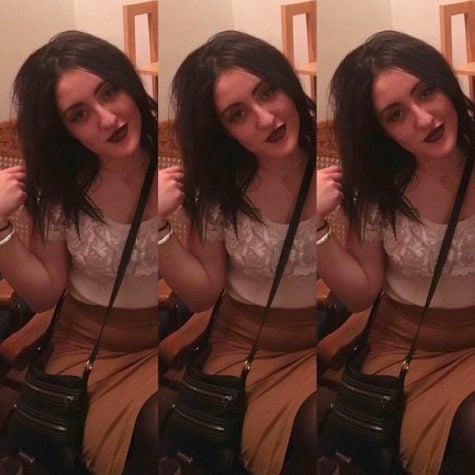 Amber Colón, Editor-in-Chief
Amber is the Editor-in-Chief at The DePaulia. When she's not working or in class, you can find her binge-watching The Office or napping in her Edgewater...