CDM welcomes screenwriting industry professionals
On Saturday, DePaul's screenwriting students and other CDM majors came out to attend the Courier 12 Screenwriting Conference held in DePaul's Loop campus.
"There's a lot of festival events, contests for filmmakers, actors and fans, but not a lot for writers so the idea about creating Courier 12 was to give screenwriters a day with excellent talent from across the industry to exchange ideas," said Brad Riddell, producer of feature films for Fox, Sony and Universal and a DePaul digital cinema professor. "It's a day to celebrate writers."
DePaul digital cinema students that majored specifically in screenwriting received the VIP treatment by being allowed in a "screenwriters only" room where students could mingle, eat, take pictures and even get early access to seating.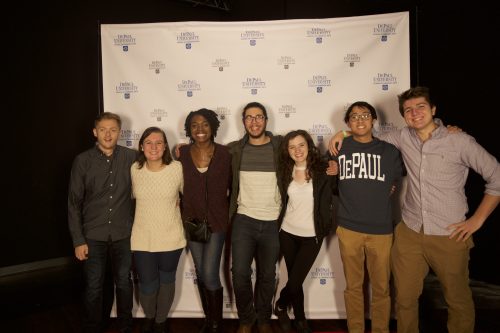 DePaul students, both undergrad and graduate, gathered to listen to a series of panel discussions from some of the most elite writing executives from shows such as "Grey's Anatomy," "That 70's Show" and "Brown Girls" to speak on their experiences in the entertainment industry and expertise in screenwriting. Students even got the opportunity to pitch some of their scripts and TV ideas prior to the conference at the Pitch Fest.
Arianna Jordan, a DePaul graduate student, looks forward to pitching next year. "The screenplays and ideas I have now are underdeveloped, but it's a great opportunity so I will have to try next year," Jordan said.
Sources called the conference's first panelist, David Totcherman, "a Digital Media Powerhouse." Totcherman, an Emmy-nominated producer and Co-founder of Canvas Media, spoke first on the importance of streaming media. Totcherman, who currently produces the Emmy Nominated show "Vanity," spoke on YouTube and how student screenwriters need to know that "it is important to have something on video".
Totcherman says that it is much more convenient to send someone a link of a video rather than read a script. "In the past, you had to find a way to get a DVD to a producer, but now we can send links and that's something we need to take advantage of," Totcherman said. He spoke on how students should use "snackable" or smaller, shareable online media to promote themselves because as writers you have more opportunities to sell shorts than full length media. He told students that through digital media you are able to build a community and build data based on what your audience responds to.
Panel two featured both the director and actress Sam Bailey and Minita Gandhi from the web series to HBO show, "Brown Girls." "Brown Girls" follows the lives of two young women of color that come from completely different backgrounds. Bailey and Gandhi spoke on their experience in the entertainment industry not only from a creative perspective, but also their experience as women of color in the industry.
Anna Hoizan, DePaul professor, screenwriter and moderator for this panel, asked Bailey and Gandhi on their thoughts on the limited role of women in color in the media. "I still think it feels like a trend," Bailey said. "If the people telling the story don't reflect the story that's being told there is a disconnect there."
Both Bailey and Gandhi feel that while the door to Hollywood is open, people of color must rush their way in to find a spot. They stressed the importance of changing the people behind the camera to get not only POC on screen, but off screen as well.
Bailey and Gandhi both had previous careers as actors, so they touched on how representation in the media can be improved. Gandhi mentioned how she didn't need to put on this persona of an Indian girl with an accent in order to get a role, because there is more than just one type of person. The thing that made "Brown Girls" different was that it represented interracial relationships, queer and LGBTQ communities and POC.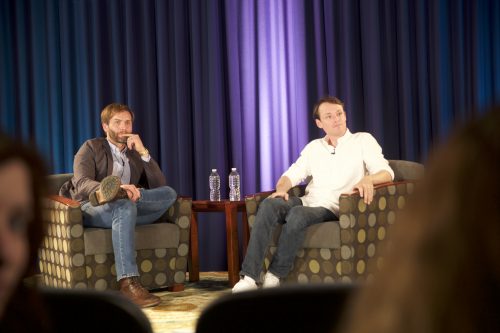 The third panel featured DePaul alum, Tom Dean, a past Courier 12 event worker turned guest speaker. Dean jokingly talked about how he didn't even get the first job he applied for after he graduated, which was at an ice cream shop. However, he spoke on the start of his career through his feature film, "The Time Traveler's La Ronde," which was selected from the annual Blacklist, which ranks some of Hollywood's best unproduced screenplays. He mentioned how the Blacklist can be a place where you could not only get your screenplays in the hands of some of Hollywood's elites, but also just simply allow your screenplays to get feedback from other artists.
Dean gave students tips and tricks on pitching their ideas and scripts to executives. "Being prepared is impressive," Dean said. "If I was as prepared as the people that were in this morning's Pitch Fest I might have gotten the job."
"Can I just be Shonda Rhimes? Can I just have her career?" said Jalysa Conway, staff writer for "Grey's Anatomy" when Brad Riddell asked her where she hopes to see herself in the next few years. Conway, along with two USC grads and also former students of Ridell, Jenna Richman and Sarah Tarkoff, spoke on their experience in TV writing as women, working with big TV producers and working in writing rooms. All three of these women writers came from different backgrounds which gave the students a different perspective on writing.
Tarkoff, who currently is a writer on The CW network show "Arrow," works on sci-fi writing and even has a novel being published next year. Richman feels that she was a "reluctant writer" and actually wanted to be a diplomat. She mentions how her love for politics adds to her writing in shows like "Designated Survivor" and "Limitless." Conway, previously a ROTC military veteran, now works with Shonda Rhimes on a diverse cast and crew. Conway mentioned how her producers liked her mainly because she was from a different background.
"One executive called me a unicorn," Conway said. "You're black, you're female, you are a veteran, you did cyber warfare, you work for Shonda. Are you queer too?" Conway said what made her unique was her background and that opened many doors for her in the industry.
Mary Coleman, the head of creative development at Pixar, spoke on storytelling in the animation side of cinema. Coleman said that when she develops a story, she remembers the story's needs to be "getable, relatable and entertaining." Coleman believes that even if a story is set in a different time, someone in the audience needs to be able to have a connection with the story and that is something to keep in mind when developing both animated and digital ideas.
DePaul sophomore Ellicia Myles looked forward mainly to hearing about the storytelling side through animation.  "Mary Coleman from Pixar has my ideal job," Myles said. "That's something I want to do is combine my major of animation with screenwriting."