The Illinois gubernatorial campaign is in full swing heading into primary season.
Incumbent Republican Gov. Bruce Rauner, the only Republican candidate besides far-right William J. Kelly, is duking it out with a thick field of Democratic candidates, including front-runners J.B. Pritzker, Daniel Biss and Chris Kennedy. Other Democrats seeking the nomination are Bob Daiber, Tio Hardiman, Robert Marshall and Alex Paterakis.
Progressive Ravenswood alderman Ameya Pawar has already dropped out of the race, citing a lack of funds to "meaningfully scale the campaign to a scope that could earn the nomination," according to a press release.
With two billionaires (Rauner and Pritzker) seeking residence in the Governor's mansion, this election is shaping up to be one of the most expensive in the history of the United States. According to the Associated Press, the race is on par to surpass the current record for the most expensive state race, in which California saw about $280 million spent on their gubernatorial election.
Pritzker, a philanthropist and entrepreneur, has made a name for himself with huge donations to universities and led the charge on the creation of the Illinois Holocaust Museum and Education Center.
Kennedy, the son of the late senator Robert F. Kennedy and nephew of President John F. Kennedy, has emerged as an early leader in the polls.
Currently serving as an Illinois state senator, Biss is the only current Democratic candidate who has held elected office at the state level.
Issues like immigration, Illinois' faltering economy and gun control have been at the forefront of the election.
The DePaulia sat down with the top three Democratic contenders to ask them about their positions on the issues that matter to DePaul and to college students across the state.
[accordions]
[accordion title="Daniel Biss: Illinois State Senator" load="show"]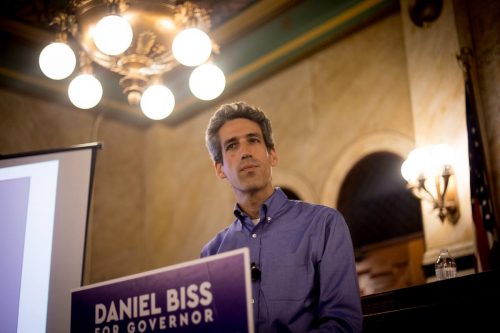 The DePaulia: Why are you the candidate for Illinois' college students?
Biss: We have a broken political system that is run by a few very rich people for a few very rich people. Whether you're a student, a middle-class person, or a member of the working poor, politics is being closed off to you. Our campaign is about including people. It is about including people. It's about building a movement of people to actually take power back. That's why we're for policies like free college tuition, like legalization of recreational use of marijuana. These policies are things that are important to college students.
The DePaulia: You have expressed support for providing free tuition for Illinois college students. Why is this important to residents of Illinois?
Biss: I passed a student loan bill of rights that Gov. Rauner vetoed. He vetoed a bill that would have given student loan borrowers protections so they wouldn't be victims of predatory behavior by these giant corporations that service the loans. We should override that veto tomorrow, we should have much stricter regulation.
We have to move towards free tuition. In today's economy, most people who want to live a middle-class life need some kind of post-secondary education. We need to make that available to everyone. Not some people, not those who are lucky, not those who are fortunate enough or knew which scholarships to apply for, but for everybody.
The DePaulia: You co-sponsored a bill that's working its way through the Illinois General Assembly that would legalize the recreational use of marijuana in the state. Why is this important for Illinois to pass?
Biss: It's a social justice issue. We do not enforce our marijuana laws equally. When young, black and brown people are arrested with marijuana, they're not treated the same way as white people. It creates criminal records that follow people forever. We have to acknowledge that and stop breaking up families and tearing up our neighborhoods. It's time for the law to reflect the reality of our communities and allow for the recreational use of marijuana.
The DePaulia: You have degrees from Harvard and MIT in mathematics. As governor of Illinois, how would you draw on your knowledge of mathematics
Biss: I spent quite a bit of time in the classroom teaching mathematics. That time is incredibly valuable because you learn how to connect with people and how to explain complicated things to diverse audiences.
As a mathematician, you learn how to process a lot of information, you learn how to be skeptical and how to ask tough questions. All of this is helpful in this modern, complex world that we live in.
The DePaulia: This gubernatorial election is shaping up to be one of the most expensive state elections in U.S. history. What are your views on big money in state politics?
Biss: We have to decide if we're going to have an election or if we're going to have an auction. I think this primary is a fight for the soul of the Democratic Party. There are people who believe you can't win unless you have the most money, but the people I have talked to across the state are hungry for politics that's about more than money, for politics that's about ideas and vision, for politics that's about building a movement to change our state.
I feel really good based upon that hunger about where we are right now.
The DePaulia: As the governor of Illinois, what kind of action would you take if the likes of a Milo Yiannopolous or Richard Spencer wanted to speak at a public Illinois college?
Biss: Well the governor should not be making those decisions. Those are decisions to be made locally by the university, faculty, students and community. Free speech rights are sacred. But free speech doesn't give a Richard Spencer the right to speak at U of I if that's not what the community wants. If the people in charge of the university want to invite them, that's their right, and certainly with their free speech they would be allowed to speak.
Now if that happens, I would be very enthusiastic about counter-protesting. I would be very enthusiastic about having demonstrations in the Quad, with students and faculty saying, "we respect your right to speak, but we categorically reject your vile views." As governor, I would be at those protests.[/accordion]
[accordion title="J.B. Pritzker: Entrepreneur, philanthropist" load="hide"]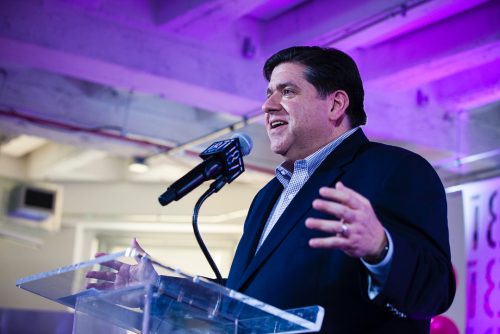 The DePaulia: Why are you the candidate for Illinois' college students?
Pritzker: Well first of all, I've put out a plan to expand our funding of education, making sure we're stepping up and paying for our universities in Illinois, our scholarships and our MAP grants. Beyond education I'm focusing on issues like legalizing marijuana and making sure we're taxing it. We're expanding civil rights, and that's something I've been engaged in for decades now. Beginning more than 20 years ago fighting for gay marriage and LGBTQ rights and women's health, these are all things that are important to college age students.
I created an awful lot of jobs in Illinois and in Chicago by creating 1871, a non-profit technology incubator. More than 7,000 good paying jobs have been created there as well as hundreds of companies. This generation of students are the most entrepreneurial generation in the history of the United States. We need to capture the creativity young people to carry our economy forward, and that's something I know more about than anyone else who is running. I've also created jobs in my own private business, both on the technology side and the more traditional side of our business. I believe job creation, growing the economy, these are all things that are going to be really important for students because we want you to graduate here and get a job and stay here.
The DePaulia: Last year at DePaul we had the incident with Milo Yiannopolous which was followed by a couple more provocative speakers. If someone of his likeness wanted to speak at a public university, how would you respond as governor?
Pritzker: I think free speech is very important to stand up for. Universities are particularly good places for that kind of dialogue, even with people you vehemently disagree with. Free speech ought to be most protected on college campuses because debating those things is in many ways the purpose of a university.
The DePaulia: A lot of students at DePaul are Hispanic and undocumented. As governor of Illinois, in the age of Trump, what kind of protections would you provide to these students?
Pritzker: We can start with protections, but I want to expand their rights. We need a welcoming state, a governor who is welcoming of immigrants to the state. Our current governor Bruce Rauner announced in 2015 that he didn't want any of the Syrian refugees that were coming to Illinois. The governor of Pennsylvania, on the other hand, went to the airport and was actually greeting Syrian refugees. I think we need a governor like that.
When it comes to undocumented immigrants, I've fought hard to make the case for the TRUST Act, and I'm glad that Gov. Rauner finally came around and signed it. But there were some provisions that were taken out of the bill when it was passed that needs to be put back in. There was a provision that would have prohibited the creation of a Muslim registry if the federal government under Trump had tried to create one, and that was taken out of the TRUST Act. We need to put that back in.
I've publicly said that if a Muslim registry was created, that I personally would register myself as a Muslim and would encourage all residents of Illinois to do the same as a protest. Specifically, we need to make sure students who are undocumented have the same ability to access grants and scholarships that others in Illinois do so I would expand that capability.
The DePaulia: You're a very wealthy man, but you advocate for a tax code that would make you pay more in taxes. Why is that?
Pritzker: A progressive income tax is the best way to proceed in Illinois. It's the fairest way to collect revenues. The people who have the greatest capability to pay should be the first ones to pay and should pay the highest rate. We need to protect the middle class and those striving to get to the middle class while also paying for our priorities in the state. The only way for us to really accomplish that is for those who afford it to pay the highest rate. [/accordion]
[accordion title="Chris Kennedy: Businessman, civic activist" load="hide"]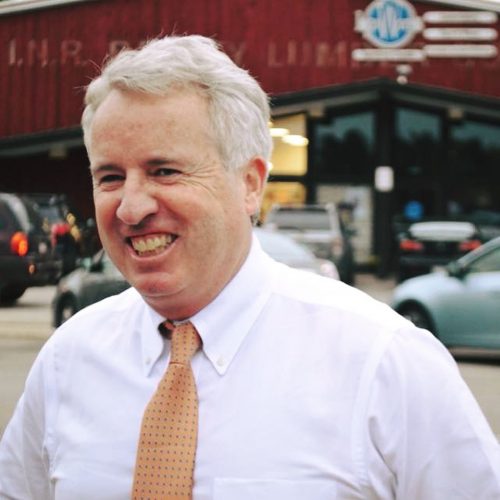 The DePaulia: Why are you the candidate for Illinois' college students?
Kennedy: We've built our campaign on our vision to move Illinois forward by changing the status quo and bringing opportunity back to our state so that students stay here, start their careers here, and build their future here.
I will build a stronger public education system that creates a cycle of opportunity for every student. We must reinvest in our higher education students and public institutions to revitalize our economy.
College students need to have confidence in our state government and our political system. We need to reduce the corrosive influence of money in our politics. With millions of dollars flowing into the campaigns of Illinois Republicans from just two or three donor families, like the Rauners, Ken Griffin, and the Uihleins, the Democrats have become desperate.
Some Democrats now believe that to compete, they must adopt the same behavior as those who have oppressed us. We are mimicking behavior that we abhor. Just as debilitating behavior can be passed from one person to another, so too can self-destructive traits be passed from one party to another.
We cannot let crony capitalists infiltrate our party and betray the Democratic activists who have always made up the mosaic-like fabric of our party.
This state belongs to the people and I'll give voice to all of our communities — including our college students. We need to get to a place where the government works for us, and with us.  That means property tax reform for equal access to education and a conversation that serves all our communities.  That means creating an Illinois  that our college students are proud to be from.
The DePaulia: Last year at DePaul, we had a number of issues with controversial speakers like Milo Yiannopolous and Gavin McInnes. As governor of Illinois, if someone who preaches hateful speech tried to speak at a public Illinois university, how would you respond?
Kennedy: The courts have been clear that hate speech is protected. If a hate monger wants to make hateful comments, they can. It can be hurtful but it is the price of democracy – an independent voice, no matter how vile, still has a place. History has taught us that the best thing to do is to ignore their presence, remain vigilant and unite our voices against them.
The DePaulia: With bills currently working their way through the General Assembly that would legalize recreational marijuana, how do you feel about recreational legalization?
Kennedy: We need to decriminalize marijuana and expand medical use. We should not prosecute and overcrowd our jails because of possession of a modest amount of marijuana.
When it comes to full legalization, we should defer to science: to doctors, to the recovery community and mental health experts. The Federal government has prevented the CDC and the NIH from studying the effects of legalization. If elected, I will charge the great research institutions we have right here in Illinois with studying existing data and coming to us with recommendations for legalization in six months. I will adopt their decision as my position.
I spoke to Colorado Governor John Hickenlooper about legalization in Colorado and he agrees with me that there shouldn't be a rush to legalize recreational marijuana until we understand it. Colorado was faced with children overdosing on marijuana in the form of gummy bears. They didn't realize marijuana should come in tamper-poof packaging to keep it out of the hands of children. Now they do and they had to regulate it. THC content in marijuana is much stronger than before – you can now overdose on it. We need to confront those issues and defer to scientists and medical professionals before we legalize it in Illinois
The DePaulia: As shootings and gang violence continue to spiral out of control in Chicago, what will you do to curb the violence in our streets?
Kennedy: Gun violence is an issue all too familiar to my family and Ra Joy's family. I see the role of state government in combating violence as to support community-based solutions and not impose them.
As we think about the broad problem of violence in our communities, I would divide it into certain sub-problem areas and I would organize them initially into 8 areas.
First, I think we need to look at basic economic development issues like education, jobs and opportunity as the core drivers of violence.
Second, we need to look at reducing the flow of handguns from unlicensed dealers and other illegal channels. We need to ban access for people who are on the no-fly list, institute effective gun-tracing programs, empower judges to strip people of their FOID cards, and we need to stop the gun trains.
Third, we need to deal with a way to divert at-risk youth and others from violence. We have great programs like After School Matters, and we need to fully engage our children in these sorts of programs.
Fourth, we need to recognize that once violence starts, there are techniques to stop it from spreading, such as with groups like Cease Fire, and we should embrace those techniques everywhere and every time.
Fifth, we also need to recognize that violence will occur, and we need to care for victims. We need to treat the victims, and not just physically, but we need to ensure we treat their mental health as well.
Sixth, we need to expand the definition of victim from the singular notion that the victim is just the individual, who was wounded, to recognize that an entire family can be traumatized and an entire community can be victims, too – and all are deserving of care.
Just as we will need to provide physical therapy for the wounded, so too must we provide mental health support. The challenge of trauma is never just physical. We need to provide the treatment necessary to support children, families, and entire communities who have been the victims of post-traumatic stress disorder. We cannot continue to fail to take care of the wounded, even as we fail to stop the wounding.
For communities disproportionately affected by violence, that means committing to counseling, to social, emotional and mental health access for children attending schools in communities afflicted by violence.
Seventh, we need police officers that better reflect the communities they are here to serve and protect. They deserve better training and a return to a full force. And we cannot ask police officers to do more and work for less.
Eighth, we need criminal justice reform because how we treat the perpetrator today will have a great impact on what happens to the perpetrator, and to the rest of us tomorrow.
The DePaulia: College students are graduating with more in debt from student loans than ever before. What can be done at the state level in Illinois to ease the burden of student debt on Illinois' young people?
Kennedy: If elected, I will establish an Illinois Promise Program, learning from the work of states like Tennessee, Oregon, Minnesota, New York and Kentucky, to provide a minimum of two-years of tuition and fees for low- to middle-income students who are eligible to attain a degree or credential at a community college or trade school in Illinois. I'll also work with our public institutions to incentivize transitioning merit-based aid to tuition based aid, and expand upon the success of our Monetary Award Program (MAP) grant student assistance program.
I will also support legislation that protects student loan borrowers by providing specialists to assist borrowers in fully understanding repayment options, including deferment options, eligibility to dismiss a loan in certain instances due to a disability or a problem with the school they attended, and income-based repayment options.
The DePaulia: With your experience in non-profit work like with Top Box foods, what lessons can you take away from these experiences that would aid you in the Governor's Mansion?
Kennedy: My parents, Robert and Ethel Kennedy, taught me that we all share a responsibility to our neighbors. From my childhood, I've always understood the gravity of public service and I've built my career on it.
Economic segregation in our state makes it easy for people to convince themselves that there's no poverty left in the United States. My wife, Sheila, and I started Top Box Foods, a non-profit that partners with community centers to deliver fresh, high-quality, affordable food to food deserts, neighborhoods where good food can be hard to find. I've also served as chairman for the Greater Chicago Food Depository, the nation's leading non-profit food distributor.
My work has exposed me to the reality of poverty. Catholic social justice teaches us that with every question, we need to understand what is the option to the poor. That has to be the preferential option.  There's an economy that's been designed to crush the poor, a political system that excludes the poor and a social construct that ignores the poor. As governor, I'll lead in a way that unites our state and serves our most vulnerable communities.
The DePaulia: As Illinois hemorrhages residents and jobs, what will you do as governor that would incentivize people and companies to call Illinois home?
Kennedy: When I got out of high school and I got out of college, my friends and I moved to where the jobs are. That's no longer true. Today the jobs move to where the highly educated kids are.
If we don't produce highly educated kids coming out of our high schools, the jobs will never move here and we will go into economic decline. The reason we have these challenges, the reason we have this problem is because we pay for our schools with local property taxes.
Another key driver for developing, attracting, and retaining jobs in Illinois is having a robust university system. Our universities can play a significant role in job growth, creating new companies, and spawning entirely new industries, which can contribute to the economic rebirth of our state and region.
Illinois is at the center of our nation's infrastructure, which is a key reason why so many businesses choose to locate here. Illinois should continue to be a leader in trade, transportation, and logistics jobs for years to come. But that will only happen if we invest in our infrastructure. If elected, I will work quickly with legislators to fund a capital bill that puts people to work improving our infrastructure so we modernize our aging roads, bridges, train lines, and transmission lines to bring renewable energy to market while also expanding our state's broadband access. I'll dedicate a portion of this plan to our under-resourced communities across the state.
[/accordion]
[/accordions]