From Lexington to Chicago: Rand Kelly of The Slaps finds new home
In a coffee shop in Logan Square, Rand Kelly glanced up at a drab photo of a galloping horse and commented on his childhood.
"That's not how I grew up," the vocalist for the Chicago band The Slaps said. "Just because I grew up in the South doesn't mean I had a horse."
He wore mustard-colored pants, cuffed at the bottom, and a light blue t-shirt. His outfit was simple, but it still gave a sense of authenticity. He wasn't attempting to impress anyone or to be the trendiest guy in Chicago's music scene; he was just wearing what felt natural.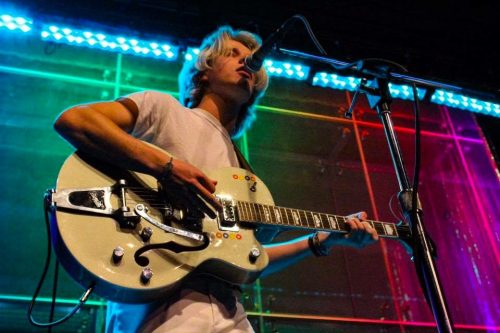 Kelly is one of three members of the Chicago-based band The Slaps. He and fellow member Ramsey Bell grew up in Lexington, Kentucky and are long-time friends. Kelly and Bell moved to Chicago to attend DePaul University in September 2016, where they met third band member Josh Resing of Elmhurst, Illinois.
The emergence of The Slaps has lead to a large Chicago fanbase and their spot in the Chicago indie rock music scene. At a Slaps show, expect to see DePaul undergraduates, cuffed pants (as seen on Kelly), cigarettes and plenty of dancing. Their doo-wop love songs easily ignite a crowd of anti-socialites into a frenzied fit of movement.
The Slaps are not his first experience in a band, as he and Bell performed together in Littlechap during their high school years in Lexington. The band broke up shortly after the two moved to Chicago.
"Littlechap was the beginning for me and Ramsey," Kelly said. "It kind of got us ready for what we wanted to do with The Slaps, but it's easier in Chicago than in Lexington."
Kelly said that while Lexington had a small yet active music scene, it was nearly impossible to move up and network within the community. Simply, there wasn't enough people in the scene to get much recognition outside of the city.
He described his upbringing as more expressive than farmlife allows. Growing up in a family of artists and musicians, music was always in the cards for him as it was natural to play from a young age.
"I remember when I first went to Rand's house, there were guitars and artwork piled around the house," Bell said. "Books were everywhere, ones on Chuck Berry and guys like that. I could tell this was a cultured family from the start."
Bell further described Kelly as an old soul trapped in a little boy's body. Talking to him is "one of those experiences you only get from so many people." Bell's words had authority, as Kelly easily stuck out in that coffee shop. He lights up a room, with his boyish smile and bright blonde hair. The words that came out of his mouth, though brief, were articulate and eccentric. Whether it was the actual words that were eccentric or the brightest of his eye, it was unclear but interesting.
The diverse area of Lexington where he grew up meant for an easier route to his creative expression. Many of his schoolmates focused on their studies and getting into a reputable college, but Kelly and his friends focused on the arts. He described his hometown as "directly opposing Chicago," as it was a Christian and conservative small town.
Now, Kelly focuses on music and school. He majors in anthropology for his interest in the topic and isn't too worried about the future for now.
"I want to learn about humans and how we got here," he said. "Maybe I can teach the stuff someday, but right now I'm focused on the band."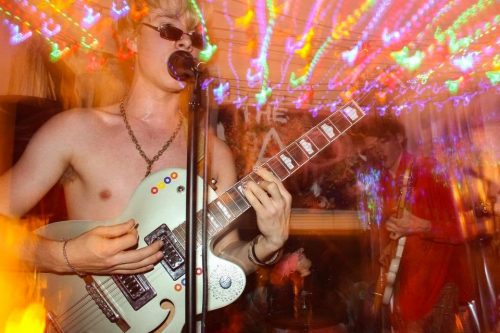 The band has gained a lot of recognition as newcomers in the music scene. Kelly says their "big break" was opening for  Modern Vices, a big name in the scene, at a popular DIY venue in Wicker Park. This show gave The Slaps more notability and a higher spot on flyers for shows. Since then, they have headlined more shows than ever before.
"It has been thrilling to see them grow as they have," said Rachel Flynn, local photographer. "Their name has gotten so big that now it's like everyone knows them. They deserve it."
The band plans on releasing new music soon, just after the success of their debut album "Susan's Room" last January. The album gained critical success with a positive review from The Chicago Vibe and thousands of listens on SoundCloud.
Kelly plans to create more solo music in addition to continuing The Slaps. While he enjoys the thrills of being in a popular local band, some of his creative abilities are not tapped through the group. His love for bluesy, slow and romantic piano songs are hard to produce in a indie-rock group.
He creates this sound on his own, under the no-nonsense name Rand. While he appreciates the sense of community from the scene, all of his creative expressions could not be achieved through the band.
"I think I'm a bit more romantic than the other boys," he said, referring to the other Slaps. "Those types of songs are not what we're known for, and the boys don't like them much either.
The future holds more music, more shows and more touring for Kelly. Over the summer, the band toured around the Midwest and recorded material for their unnamed upcoming album. For some college students, the idea of his packed schedule becomes increasingly terrifying. Balancing school and music comes easily to Kelly, as he said, "that's just my life."
Back in the coffee shop, Rand reflected on what he describes as his life: "I feel wonderful. I get to experience this crazy, weird, random thing called life with the people closest to me, and I get to do this every day. I know I'm just a little kid in a big city, but it feels like I'm constantly given the best of everything."
About the Contributor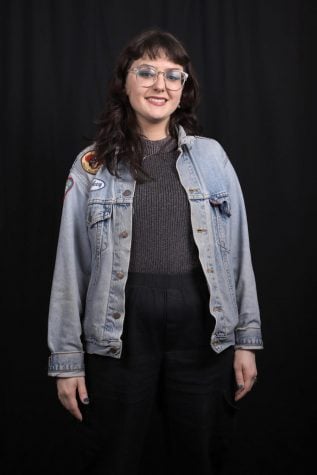 Mackenzie Murtaugh, News Editor
Mackenzie Murtaugh is the news editor of The DePaulia.

Email her at [email protected] Follow her on Twitter @mackenziemurtz.