An intro to screenwriting class had finished viewing and analyzing "Inglorious Bastards", and the credits began to roll. The professor, Steve Zacharias, pointed to the screen as "THE WEINSTEIN COMPANY" appeared, and there was a large, communal groan from the class. One of the best movies of the past 10 years had just been ruined for the students by the actions of one man: Harvey Weinstein, a famous Hollywood producer.
Over the past few months, there has been a slew of sexual assault allegations in Hollywood, the most notable being Weinstein and Kevin Spacey.
The allegations against Weinstein are numerous, horrendous, and terrifying. Several women, including Angelina Jolie, spoke out about Weinstein's attempt to blackmail them into sex. So far three women have accused him of rape.
His response, like so many others in Hollywood, has been to confess his "sex addiction." The science here is weird- experts disagree as to whether or not sex addiction is really a thing. In an NBC news article, "Whatever Harvey Weinstein Is, He Is No Sex Addict, Experts Say," author Maggie Fox interviews David Ley, a clinical psychologist, and author of "The Myth of Sex Addiction."
"I am not sure when being a selfish, misogynistic jerk became a medical disorder," Ley said. He also stated that sex addiction "is a concept that has been used to explain selfish, powerful, wealthy men engaging in irresponsible impulsive sexual behavior for a long time."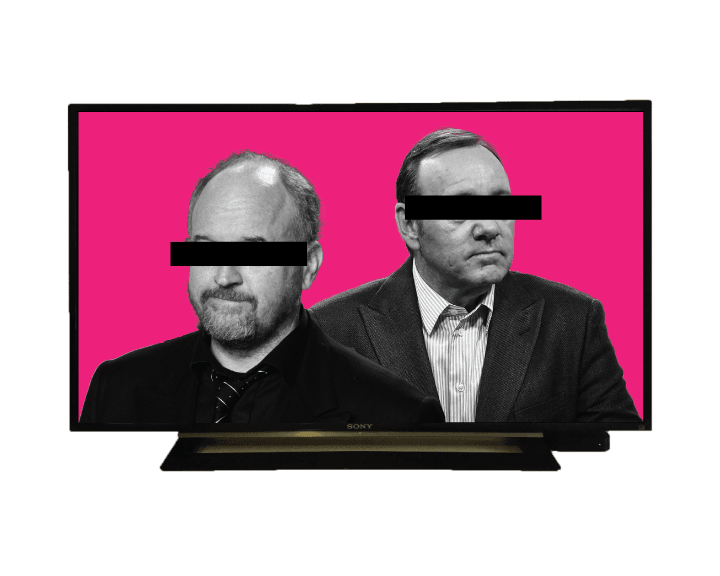 Spacey used his apology to come out as a gay man, however. Sarah Kate Ellis, president and chief executive of Gay and Lesbian Alliance Against Defamation (GLAAD), a gay rights organization, issued a statement condemning Spacey's choice. In the statement, Ellis says that "coming out stories should not be used to deflect from allegations of sexual assault."  His use of his sexuality unfortunately distracted from his problems, and adds fire to the flame that associates homosexuality with pedophilia.
What's left after the allegations come out is the gray area about what to do next. Is the correct response to protest movies that sex offenders have contributed to? Do we, as viewers, stop enjoying movies such as "Silver Linings Playbook" or shows like "House of Cards?" Or, in light of allegations against Dustin Hoffman, should we stop watching the magical childhood tear-jerker that is "Mr. Magorium's Wonder Emporium?"
What many people forget is that one person is only a fraction of the effort required to put something on screen. While Spacey may be the face of "House of Cards", his job is nowhere near the most important. Without the laundry list of people behind the scenes, the hit show wouldn't be anywhere near as fantastic as it is.
Big budget movies such as "Captain America: The First Avenger" employ upwards of 400 people in total. All in all, the film and television industry provides 2 million jobs to Americans, generating $121 million in revenue per year. In reality, boycotting movies hurts the innocent men and women who dedicated months of their lives to the production, and the offenders get paid anyway.
"Honestly, it's concerning," said Gina Ciolli, a freshman film major. "Especially because it's the field I want to go into."
Ciolli believes that there should be more women in executive positions in Hollywood, but also believes that there will always be people who abuse their power. On the topic of movie boycott, Ciolli thinks that "protesting should be more specific to the person, not the project… It just gives the abuser another platform for fame."
Protest and punishment should come from the top-down, not the bottom-up. While the sex offenders in Hollywood may seem unstoppable, there are always people who hold more power than them, and therein lies the proper response.
Weinstein, the known repeat offender, remained in the shadow of his power for years, successfully evading any sort of punishment since the 70s. The Weinstein Company has attempted to deal with Weinstein internally, which does nothing but draw out his string of abuse.
The producer of "House of Cards" announced that season 6 will be their final season within a week of Spacey's allegations. This response was fast, effective and hit Spacey where it hurts.
When sexual assault is even brought into the conversation, the board of directors, the producer, the director — whoever holds the keys to the castle — should cut the cord immediately. Swiftly, effectively and without dramatization of the issue.
Weinstein was fired from his company this month, and expelled from the Oscar board. This man should never work in Hollywood again (fingers crossed). But unfortunately, it's too little too late. But it's a step in the right direction. Hollywood giants are slowly learning that sexual assault has no place in the glittering world of film, and offenders deserve the same treatment no matter their industry.
That being said, viewers should remain aware. We need to be aware of the actions of our heroes on the silver screen. Just because you liked Casey Affleck in "Manchester by the Sea" doesn't mean you should ignore his actions in the real world. The artist is a part of the art, for better or for worse.