White House photographer visits Chicago, looks back on Obama presidency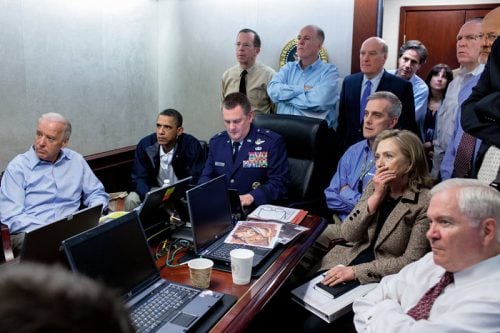 Imagine having complete access to a sitting U.S. president's every move for the duration of his time in office. That was official White House photographer Pete Souza's experience as he followed President Barack Obama's every move from 2009-2017.
Souza recounted his experiences to a packed ballroom at the Chicago Union League Club on Nov. 15. The event was part of a speaking tour he is doing following the release of his book, selections from his one-million-plus photos from his time at the White House, "Obama: An Intimate Portrait: The Historic Presidency in Pictures."
Prior to working with Obama, he was President Ronald Reagan's official White House photographer and was one of the first photojournalists on the ground when the War on Terror began in Afghanistan.
He remembered first meeting and photographing Obama during his first Senate campaign when his office was in a damp, windowless basement. Souza said the first photo he ever took as Obama's photographer was one of him with his feet kicked up on his desk in that musty office.
"I had this kind of random thought when I took that (photo), and I thought to myself, 'wow if this guy ever becomes president, the next picture I take like that will be one hell of a contrast,'" Souza said.
Souza was with Obama for it all: international visits, cabinet meetings, state dinners and everything in between. He said the most important photo he took during his time in the White House was the famous picture of Obama's cabinet during the Navy SEALs raid that captured Osama bin Laden.
"The raid was not watched from the Situation Room as it normally would have been," Souza said. "They had already established a communications link to the team in Afghanistan in another, and they weren't confident that they would be able to reliably switch it over. As a result, we were jam-packed in this tiny little room, all of the most powerful people in the world standing shoulder to shoulder."
He was even with the Obamas for their more intimate family moments. He fondly remembers one winter morning when Washington D.C. had gotten hit with an overnight blizzard and Barack, Sasha and Malia had some winter fun.
Souza took the audience through Obama's best and worst days in office. The worst, Souza said, were the days following the Sandy Hook Elementary School shooting in which 20 children between the ages of 6 and 7 were murdered.
"It's sad to say, but we had already been through several mass shootings at the time, but this one really got to (Obama)," Souza said. "When he learned the details of the shooting, he reacted not just as the President of the United States, but as a parent. He could feel what it was like to put your kid on a bus in the morning, and you never see them again because some crazy guy with a gun killed them at their school."
Another defining photographic moment was an emotional one of Obama and a little African American boy. The boy had the opportunity to meet the president in the Oval Office and told him that his hair looks like his. The president leans down to the young boy's height and lets him touch his hair to show him they aren't that different.
Paul Octavious, a Chicago photographer whose work has been featured in the New York Times, said the photo of Obama interacting with that boy is one of the best photos to come from his presidency.
"As an African-American, to see a four-year-old touching his hair as if to say, 'you're just like me' is something that's really important," Octavious said. "I've never had a president that was like me before Obama. It's a truly amazing portrait."
Souza said that by taking the job with Obama, he set out to make the "most complete visual, historical archive there has ever been for a presidency." Cindy Chang, another Chicago photographer, said that we probably won't get to see anything close to the images Souza captured of Obama with Donald Trump's presidency.
"All of the images of Trump you see are manufactured," Chang said. "They are set up to make him look a certain way. (Souza's) images of Obama are very intimate and casual. They're not set up to make anything look any other way than how it actually was."