DePaul's late game struggles continue in 90-81 loss to Georgetown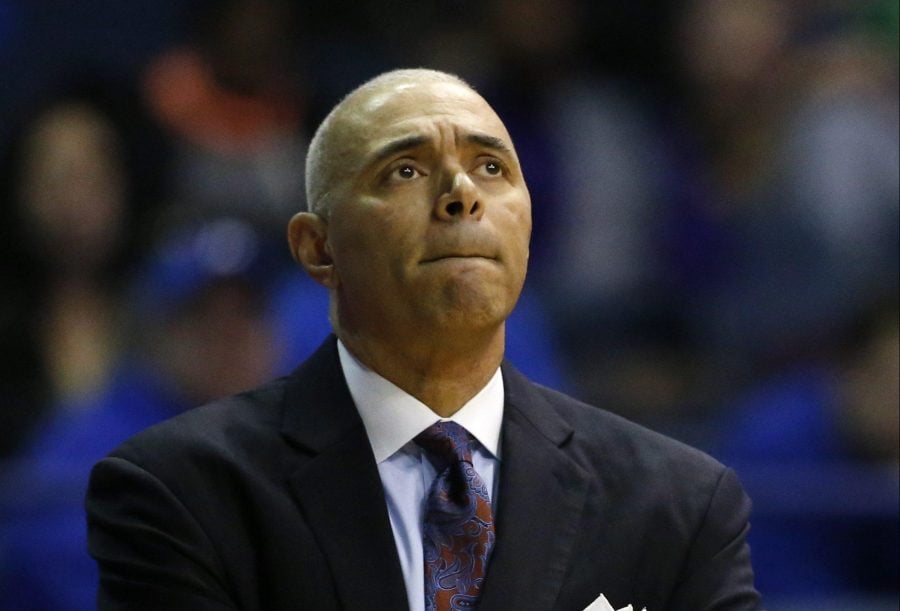 A winnable Big East game slipped through the DePaul Blue Demons (7-8, 0-3 Big East) fingers as the visiting Georgetown Hoyas (11-3, 1-2 Big East) absorbed run after run in the second half to escape Wintrust Arena with a 90-81 victory.
"[We need] better belief in our system and better belief in each other," said Blue Demon head coach Dave Leitao when asked to discuss the late-game struggles that have been a reoccurring storyline in Blue Demon loses this season.
Despite a valiant effort in front of an energetic Wintrust Arena crowd of 5,190 fans, the Blue Demons couldn't quite erase a nine-point deficit at halftime. With the loss tonight, DePaul is now 0-6 after trailing or being tied with an opponent after the first half.
Georgetown shot 7-for-13 from the 3-point line in the first half to help build a 46-37 advantage at halftime. Hoya junior forward Marcus Derrickson poured in 14 points on 5-for-9 from the field and sniped 2-for-2 from behind the 3-point line, while the second head of the Hoya's big man monster junior Jessie Govan muscled in eight points on 3-for-5 from the field to go along with eight rebounds in the first half. But the Blue Demons refused to acquiesce, despite leaving themselves with a nine-point deficit to overcome after 20 minutes of play.
A personal 5-0 run from DePaul senior forward Tre'Darius McCallum sliced the Hoya lead down to 46-42 after less than two minutes had expired in the second half. Georgetown responded with an 8-2 run of its own behind Govan who bullied his way into the post for easy scores and forced double teams which he passed out of to create open shots for his teammates.
Govan finished the game with 25 points, 12 rebounds, and five assists as he dominated every defender the Blue Demons used to try to neutralize him. Just another day at the office for one of only two Big East players (Angel Delgado of Seton Hall) who has averaged a double-double this season.
"He did a pretty good job for the most part," Georgetown head coach Patrick Ewing said. "He's going to get doubled. Both our bigs are going to get doubled and they have to do a good job of passing out of the double teams. We as a team have to do a better job of getting them outlets."
Blue Demon junior guard Eli Cain shimmied a no-look pass all the way from the left side of the paint to the right corner to set up an open McCallum for a 3-point field goal that brought the Blue Demons back to within four points at 60-56 with 11:02 to play. Cain finished the game with eight points on 3-for-11 from the field and a career-high ten assists to only three turnovers.

Averaging 9.3 points on 27.9 percent from the field and 18.2 percent from the 3-point line while averaging more turnovers (4.3) than assists (3.0) in his previous four games made tonight a redemptive effort for Cain.
"He distributed the ball better today than he had been," Leitao said. "He's grown, but it's a work in progress. It's not something that he anticipated (taking over the point guard duties midseason) nor did I, so he continues to be a work in progress."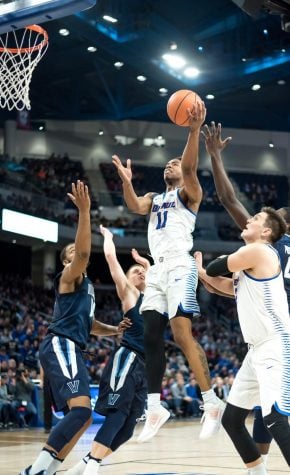 Cain's play helped the Blue Demons stay close in the second half. A transition dunk from graduate senior Marin Maric closed the gap to 61-60 at the 9:24 mark, but the Hoyas re-extended their lead to ten points by the 7:12 mark. The Blue Demos chipped away the rest of the game, trimming the deficit to  five points with 54.5 seconds left after a Maric layup and free throw on an old fashioned 3-point play.
But the Hoyas hit their free throws late (31-for-37 in the game) to keep the contest out of reach, as the Blue Demons must live another day without a Big East win this season to its program's name.
In front of scouts from five NBA teams, junior guard Max Strus collected 19 points on 6-for-15 from the field, but he failed to score over the last 12:45 of the game. Over the previous five games, he averaged 26.8 points on 53.7 percent from the field but it wasn't  enough to help DePaul finish better than 2-3 in that stretch. Blue Demon starters scored all but four points in this game as the Hoyas bench decisively outscored DePaul's bench 25-4.
"We just played our normal defense," Ewing said when asked how the Hoyas contained Strus and the rest of the Blue Demons. "The guys did an outstanding job of pressuring, running off screens, and we just played our defense."
DePaul travels to Queens, N.Y. to battle St. John's on Saturday at 1 p.m., while the Hoyas return to their home turf for a showdown with the Creighton Blue Jays at 11 a.m. on Saturday.