Chicago's sidewalk laws in need of repair
Last week Chicago property owners eagerly signed up to help pay for sidewalk repair that, depending on who you ask, may or may not be their responsibility.
Chicago's Shared Cost Sidewalk Program is a voluntary program started to entice property owners to split the cost of sidewalk repair with the city. The program is immensely popular — so popular, that property owners are encouraged by their aldermaen to sign up the exact minute the program opens because it can fill up so quickly.
But just why are so many property owners willing to pay anywhere between $600 and $1,500 to repair what some consider to be city property? Who owns sidewalk space and who is responsible for fixing it, especially when it becomes a safety hazard?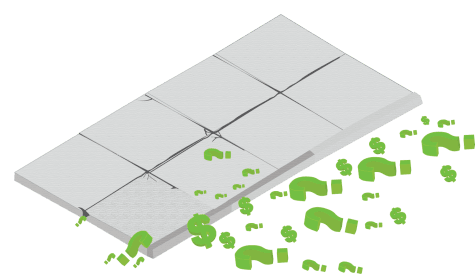 The short answer is that the city shirks the responsibility and property owners are tired of waiting to have their sidewalks fixed.  But the city's sidewalk policies aren't exactly clear.  In many ways, they are in as much need of repair as the crumbling sidewalks in question.
In a 2015 case that made its way to the Illinois Supreme Court decision, a private citizen sued the city of Chicago for injuries sustained after falling on an unrepaired sidewalk.  In the case, both the property owner and the city denied responsibility for the sidewalk repair.
Paul Sajovec, chief of staff for Alderman Scott Waguespack of the 32nd Ward, admits that when it comes to sidewalk repair, it isn't always clear who bears the responsibility to fix an unmaintained sidewalk.
"It's very Chicago," he said. 
Sajovec said that in the eyes of the city, not all sidewalks are created equal. He said that a sidewalk in front of church is much more likely to be repaired than a sidewalk in front of privately owned buildings.
This disparity in repair has more to do with liability than anything else.  Sajovec said that even though the city does not take responsibility for sidewalk repair, they will step in when the sidewalk is deemed a significant liability.
So who determines which sidewalks are repaired at the city's expense? The Chicago Department of Transportation (CDOT) plays a hand in deciding which sidewalks are hazardous enough to warrant a repair on the city's dime.
Sue Hofer, a representative for CDOT, said that "it just depends."
According to Hofer, a sidewalk is only repaired at the cost of the city if it is deemed to be especially dangerous, according to Hofer. When asked how that determination is made, Hofer said that it is evaluated on a case-by-case basis.
In some cases, aldermen step in to fix unmaintained sidewalks. Each alderman has a discretionary fund that can be used for repairs within their ward.  According to Sajovec, the majority of that fund goes toward repaving the roads. With such little funding left over, sidewalk repair is often put on the backburner.
That's where the Shared Cost Sidewalk Program comes in. Property owners have continued to sign up for the program because it seems to be the fastest way to fix their sidewalks.
It's no secret that Chicago is in a budgetary crisis.  Each year, the city struggles to allocate funds that aren't available to finance projects that it can't afford. While having property owners help foot the bill may seem like a great way to save money, it may set a precedent that hurts more than it helps.
Property owners in less affluent communities may not have the funds to participate in the program. While they can make requests to Chicago's 311 line, it can often take years for the city to come and repair sidewalks.
A broken sidewalk isn't just unsightly, it's dangerous. A small crack hidden beneath snowy conditions can pose a serious hazard to children on bikes, joggers and the elderly. At night, even an able bodied individual can fall victim to an suffer a fall on an unmaintained sidewalk.
Michael Friedman, a personal injury lawyer with Michael T. Friedman & Associates PC, said that in many cases it isn't always clear who is responsible.
"
We go after both (the city and the property owner) and let them point fingers at each other. In many cases, they both share the responsibility."
— Michael Friedman
The municipal ordinance on sidewalks only muddies the water. It fails to outline exactly who is in charge of a sidewalk in total disrepair.
"Sometimes these ordinances are purposely vague," Friedman said.
When property owners and the city begin to point fingers at each other, ultimately the public ends up suffering the consequences. Property owners that play chicken with the city allow their sidewalks to fall into total disrepair in hopes that CDOT will fix the problem.
But negligence isn't always to blame. Property owners in Chicago's low-income neighborhoods often don't have the funds to participate in the Shared Cost Sidewalk Program. For some property owners, waiting for the city to repair the sidewalk is often their only course of action.
When asked if this can lead to more cases of personal injury, Friedman said, "absolutely."
While the city touts the Shared Cost Sidewalk Program as a win for all, Sajovec believes that it may be time for Chicago to take a hard look at sidewalk repair.