Candidates come out swinging at first gubernatorial forum
The first televised forum between Democratic gubernatorial candidates faced tough questions about the future of Illinois. Retaining residents, amending the state constitution to allow for a progressive property tax and candidates' political histories were all front-and-center.
The debate was moderated by NBC5's political editor and director of DePaul's Center for Journalism Integrity and Excellence, Carol Marin. Marin kept the candidates in line, pushing them to answer questions when they started wandering toward broad campaign talking points and held them to a strict one-minute response time.
Businessman J.B. Pritzker and state Sen. Daniel Biss were trading punches all night long. At a post-forum press conference, Biss told reporters he wasn't sure why Pritzker began attacking him, but wondered, "What's in J.B. Pritzker's polling data?"
Biss highlighted his middle-class credentials throughout the forum, saying he, unlike some of the wealthier candidates in the race, knows the burden that Illinois' high property taxes have on middle-class families.
Candidate Chris Kennedy, son of the late Senator Robert Kennedy, wasn't going to let Biss pull all of the punches on Pritzker. At one point, Kennedy said Pritzker has "emerged as the poster child for pay-to-play politics."
Kennedy was referencing a recent attack ad from incumbent governor Bruce Rauner. The ad features an FBI recording of a phone call from 2008 between Pritzker and then-Governor Rod Blagojevich (who is now serving a 14-year federal prison sentence for trying to auction off Barack Obama's Senate seat). On the call, Blagojevich is heard offering Pritzker an appointment to be the attorney general of the state as a byproduct of a political deal between Blagojevich and House Speaker Michael Madigan.
Pritzker defended himself by saying he "did nothing wrong and was accused of nothing," and said he was just seeking the opportunity to serve the public.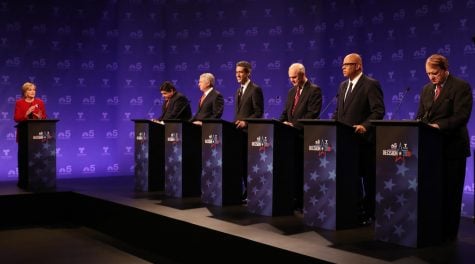 Madigan became a point of contention between Biss and Pritzker. Pritzker accused Biss of being complicit in allowing Madigan to continue ruling the statehouse since Biss voted for the embattled tax lawyer to become speaker.
Biss responded by saying that "Democrats vote for other Democrats." He proceeded to hit Pritzker for expressing reservations about voting for President Barack Obama in his 2012 reelection campaign, when he said he would have to see who the Republicans' candidate would be before deciding.
Marin pressed Kennedy on his inconsistent opinions of Mayor Rahm Emanuel. He financially backed the mayor's first run, but on the campaign trail he has said Emanuel is creating policies "that are driving African-Americans out of the state."
Tio Hardiman, the former director of CeaseFire, sought to distance himself from the "establishment" politicians on the stage, interjecting at one point that he "didn't have anything to do with this mess (that Illinois is in)."
Marin questioned Pritzker on his dodgy tax practices at his Gold Coast mansion which quickly turned into a heated exchange between Biss and Pritzker. Biss accused his opponent of dodging the question and proceeded to hit Pritzker on his lack of political experience.
Daiber was the only one to support raising the gas tax. The tax, which currently stands at $0.19 per gallon, has not been raised since the 1990's.
Marin asked all six candidates to raise their hands if they would be willing to risk losing millions in federal funding if they were to give sanctuary status to undocumented immigrants, and every candidate immediately raised their hand.
With Chicago making Amazon's short-list as a possible destination for its second headquarters, Pritzker warned against giving Amazon too big of tax benefits, but the businessman did recognize that the state should want to increase the size of its talent pool.
"It has become a race to the bottom, unfortunately, around the nation where municipalities and states are offering huge tax benefits to bring companies to their state," Pritzker said. "Talent is what companies are looking for. We've got to invest in that."
All of the candidates expressed their support for legalizing recreational marijuana, but Kennedy said the state should have a third-party examine the legislation before it is rolled out.
Biss said legalizing marijuana is a "racial justice issue," saying that rolling out that plan would reduce jail populations and burdens on the justice system. Hardiman said that if he was elected, he would commute the sentences of everyone in the state currently imprisoned on marijuana charges.
Robert Marshall, a physician from suburban Burr Ridge, once again brought up his plan that would divide Illinois into three separate states: the city of Chicago, the suburbs and then the rest of the state. Each of these areas would be states with their own governor, legislator and representation in Congress.
One of Marin's final questions was if the candidates could say something nice about their opponents. Pritzker praised the philanthropic work of Kennedy's family, but when it was Kennedy's turn, he floundered. He struggled to find anything positive to say about the other candidates and instead called Pritzker "a poster child of all that's wrong with the corrupt system in our state."