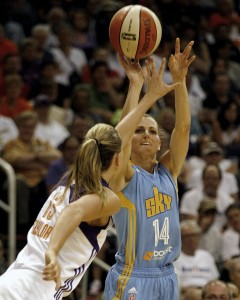 An unlikely post season run came to an end Friday night for the Chicago Sky, as they fell to the Phoenix Mercury, 82-87 at the UIC Pavilion.
After dropping the first two games in Phoenix by double digits, their resiliency was tested yet again. Phoenix is an experienced team that thrives on arguably the best woman to ever touch a basketball, Diana Taurasi.
The home team would catch a break however with All Star center Brittney Grinner missing the contest following eye surgery on Thursday. The Sky were aggressive early on, powered by the front line of Sylvia Fowles and Elena Delle Donne.
Fowles made her presence known on both sides of the ball, adding 8 rebounds to her 20 points.
Delle Donne would take home Player of the Game honors while pouring in 23 points 5 rebounds. With Grinner out, the painted area would open and the Sky would make it a point to attack early and often.
"She's a force down there – she's got different gears that most players simply don't have," said all-time Finals scoring leader Diana Taurasi. "BG being out the game lead to us to make a few adjustments and we Candice and myself had to be assertive."
Candice Dupree matched Taurasi with 24 points.
Former Blue Demon, Allie Quigley, who guarded Taurasi most of the game finished with 19 points on 13 shots off the bench. The Sky were paced by Courtney Vandersloot, who tied a finals record for assists in a finals game with 11. A record that was set by… go figure, Diana Taurasi in Game 1 of this series.
Quigley's consistent performance this year was enough to earn her the 6th Woman of the Year award.
After a 15-19 regular season entering the final series of the year, the Sky were a strong underdog against the Mercury, who've now won three championships since 2007. The Sky showed grit and intensity in their final game, much to their coaches liking.
"This is a damn tough group of women, " said head coach Pokey Chatman.
"The mood in the locker room however—it is what it is. We can leave here tonight with our heads are held high knowing that we worked as hard as we could."
As the youngest team in the league, Chatman has every reason to believe that they will continue to build on their hardnosed and skilled reputation that they're developing.
Delle Donne will head back home and stay close to her doctors. She battles Lyme disease and missed 17 regular season games. Building her strength and stamina will be vital for her moving forward.
Fowles will do what most women in the league do and play overseas until late April. Fowles will be stationed in China, working towards another championship run.