Women in film production at DePaul doubles
In 2017, Film and Television was the most popular major for new DePaul freshmen, and 53 percent of the university's total enrollment was female. Women accounted for about 28 percent of the College of Computing and Digital Media's new freshmen and transfers.
Chicago has long been a hub for film and television production, but like the rest of the film and TV industry, it has fallen behind in terms of diversity and inclusivity. In particular, women continue to comprise about half the population while representing only a fraction of on-screen and behind-the-scenes talent.
Despite this, the last few years has seen a thriving cinema program at DePaul, with the number of women enrolled in the School of Cinematic Arts doubling in the last five years. The School of Cinematic Arts is one of three schools within CDM.
"As I look back to the early days when the School of Cinematic Arts was founded and compare it to where we are today, I see the rise in female enrollment as happening very organically," said JoAnne Zielinksi, an associate dean for CDM. She added DePaul has recently hired a number of female faculty due to need, with expertise in fields such as cinematography, direction and producing.
DePaul's partnership with Cinespace has been a boon to the program as well. The 32,000-square-foot facility in North Lawndale is used regularly by major networks for shows like "Chicago Fire," "Chicago P.D." and "Empire."
DePaul currently leases three stages at the space, where students take classes and work on real independent productions in a professional environment. Zielinksi says opportunities like the ones made available through Cinespace help in "breaking down a lot of the barriers that exist for women" in the industry.
"Offering the opportunity for our young women to take classes, create films and work in that setting is something unique that DePaul has to offer," she said.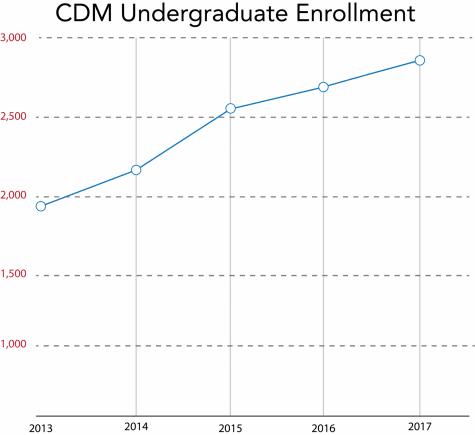 Erin Moreland, 20, a junior in the cinema program, says she has seen an increase in the number of women in the cinema school since she's been on campus.
"I think that the female students are having more of a say in what goes on in the program (…) I definitely think there's been a strong show of female leadership that's increased over the years," she said.
DePaul's location allows for lots of collaborations that might not be available elsewhere, especially with Chicago situated among the top five film markets in the country. Last year, the city was even named the fifth best place to live and work as a filmmaker in North America by MovieMaker Magazine.
The state offers a 30 percent tax credit to productions for money spent on Illinois goods and services, including wages paid to Illinois residents. And the Illinois Film Office says the state is the only one in the country to set a "diversity standard," where productions have to submit a form articulating how they are going to ensure diversity on their sets.
In a recent interview with Chicago Tonight, the director of the Illinois Film Office, Christine Dudley, said that Illinois film production activity comprises 60 percent for episodic television and one-third each for advertising and movies.
And in January, the Film Office announced that women and minority hires made up 53 percent of reported crew employees across almost 350 film, television and commercial projects filmed across the state. They also said the film industry generated 13,797 job hirings and $423 million worth of revenue for the state.
Still, barriers remain.
A recent study conducted by the Center for the Study of Women in Television & Film out of San Diego State University found that, of 4,310 behind-the-scenes credits across every 2016-17 series on the broadcast, basic cable, premium cable, and streaming networks, women comprised just 28 percent of creators, directors, writers, producers, executive producers, editors and directors of photography.
For DePaul's part, it will aim to continue its popular cinema program by creating connections with the city it calls home.
"In my opinion, the next big revolution in cinema will be one led by women and those that in the past have not been given voice or an opportunity to have their stories told. They are now being heard and it is a direct reflection of what is happening in our culture," Zielinski said.
View Comments(1)