Jane Pauley, alumna Ann Pistone honored by journalism department
On Thursday DePaul's Center for Journalism Integrity and Excellence presented its second annual slate of awards at the Union League Club of Chicago to two journalists with Chicago roots: ABC7 investigative producer Ann Pistone and CBS Sunday Morning host Jane Pauley.
Pistone, who graduated from DePaul with a communications degree in 1990, was presented with the center's 2018 Journalism Almuna Award. Since 1999, Pistone and her team have examined corporate and government abuses, organized crime and flaws in the security of chemical companies and government agencies – the latter of which garnered her team a National Emmy Award in 2004.
Pauley, who is also widely known for co-hosting NBC's "The Today Show" from 1976 to 1989 and "Dateline NBC" from 1992 to 2003, was presented with the Center's 2018 Distinguished Journalist Award. The Indiana native became one of the first women to co-anchor an evening news broadcast in Chicago when she joined NBC affiliate WMAQ in 1975 at the age of 24.
The awards were given by broadcast journalist Carol Marin, who, together with her longtime producer Don Moseley, are the directors of the Center for Journalism and Excellence within the College of Communications, which they jointly founded at DePaul two years ago.
Though their day-to-day professions are vastly different, both women's experiences were tied together by a shared foundation in and respect for the values of local journalism.
"That's where everybody learns everything. That's where you've got to do it all on deadline," said Pauley, who graduated from Indiana University in 1968 with a degree in political science.
When she began her journalism career in Indianapolis in 1972, she had "neither a journalism degree or experience." She credits her work on extemporaneous speaking in high school with getting her her first media job at CBS affiliate WISH-TV.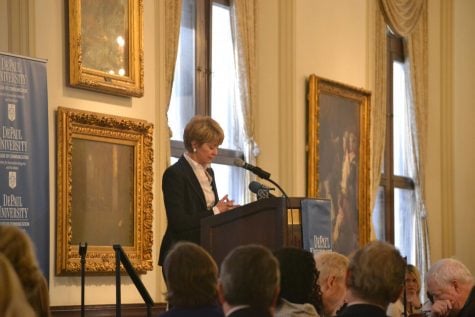 "I have no education in journalism," she freely admitted. "Strongly recommend it," she added.
When she came to Chicago in 1975 as co-anchor, critics were skeptical of the young upstart, calling her a "hood ornament" with "the IQ of a cantaloupe." While the local press mocked her, she soon won over audiences as a news presenter – and a promotion to replace Barbara Walters on "The Today Show" came soon after.
Despite the heckling she initially received in Chicago, Pauley says she respects the city immensely for its rich tradition of journalism.
"There aren't too many cities that have the history and reputation and almost the mythology of local journalism that Chicago does," she said. "Local news here is on a different level than local journalism in many other cities, simply because of the history and the competition."
Pistone, meanwhile, got her start at The DePaulia in the late '80s, when she says it was difficult to publish stories that were critical of the university.
"There were things that we would've liked to have done and it was really hard to do," she said. The student staff at the time was small, but Pistone ended up enjoying the work so much she decided to make it her career. And she believes the trust the public has for local news outlets, even during the current contentious political era, is more vital than ever.
"People are still buying homes, having children that are going to local schools, and they want to know what's going on in their community," she said. "And we have been that trusted group of people to tell them what's happening and why and what you can do if you want to change it."
In a passionate acceptance speech at the awards ceremony, Pistone thanked her friends, co-workers and family, before acknowledging that in the news business, "family takes the biggest hit."
Visibly choking back tears, she told the crowd of assembled journalists, faculty, and others that she wanted to dedicate her award to, "the employees who whistleblow on their own companies; the residents who point the fingers at their government while they're living under them; the families who come to us and complain about nursing homes while their loved ones are still living in them; and to victims of scammers who know they're still in the crosshairs."
She said that oftentimes, when she asks the people whose stories she is telling if they have anything else they'd like to add, they simply say that if their story can spare even one other person from going through what they had to go through, then it's all worth it.
"So every time you turn on your TV news or check your phone for updates, know that there's someone behind that story that took a big risk to get the truth out for the benefit of all of us," she said, to a resounding applause.
Marin says she's proud of the awards, and she believes it is important to recognize excellence within the profession.
"Part of our mandate is not just to teach classes in a siloed, insular world, but to bring other people into it. And so I think it's a much more interactive and collegial way to say 'we're all part of this,'" she said.