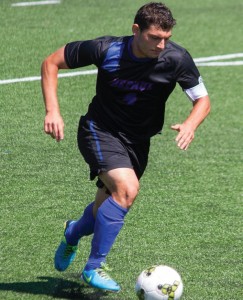 Optimistic and unshaken remains the mentality of this year's DePaul men's soccer team after a tie with Southern Illinois University-Edwardsville Saturday leaving their record at 2–2–1. But as the season only begins, senior captain Koray Yeselli believes they're exactly where they need to be.
"Last weekend was tough with two games in a row, but we played real hard," Yeselli said. "They're not games where we doubt ourselves … We know what we need to improve on."
Through watching film and working to correct their common mistakes, the German-native said that a sense of comfort in a family-like environment helps the team continue to move on in high spirits. Fellow senior captain Art Garza agreed.
"We have chemistry both on and off the field," Garza said. "From having breakfast, lunch and dinner together during preseason to continuing to always look out for each other."
It's been a tough time for the Blue Demons throughout Garza and Yeselli's years at DePaul. The team has gone 5–11–2 last season and 4–10–3 the year before that. But there might be a reason for optimism. In the last game of the season, Garza and the Blue Demons upset No. 10 Marquette.
To improve, DePaul will have to get productivity out of their younger players. Helping to create a sense of comfort and confidence for the incoming freshmen was also something of second nature for both Yeselli and Garza.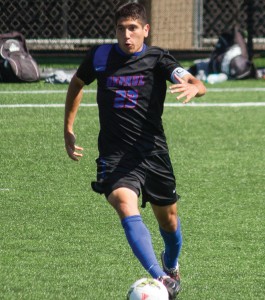 "I try to talk to the younger guys so that they aren't nervous or afraid to go into a D1 game," Yesellli said. "Remembering to have fun is a common idea I try to remind them often about."
Head coach Craig Blazer said that the relationship and communication between the players is at a good level. In times of disappointment, he stresses the importance to remember to continue "to play, and know that if you make a mistake, it's no big deal; you just go back and defend."
Crediting the recruiting staff, Blazer also said a stronger quality in this year's roster. New additions to the team also mean a well-balanced group that can now defend and attack offensively to their best potential.
"It's a good group of young guys who are committed to being full-time soccer players," he said. "They're listening, and they're coachable. We try to build on our strengths, define how we want to play and how to keep the ball."
Both senior captains also agree on bringing in one common thread to this year's roster: experience.
"This is my fifth year, so I've been around the block a couple of times," Garza joked. "I've been in those games where we're battling and we have to defend for long periods of time, so leading by example is what I try to do."
Along with his years of experience, Yeselli joked that maybe shedding a few pounds will help him get into his previous better form to help the team move forward.
As for the competition DePaul looks ahead to, Garza said it's the Chicago-based teams that really excite them. He added that the upcoming Big East schedule is important as well.
"Loyola, UIC, Northwestern, those are always important to us," he said. "Top 10 rivalries like Georgetown and Creighton are marked on our calendars."
DePaul will also travel to Marquette, Villanova, St. John's, Providence and Xavier in Big East play.