DePaul student Tyler Solorio runs for alderman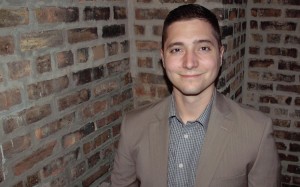 DePaul student Tyler Solorio, 25, will be running for 33rd Ward Alderman in February 2015 which encompasses the Albany Park and Edgewater neighborhoods.
Solorio is a transfer student from Oakton Community College in Des Plaines and is planning on double majoring in public policy and communication studies.
Solorio credits his interest in politics to his heavy involvement in a variety of student government activities while at Oakton Community College and his curiosity in the community and Chicago politics.
"I've always had this kind of nagging response to review Chicago politics, especially in response to how they treat communities," Solorio said.
Before coming to Illinois, Solorio enlisted in the Army National Guard in 2009 while living in California.
Shortly after joining, Solorio volunteered with his squad mates for deployment to Afghanistan, where he spent all of 2011. He had many missions there, including local law enforcement and community policing units.
After returning from his service, Solorio settled down in Chicago during the summer of 2013.
"After all of the places I had come across and all of the cities I had been to, this was one of the few cities I had been to that genuinely felt like it had that community feel," Solorio said. "Having been raised in a community of 2,000 where I never had that feeling whatsoever, coming to a city of millions where I can actually have that feeling was significant enough for me to be more than happy to stay here."
The week before petitioning began to run for alderman in the 33rd Ward, Solorio decided to fill out the necessary paperwork to begin petitioning to be on the ballot in February against incumbent Deb Mell.
"Just knowing that the problems that were occurring within the city and within the community wasn't necessarily because of the community but because of the city council itself, I felt that we deserved a lot better representation and a lot more dedicated people willing to be in politics on behalf of the community rather than just with the status quo," Solorio said.
To be placed on the ballot for the February election, he must obtain a minimum of 473 valid signatures, but he is hoping for 1,500 to 2,000 in order to make a statement and ensure a promising outcome this upcoming November when signatures must be submitted for finalization and count.
"We average getting about 33 signatures a day. And considering we are aiming for a goal of 2,000, it's quite the momentum that we are picking up," Solorio said. "There are a lot of people that I have come across who are willing to listen to where I am coming from and why I want to represent them."
Solorio expressed his great experiences going door-to-door to get petition signatures with his campaign team and meeting the people within his local community.
"Every single time when I do have any degree of conversation I get a better feel for that neighborhood and a lot of the people and how they feel about the current political system … It always gives me that moral reinforcement," Solorio said.
Solorio considers himself a moderate and plans to be recognized as an independent.
"There is absolutely no party that is backing me. I believe in necessary spending when we have to … but socially, I tend to vote Democratic."
He plans to focus his campaign on all types of issues within the city and his community with special emphasis on education and fiscal responsibility.
This past June, Solorio was elected into the board of higher education where he votes on legislation that affects both private and public universities in the state of Illinois. He aids in the voting of the allocation of their $3 billion annual budget.
"When I go and talk to people about it, one of the few things I hammer in on is that I think we do actually have all of the funds necessary to run our schools and to run our government correctly. I think the biggest problem is how we budget certain things and we end up spending ridiculous amounts," Solorio said.
Solorio sees his campaign team as a major support system for him. The team consists of college students from around the Chicago area, including his campaign manager, a longtime friend from his time at Oakton Community College who is also a college student.
"The people on my team are extremely passionate and are here for a reason," Solorio said. It's great because they are willing to be out there going to work five to eight hours a day knowing all they are going to get out of it is trying to push someone they have absolute faith in being a politician."
Solorio looks forward to the challenges ahead in a race in which the incumbent has been deeply rooted in Chicago politics and whose brother-in-law is former governor Rod Blagojevich.
Solorio seems confident he will obtain the at least the minimum amount of signatures required within the next few months.
"The current alderman comes from a Chicago dynasty family, a family that has been in power for decades," Soloria said. They've got so many roots and so much going on that it's one of the hardest races I could have participated in, and I decided to make it my first."
View Comments (5)