DePaul alumnus Quentin Richardson rewarded, inducted to Chicagoland Sports Hall of Fame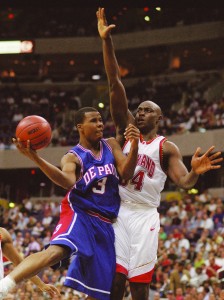 DePaul had reason to celebrate along with the 18 other members inducted into the Chicagoland Sports Hall of Fame, as alumni Quentin Richardson was inducted as a member of the class of 2014.
The class of 2014 was inducted into the Chicagoland Sports Hall of Fame on September 17, celebrated with a dinner and ceremony in the Gold Cup Dining Room of the Hawthorne Race Course.
Richardson was inducted after a 13-year career in the NBA. He started his career playing with the Los Angeles Clippers after being drafted as the 18th pick in the 2000 NBA draft. From there, he went on to play with the Phoenix Suns, New York Knicks, Miami Heat, Orlando Magic and back to the New York Knicks in 2013 to wrap up his career..
Before joining the NBA, Richardson played at DePaul, averaging 17.9 points and 10.2 rebounds per game throughout his two seasons as a Blue Demon.
Reflecting on his time at DePaul, Richardson believed DePaul prepared him well for his future.
"It got me ready as far as the coaching diversity," said Richardson. "My coaches and Jeanie [Lenti Ponsetto] prepared me for what I was going to be going forward to. DePaul is a great campus, it just kind of put me in that position to be really successful."
Richardson also noted that his favorite thing about the University was the location of the campus.
"I loved that it's in Chicago," said Richardson. "I could go home when I wanted to, I could drive home. I never got homesick."
"The funniest thing [about being inducted] is I feel like I could still be playing, it feels like I just got drafted," said Richardson. "This is definitely a great and humbling experience, though. Especially to be inducted with the guys I'm going in with."
Detroit is now home to Richardson as he is working for player development and mentoring with the Detroit Pistons. Despite this, Chicago will always be home to him.
"Chicago is always going to be my home, it's where I grew up," said Richardson. "Everything about me is Chicago, I am Chicago until I die."
Richardson's induction is not only meaningful to him, personally, but to many involved with DePaul athletics.
"It's a great honor to have any inductees," said Athletics Director Jean Lenti Ponsetto. "I think it speaks volumes about the quality of experience our athletes have at DePaul."
In regards to the future, Ponsetto wants to have the athletics department "continue to grow."
Ponsetto was at the Induction and Awards dinner in order to present the Ray Meyer College Coach of the Year Award to Kevin Ollie. The former Chicago Bull is now head coach of the University of Connecticut Men's Basketball team who won the 2014 NCAA title.
Other members of the class of 2014 included Minnie Miñoso, the first black player on the Chicago White Sox; Donovan McNabb, a 6-time pro bowl player who most notably played for the Philadelphia Eagles; and Bill Cartwright, who won three NBA championships with the Chicago Bulls from 1991 to 1993.
View Comments (1)