Student tries to beat the odds in DuPage County Board race
A DePaul sophomore is running for one of two DuPage County Board seats in District 4.
Hadiya Afzal is a political science student and a Glen Ellyn resident with a long history of political engagement.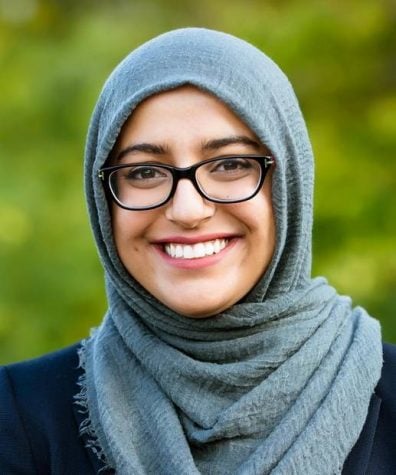 Afzal first got involved with The Democratic Party of DuPage County during the 2016 election, when she was still too young to vote.
After Hillary Clinton lost the presidential election despite winning the popular vote, Afzal witnessed many people become disheartened by the political system. Afzal, however, became more engaged, turning her focus to local issues.
"I walked across the county asking people about county issues and if they knew who they could speak to about them and I found that people didn't really have the opportunity or access to actually voicing their concerns," said Afzal.
Armed with a knowledge of the concerns of her neighbors, Afzal took the unexpected step of announcing her candidacy for county board member.
"I've been working. I've been talking to people. I know what people want," Afzal said. "Why shouldn't I bring those experiences, those issues, and those concerns to the board?"
Afzal has already sailed over the first hurdle on her way to the board seat: the primary. Now Afzal faces a race against three others for the spot currently held by Grant Eckhoff, a man who has been a lawyer longer than Afzal has been alive.
Eckhoff's age is not a concern for Afzal, who believed that the board needs to be more diverse. There are 18 members currently on the board. None of them are people of color, only four are women, and only one is a Democrat. None of them are under the age of 35.
If elected, Afzal will bring a different perspective to the currently homogenous board.
"We have young people in our area and their voices aren't being heard in the rooms where the decisions are being made about their own future," Afzal said. "There is a growing young population in this country that deserves to have a voice in the decisions that are being made about their futures."
Afzal understands the issues facing DuPage county, and is running an issue- based campaign. The main focus of Afzal's campaign is finance reform.
"We're running primarily on cutting unnecessary expenditures in the face of incoming budget cuts from the state," Afzal said. "We need to make sure we spend more on investment into constituent services and infrastructure in the county rather than outside lobbyist firms or [board members'] own salaries."
Another issue that is dear to Afzal is environmental responsibility. She attributes this to her age.
"We need to make sure we're running on sustainable long-term environmental policies," Afzal said. "Obviously, that's going to be more important to young people because we're going to be here for longer."
The previous slogan of Afzal's primary campaign was, "Run for something." Afzal hopes that the message will resonate with young people and motivate them to get involved in their own communities.
Afzal has the support of her peers in her race towards the candidacy.
"I am a bit astonished, and I am happy to hear that young people are taking initiative in very close regions," said 20-year old accounting and real estate student John Polymenakos.
Polymenakos does not think that Afzal should be taken less seriously as a candidate because of her age.
"I know some 18 and 19-year-olds who are very capable of organizing and demanding the type of attention with their ideas and things they believe should be implemented," Polymenakos said.
Afzal is not the only DePaul student to step into the political fray. Bushra Amiwala gained national attention last year when she ran for Cook County commissioner last year. Although she lost that race, Amiwala was declared one of Glamour magazine's 10 "College Women of the Year."
Amiwala supports Afzal's campaign and thinks that Afzal has what it takes to succeed in politics.
"Not every 50-year-old can run for office," Amiwala said. "It takes a special sort of person, one who knows the issues, to run. That can be someone of any age."
Afza iis confident in her campaign and hopes to inspire her peers to stand up for what they believe in.
"Run to fix issues. Don't run for a position or a title," Afzal said. "Pick a problem you want to fix and then go for a position that can solve that problem."
The election for DuPage County Board will take place on November 6.